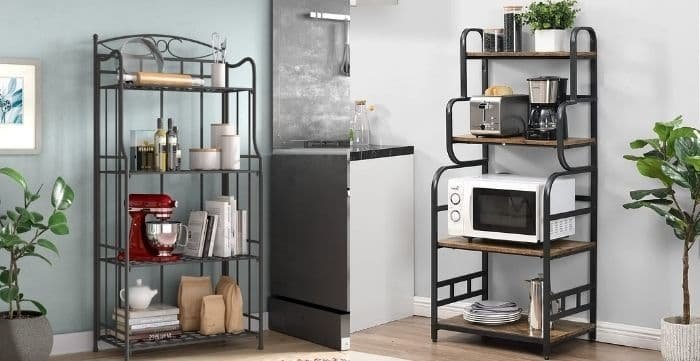 Baker's racks aren't just for kitchens anymore. They are versatile pieces that can be used for storage and displaying decorative trinkets in any room. Let's take a look at some of the things you should consider before buying a baker's rack.
Since you can find baker's racks in a number of styles and sizes, it's important to first decide where it will go in your home. Once you decide on the rack's placement, take measurements to ensure you don't end up with a unit that's not proportionate to the space.
Next, ask yourself, "What am I using it for?" Baker's racks used to display items should have a few adjustable shelves. If it's going in your kitchen to be used for its original purpose, to assist with baking, then choose a rack with large drawers or cabinets to store mixing bowls, cookie sheets, spatulas, pie pans, and other supplies.
Many wine racks also come with storage for wine bottles and stemware, so think about any special features you want the baker's rack to have. Some also have a dedicated space for microwaves, toaster ovens, and other small appliances.
If you decide the baker's rack is going outside to display plants on your porch, patio, or balcony, be sure it's designed for outdoor use. You may even use it to spruce up your garden to show off your green thumb. Wrought iron is a great material that can withstand the rainfalls it will be exposed to.
After you know how you'll use the rack, it's time to pick a style. Traditional baker's racks are meant to stand against a wall and come in a wide range of sizes and styles. You can use them as a focal point or turn a small space into a work area. In an open shelf design, the surfaces can be used to store small appliances like blenders, toasters, hand mixers, and more. They usually also include drawers or storage baskets and removable serving trays. Depending on what you're using it for, these features will make the task easier.
Corner racks are perfect for limited spaces or oddly shaped rooms. These baker's racks are intended to be functional and decorative. Though they may be smaller than standard racks and hold fewer items, they are just right for displaying beautifully framed family photos, mementos, cookbooks, or kitchen accessories.
Small bathrooms can also benefit from corner racks as they are ideal for storing personal care products, towels, and decorative soaps. They add charm and make a statement when placed in a guest bathroom or bedroom.
A storage baker's rack combines a standard rack's features with shelves and drawers. These make a great home for your collectibles and small decorations in a family room or a dining area. They come in a host of materials, from wrought iron to metals, glass, and wood. To buy durable backer's rack, click here.
Another consideration is the style you want for your baker's rack. There are plenty of designs, from traditional to contemporary to classic. Whatever décor you currently have won't be difficult to match, so you're sure to find one that works in your home.
Wine baker's racks are designed to do just want the name suggests, store wine bottles. But they aren't limited to only keeping your wine collection organized. They come with quite a few compartments for utensils, and the countertop provides a space for prepping meals, displaying fancy china, or as a sideboard or buffet.
The number of wine bottles they are designed to hold is typically anywhere from five to twelve. Wine baker's racks range from simplistic and minimalist to elaborate with ornate hand-painted detailing. You'll have a built-in space to keep your best vintage reds while adding versatility and character to your kitchen or dining room.
Genuine wood wins the title for the most durable furniture material. They're constructed from strong trees with long lives like beech, oak, or maple. But, since the materials aren't recycled or processed, genuine wood is usually more expensive. However, if your furniture budget has room for a baker's rack made of solid, real wood, be sure to get one with a protective finish. That will minimize scratches and other unsightly marks and allow for easy cleaning.
Engineered woods are constructed by gluing several wood fibers together via heat and pressure. Because they're made with recycled materials, these racks are much more affordable than genuine wood. You aren't skimping on durability as they also tend to last a very long time. MDF, or medium-density fiberwood, is the most common of the engineered woods. The use of laminates or veneers as a finish can make MDF feel and look like real wood, so it's not a bad choice at the end of the day.
Wood veneers are formed by adhering thin slices of genuine wood with heat and pressure to less expensive, denser woods. Since veneers can be placed onto any smooth, flat surface, recycled materials are usually used as the base. This method is common for giving the furniture a wood texture and appearance while keeping costs down. Wood veneer racks are not heavy and consequently less expensive to ship.
If you're looking for something a bit fancier, marble veneers may be the way to go. They are created by adhering thin slices of real marble to a recycled or less expensive material. The process is applied to give the unit the beauty and sophistication of real marble without the high cost and weight that may increase shipping costs. It's economical and practical. Natural marble can be delicate and fragile, and caring for it is often time-consuming. Marble is normally used for the countertop, providing a space perfect for kneading dough or displaying ornaments.
Another material you may find in your baker's rack design is tempered glass. Treating the glass means that in the case it does break, it will break up into small pieces rather than large shards. Keep these things in mind as you search for a baker's rack to decorate your home.