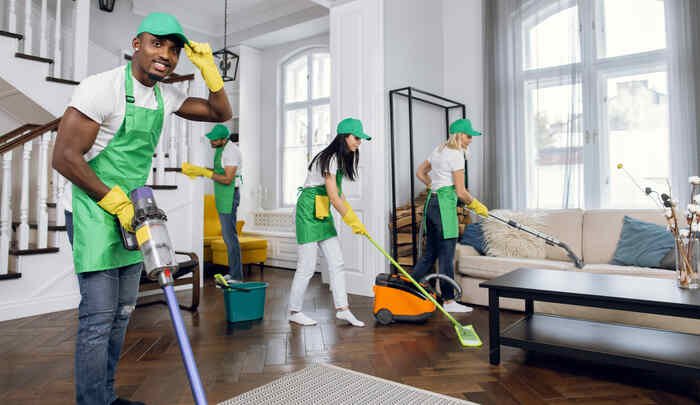 Moving out is a lot of stress and if you really want to impress your landlord with the cleaning, it's wise to go for a cleaning checklist. This is the best way to ensure that every nook and cranny is left spotless before the final inspection.
Keep in mind that this step may be the difference between you getting your deposit back and walking away empty-handed. That's why you should take it seriously. Down below, we offer a cleaning checklist that can be your guide to getting the desired results. There is a lot to tick off the list, so let's get started.
Key Takeaways
It's important to remember that end of tenancy cleaning is more detailed than your regular cleaning routine. You need to clean surfaces you rarely do like light switches, light fixtures, blinds, corners, etc.
You should prepare all the cleaning tools and supplies beforehand to save time and effort
Avoid using abrasive products and tools in most areas; always test a small area beforehand to see how the surface responds to the treatment
General Rules for All Areas in the Property
Giving a property a good clean does take time but if you are prepared and cognizant of what you are doing, it will be over before you know it. Do obtain all the cleaning products and tools you need so as not to waste time looking for them in the middle of the cleaning process. Use white towels and cleaning rugs to avoid staining any fabrics or surfaces.
Remember to test your cleaning products on the surfaces you want to clean well ahead of time to make sure they will not do any harm. Now, when cleaning surfaces, use the S-pattern where you start at the top and zigzag your way down. Using the proper technique will save you time and effort.
Before you start scrubbing the tiles and other surfaces, let the product sit for 15-20 minutes so it can work its magic. This way the amount of elbow grease required for the job will be significantly smaller.
As far as your appliances are concerned, do not use any abrasive products or tools to clean any part of them. This might scratch the surface or even cause damage. Always read the manufacturer's instructions on how to clean the units properly so they can continue to work as intended.
This advice applies to the carpets and rugs as well. They have delicate fibres; hence you should pick the cleaning agents carefully. If you can afford it, call a carpet cleaning agency to help you deal with the bigger and heavier items.
If you feel like it's a lot of work, divide the job into sessions and do it over the next couple of days. Do not leave anything to the last minute. You want to spend a good amount of time on every task so that the end result is satisfactory both for you and your landlord.
Kitchen:
Clean all drawers, shelves, and cupboards inside out
Wash and disinfect all work surfaces
Remove limescale, soap scum, and stains from the sink and taps
Clean and descale the faucets
Wash and polish all tiles
Vacuum and clean any carpets or rugs
Remove cobwebs and stains
Dust the baseboards and window sill
Clean the windows on the inside
Clean the extractor fan
Clean and degrease the oven inside out; let the product sit overnight so it can do its thing
Clean the microwave inside out
Clean the fridge inside out
Bedroom:
Vacuum and mop the floor
Vacuum the mattress on both sides
Clean all cupboards, wardrobes, and drawers inside out, dust and polish every surface
Clean corners
Remove cobwebs
Dust all surfaces
Clean the carpet or rug
Remove streaks from the mirror
Clean the windows on the inside and don't forget to also clean the window sills
Bathroom and Toilet:
Clean cupboard and drawers inside out
Clean the washing machine inside out (run an empty cycle with a special machine cleaning product)
Descale and clean all sinks and taps
Remove limescale and soap scum from bathroom tiles, bathtub, shower, sinks, and walls
Clean and disinfect the bathtub
Remove mold and mildew
Clean and descale the tiles
Clean extractor fans
Clean the toilet bowl, the tank and all around the toilet, don't forget to clean behind the toilet as well
Wash shower curtains
Living Room and Common Areas:
Clean under/behind furniture
Remove dust from skirting boards and other wooden surfaces
Clean windows on the inside
Vacuum upholstered furniture and cushions
Vacuum and mop the floors
Clean mirrors
Dust corners
Dust and polish picture frames
Remove cobwebs
Remove any stains from all surfaces
Vacuum and clean the carpets
Clean and disinfect light switches, sockets, plugs, lamps and light fittings
Entrance Hall, Hallway & Stairs:
Wipe down railings and stairway
Wipe doors and door handles
Clean sills and ledges
Polish mirrors
Clean curtains rails
Remove cobwebs
Disinfect light switches, any lampshades and fittings
Clean skirting boards and polish any wooden surfaces
Clean on top of doors
Vacuum and mop the floor
Wash door mats
Clean behind cupboards and cabinets
In conclusion, end of tenancy cleaning is a detailed process that requires a checklist to ensure that every area in the property is left spotless. It's crucial to use the right cleaning tools and products to avoid damaging any surfaces, appliances, or fabrics. You can also divide the cleaning job into sessions if it feels overwhelming. And if you're looking for a reliable and affordable cleaning company in London, consider Skycleaners, located at 83 Drapers Rd, London E15 2AZ, United Kingdom, and can be reached at +44 7879 101049.
FAQs:
Q1: What is included in an end of tenancy clean?
Since the purpose of end of tenancy cleaning is to restore the original condition of the property, hygiene-wise, the process involves cleaning everything from top to bottom. This includes appliances, furniture, carpets and rugs, windows (internally) and curtains, walls, floors, etc. The place had better be free from dust, cobwebs, limescale, mold, stains, soap scum, and mildew.
Q2: How long should an end of tenancy clean take?
There is no set amount of time you can do that will ensure your property is in pristine condition. Depending on the size of the premises, you may spend anywhere between two and four hours cleaning and still not get the job done right. That's why you want to start ahead of time and focus on carrying out the task in the best way you can.
Q3: Do landlords have to deep clean between tenants?
Well, somebody has to. Whether it's the landlord or the tenant, the property should be cleaned in between tenancies. It is the landlord's responsibility to inspect the premises at the end of one's tenancy and provide any repairs as needed.