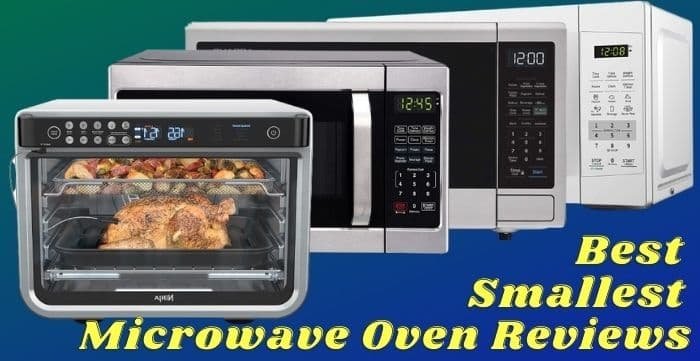 When searching for the smallest microwave oven, you have to consider the features and convenience. Buying a small product has its advantages and drawbacks. This is the reason you need to be cautious and take your time to analyze the product you want to buy before making the move.
Luckily, this post is going to help you make the right choice. That's because we are going to review the top smallest best microwave ovens that you should consider buying. They come at an affordable price, which is appealing to any buyer. Check them out below.
The Top 10 Smallest Microwave Oven You Should Buy Today
Here are the top 10 best options we recommend checking out when searching for a small microwave oven.
1. Toshiba Black Stainless Steel Microwave Oven
First on our list of the smallest microwave oven is this Toshiba black stainless steel appliance. It comes with a pre-programmed sensor menu to provide ideal heating of commonly known foods such as pizza, veggies, potatoes, and many more.
The sensor function included in the microwave eliminates guesswork in your cooking. That's because the built-in sensor often identifies the food's humidity as it cooks, and automatically adjusts temperature and time for best results.
With the Toshiba Black Microwave, you can experience excellent defrosting thanks to the included defrost function. All you need to do is select among the custom \menu, set the food's weight, and leave the rest to the microwave.
It can also easily soften or melt, also convenient to various foods like chocolate, butter, and cheese. Additionally, it's easy to clean and saves on energy. That's because it has an excellent coating with reliable material that doesn't get scratched or stained easily. It also minimizes 50 percent of power usage when you use the ECO mode.
Pros:
Easy to clean
User-friendly
It saves on energy
Stainless steel
It offers value for money
Cons:
The interior light might encounter issues after long use
The microwave is a bit noisy and sounds like the parts are banging around
2. Amazon Basics Microwave Small with Voice Control
Another smallest microwave oven to consider buying is the Amazon Basics Microwave with voice control. With this microwave, it will now be easier to defrost veggies, cook potatoes, and make popcorn.
The quick-cook voice presets together with the simplified keypad enable you to ask Alexa to start microwaving. The microwave also features a compact size that helps to save counter space, and 10 power levels. There's also a kitchen timer, child lock, and a turntable.
You can also use the microwave with an eco device for voice control features and quick cook presets. When you're microwaving popcorn, ensure the bag doesn't touch the inner wall by folding the edges and placing them at the center of the turntable.
When you want to use the microwave, all you need to do is just press the "Ask Alexa" button and say your cooking time. To easily use the microwave, just plug it into power, connect to the internet with the Alexa app, and ask your Echo device to start microwaving.
Pros:
This smallest microwave oven is ideal for small spaces.
Easy to use as it integrates with the Alexa app and responds to voice commands.
It comes with 10 power levels, a kitchen timer, a child lock, and a turntable.
Compact size saves counter space.
Cons:
It can easily heat up after using it for a while.
Not that durable as one may anticipate.
The microwave is too small
3. Black + Decker Microwave with Turntable
This is a professional-style stainless steel microwave that features 10 power levels, a removable glass turntable, and a spacious interior. This small microwave oven helps you appropriately cook and even reheat popular foods. What's more, you can set the level of power to 700 watts if you want.
This Black + Decker microwave with turntable also features a large display which features a clock that shows a timer as well as the amount of cooking time. You can also use the push-button to open the microwave faster and efficiently.
You can cook whatever you want such as popcorn or pizza, thanks to the sensor technology that offers excellent results. All you need to do is press any of the 6 included and the appliance will automatically adjust the amount of time to cook, as well as the power needed.
Pros:
It comes with pre-programmed buttons for potato, popcorn, frozen vegetable, dinner plate, pizza, and beverage.
Faster cooking
Large display, easy-to-read control
700 watts with 10 power settings, kitchen timer, and clock.
Easy to clean and use
Cons:
The microwave is a bit unbalanced
The control panel design is not that convenient
4. COMFEE 700 Watt Microwave
The COMFEE 700 Watt Microwave is a fully-featured compact countertop microwave. It's the best smallest microwave oven to consider buying because it has plenty of user-friendly features. You can easily turn off each and every microwave beep with the help of the ON/OFF button.
There is also a child safety lock which safeguards against tampering by children. All you have to do is just use the lock function if you want to prevent children or other people from using the microwave. Additionally, the microwave comes with an LED digital control panel with interior light, and a removable 10-inch glass turntable.
Pros:
ON/OFF sound button that enables you to turn off all the microwave beeps.
0.7 cubic foot capacity and it also features a compact size.
LED digital control panel with interior light.
It features one touch cooking for six common foods.
Cons:
Not durable enough
Sometimes the microwave may fill with steam whenever you use it.
5. NINJA STORE Convection Toaster Oven with Thermometer
This convection Toaster Oven with Thermometer also ranks among the best and smallest microwave ovens. It features true surround convection with up to 10X convection power as compared to a traditional full-size convection oven for crispier, faster, and juicy results.
The microwave oven also comes with 10 versatile functions and a smart cook system. Its oven also comes with a smart and modern cook system as well as 10 multipurpose functionalities.
The smart cook system enables you to achieve near perfect cooking results, thanks to the integrated Foodi Smart Thermometer. Therefore, the microwave eliminates guesswork from your cooking.
You can also make quick family meals with the 90-second oven preheat time and up to 30 percent faster cooking than a traditional full-size convection oven. This microwave also has an extra large capacity and a digital display handle.
Pros:
It features a high velocity fan
Rear heat source that unlocks 2-level cooking without swapping or rotating of pans and no flipping of food.
Surround airflow and smart cooking system
Digital display handle and enamel coating
Cons:
The microwave is not durable enough
Some buyers have reported issues after using for a while
6. Panasonic Microwave with Inverter Technology
Microwave cooking has been made easy with the Panasonic Microwave with inverter technology. It allows you to cook and reheat delicious food. The microwave also comes with a smart cooking system that eliminates guesswork of cooking. That's because the smart system automatically adjusts power and cooking time depending on what you're cooking. Another unique feature you'll find in this appliance is the Inverter Turbo Defrost that accelerates thawing time.
It features 15 auto cook options, keeps warm, and includes many other features. The Panasonic Microwave also features a compact, space-saving design that can easily fit onto the countertop of your kitchen.
Additionally, its high power features make it easier to use. It also features a 3-level popcorn button that lets you select the popping temperature and time for different bag capacities.
Pros:
Inverter technology that evenly heats food
Smart cooking system that removes the guessing out of cooking
Sensor cook settings that help you prepare food perfectly
A 3-level popcorn button ideal for popcorn lovers
Cons:
The clock button is not conveniently placed
The light is decently bright but it doesn't cast a wide beam and there are various sections where the light doesn't hit.
7. Farberware Classic Compact Microwave
The Farberware Classic Compact Microwave is an ideal appliance to consider using at home or wherever you are. It's quick and easy to use, which means you can prepare meals and snacks faster.
This smallest microwave oven also packs 700 watts of output power. It also comes with an LED display with kitchen timer and clock that allows you to keep track of time.
Also, the easy view interior lighting of the microwave lets you keep an eye on cooking. One good thing about the Farberware Classic Compact Microwave is that it offers you convenience. That's because it has defrost by weight or by time settings that let you get food on the table even when you forgot to pre-prep the food.
Pros:
Easy to clean and use
6 one touch cooking programs
You can defrost by weight or time with this microwave
Child safety functionality
30 second control button and 10 power levels
LED display with kitchen timer and clock
Cons:
It doesn't perform like a bigger microwave
The microwave might feel flimsy at first because it is lightweight
8. Retro 0.7 CU. FT. Microwave
The Retro 0.7 CU. FT. Microwave is a stylish and compact appliance ideal for using at home. The microwave has sleek retro accents that add fun and flair to any kitchen. The rotating glass carousel included in this microwave helps to reheat and cook food evenly.
Additionally, the microwave comes with 12 cooking settings that provide ideal heating of our day-to-day foods such as pizza, popcorn, veggies, potatoes, and many more. It also has an LED display that's easy to read, as it highlights each cooking setting.
Multi-sequence cooking also allows you to use up to four separate cooking sequences for each cooking program.
Pros:
700 watts cooking power
Convenient cooking controls
Digital clock and easy-to-read LED display
Retro accents and simple program dial
Cons:
The microwave is a fire hazard
Loud popping noises
9. Sharp ZSMC1139FS Smart Countertop Microwave Oven
he Sharp ZSMC1139FS Smart Countertop Microwave Oven works perfectly with Alexa and helps you cook in the best way possible. It is certified for humans, smart homes have been made easy for non-experts. It has 30 Alexa voice commands that help you enjoy hands-free cooking.
It also features an easy to clean modern brushed stainless steel finish that complements your kitchen. There is an extra-large, easy-to-read, white LED display that sets itself to the correct time once you connect it to WIFI. You'll also find a popcorn button that makes it easier for you to make popcorn.
Pros:
Perfectly works with Alexa
Over 30 commands available
Auto defrost
One-touch cook
Express cook
Control lock and 10 power levels
Cons:
It lacks the melt/soften feature
It doesn't come with the sensor cooking functions
10. Hauswirt 26Qt Digital Air Fryer Convection Oven
The Hauswirt 26Qt Digital Air Fryer Convection Oven is the last on this list of the smallest microwave ovens to consider buying. What makes the microwave unique is that it helps you save time when making food for the whole family.
This is because the air fryer is large enough to allow you to put two trays in at once. It allows professional baking with separate temperature control, which enables you to set different upper and low heat for your cooking recipes.
It also includes multiple functions. That means you can use the kitchen cooker as an air fryer, toaster oven, pizza grill, rotisserie oven, bake oven, and dehydrator. All you need to do is just set the cooking temperature and time. What's more, it also features a digital timer and display which makes it easier to see how much time is left on the clock while cooking.
Pros:
It cooks food by 3600 hot air circulation
Separate heat control for professional baking
Includes a user-friendly ceramic enamel liner
Dishwasher-safe stainless steel parts
Digital precise temperature control
Highly efficient cooling system
Cons:
The quality of the appliance is not that convenient
Countdown timer is unreliable
Smallest Microwave Oven Buying Guide
When searching for the smallest microwave oven, avoid just looking at its size but also other factors. These factors include the functionality, reliability, and durability. Below we discuss some of the essential factors to look for when you want to purchase a microwave oven.
Functions – Since microwave ovens are used for simple cooking, it's important to check their functions. Look for a microwave that can cook popcorn, rice, pasta, and brew coffee or tea, among other functions.
Power consumption – It's crucial to check how much power a microwave consumes before purchasing it. This will help you determine whether it will add to your electricity bill or save it.
Auto cook feature – If you're someone who likes simplifying cooking, then consider looking for a microwave oven with an auto cook option.
Defrost and child lock – Consider buying a small microwave oven with a defrost function and child lock.
Smallest Microwave Oven FAQs:
Q1: What is the smallest size microwave oven?
Ans: There are plenty of small microwave ovens, so it all depends on the size you want. For instance, the microwave ovens we've discussed above are all small and ideal to use at home.
They don't occupy a large space on the kitchen counter, and they are also pretty easy to clean and use. However, a good small microwave oven should measure approximately below 300 square inches of counter space in the kitchen.
Q2: How to measure microwave size?
Ans: First of all, all microwave dimensions are included in the specifications section of the appliance. So, that's the first place you need to check. But, the other option is to face the front of the microwave and use a measuring tape to get the right size. All you need to do is place the measuring tape across the top of the microwave from the left to the right side of the cabinet. This will provide you with the approximate length measurement.
Q3: How much does a microwave weigh?
Ans: A microwave weighs approximately 55 pounds on average. But, it's important to note that this varies depending on the size and type of the microwave. Therefore, the weight can be a minimum of 20 pounds to 100 pounds. The smallest microwave oven tends to weigh from the 20 pound range, while the bulky ones can go up to 100 pounds.
Q4: How much does a microwave cost?
Ans: The cost of a good microwave ranges from $100 to $600 on average. However, this mostly depends on the brand, features, type, and the size of the microwave. Countertop microwave ovens are normally priced from $50 to $500 and above, while larger ones can go up to $600. The built-in microwave prices range from $400 to more than $1,000.
Q5: What is the best wattage for a microwave?
Ans: The best wattage baseline for a good microwave that can cook fairly quickly is 1,000. That's because microwaves with 700 watts or below tend to be slow and not cook evenly. Therefore, the higher the wattage of a microwave, the faster and more efficiently it will cook.
Q: What size microwave should I get?
Ans: The size of the microwave you want to buy should depend on how you want to use it. If you have a large family, then consider buying a large microwave with 1,000 watts. But, if you have a small family, then consider a smaller microwave with 700 watts and smaller size of between 18 and 20 liters.
Conclusion
Choosing the smallest microwave oven shouldn't be just about size, but also functionality and features. You need to buy a microwave that offers you the best cooking experience and reliability. Hopefully this post has helped learn a few things about how to buy a microwave, and the best options to consider from the list of microwaves we've reviewed.
Related Review Articles: