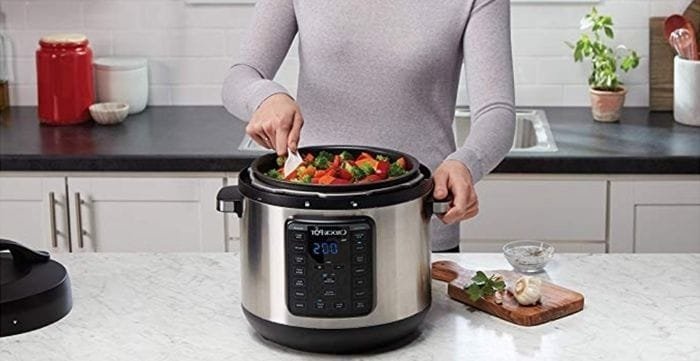 More and more people are buying slow cookers these days, and for some of them, the device has become useful in their daily routine. What makes a slow cooker nice is that it can bring so many advantages that you can benefit from. From the moment you grab hold of it and up until the cleaning part, it will surely give you a breeze that will make your life much easier.
To tell you honestly, slow cookers are among the best devices that have been invented throughout the years. Slow cookers can set up your pace in your daily routine, making it much easier to plan things ahead of the day. You can also rely on it whenever you need it. Now, we will learn more about what is a slow cooker good for and how it can change your life. Continue reading below and grasp the importance of this holy-grail device.
What is a Slow Cooker Good For – Detailed Insights
There is so much to learn about slow cookers, and you will love them more once you use them. Here are some insights a slow cooker might help, and certainly, it will be a holy grail device that you will need in your kitchen.
1. Slow Cooker for Convenience 
The primary reason why most people love to have their own slow cooker is the convenience that it can bring. If you are a busy person with daily work, a slow cooker will help you when in need. It will further maximize your time to do other tasks because it can prepare a hot meal in advance.
Unlike cooking the traditional and conventional way, slow cookers allow you to prepare a meal by just placing the ingredients inside and waiting for it to be cooked. It's that simple! You don't need to have a lengthy preparation of ingredients whatsoever. All you have to do is set and forget, and the slow cooker will do the rest.
2. Slow Cooker for Better Health
Having a home-cooked meal in your slow cooker will give you the notion not to buy food outside, which is unhealthy and costly. Slow cookers are best for that and will give you a healthy meal plus it will also save you time from the lengthy preparation.
Slow cookers also are known to give health benefits because they can thoroughly cook any dish consistently without fail. The consistent low cooking temperature will perfectly cook any recipe and doesn't overcook or undercook it. That way, it will bring out the best flavors from the chosen ingredients making all the nutrients intact because of moisture and a steady slow cooking process.
3. Slow Cooker for Versatile Cooking
One of the perks of having a slow cooker is that it is good for versatile everyday cooking. Most features of slow cookers give you the chance to prepare a meal the way you want it to. It gives you the versatility to test and try several ingredients to make the best meal ever for your family.
Some slow cookers are also multi-functional that can be utilized as a separate kitchen device. It can be used to cook rice, soups, stews, casseroles, and many others. There are many slow cooker recipes that you can make from having a single slow cooker in your kitchen. That's why it's the perfect device for everybody who wants to experience various meals and a very enjoyable cooking journey.
4. Slow Cooker for Better Flavors
Slow cookers are good for preparing foods for a longer period of time. This will help to tenderize every ingredient that can be put inside and thoroughly cook it evenly. Thus, it will bring out the best flavors from those particular ingredients, creating a well-mixed flavor that everybody can savor. Long cooking periods also allow the food to integrate the majority of the flavors and fill the dish with the best aroma.
5. Slow Cooker for Better Budgeting Needs
The main aspect of using a slow cooker is how well it cooks food and how it can prepare food in advance. This one-of-a-kind device will bring out the best in you, and it can provide you the time you need, less effort, and save money.
When slow cooking, the slow cooker will consistently maintain the heat to cook food. In that way, it can only utilize less energy by having a constant temperature. Having that said, when it utilizes less energy, it will cost you less money. That is the very reason why slow cookers are perfect for individuals who are looking to save more money on a daily basis.
6. Slow Cooker for Busy Individuals
If you are working 24/7 in the city and don't have the time to spend an hour of cooking, slow cookers are your ideal bet. Once you have a slow cooker, you won't even have to rush things. For example, you don't have to wake up early just to prepare food because you can prepare it in advance at night. You will then wake up with a prepared meal already.
7. Slow Cooker for Baby Food
If you are busy parents that come and go because you've got a lot of things to do aside from taking care of your child, a slow cooker for baby food best suits you. Having a slow cooker in your hands will make it easier to prepare various baby food for your child. It will simplify the procedure; thus, you can do other things around the house.
Slow cookers consistently cook baby food well rather than using a conventional stove. It also helps in preserving nutrients that your baby needs. Lastly, cooking using a slow cooker allows you to spend time with your child, and foods prepared using a slow cooker will give your baby a mushy yet yummy delicacy that your baby can easily digest.
8. Slow Cooker for the Environment
The most amazing thing about getting a slow cooker is that it helps the environment. As we see today, climate change can be readily seen. Daily, we are emitting carbon footprints that can heat our planet more.
But slow cookers are different because they are energy-efficient device that utilizes less electricity than other electrical kitchen appliances. Meaning to say that it emits less carbon, thus helping the environment sustain its balance. Furthermore, it doesn't heat the kitchen as most ovens do.
What are the Health Benefits of a Slow Cooker?
It Doesn't Have Negative Effects When Cooking Meat
Studies have shown that preparing meat for dinner via grilling and broiling can negatively affect any meat products if consumed regularly. Cooking meat at direct heat will generate harmful compounds that can be detrimental to the body, and worst is that it can be carcinogenic, meaning you will have a bigger risk of having cancer.
On the other hand, slow cookers do a magic trick into not getting this harmful compounds from generating. A slow cooker's consistent and slow cooking procedure will cook meat gently, thus preventing these compounds from appearing. Aside from that, it is the best way to have more tender meat that you can easily munch.
It Won't Give a Searing Hot Environment
Some kitchen devices like an oven give you a hot sensation that can result in burns and an uncomfortable feeling. It can give a hot aura that, when it cooks, will heat the area around the kitchen, resulting in a searing hot environment.
But if you are using a slow cooker, it won't heat the place as much as ovens do because it utilizes less electrical energy. It won't generate that much heat because slow cookers are designed to use heat consistently for cooking purposes only inside the pot.
Stress-Free Preparation and Cooking
Cooking has been made easy when using a slow cooker. It doesn't need much preparation, unlike if you are cooking conventionally. Slow cookers can be prepared with just simple steps. You will just have to get the ingredients, throw them inside, set the timer, and heat and wait.
With that, you won't have to get stressed from the lengthy preparation and monitoring. Trust the slow cooker, and it will do the cooking for you. From that, you will get a peaceful and easy life, and your slow cooker won't give you a fuss, making your mental health as good as ever.
Are Slow Cookers Good For Weight Loss?
Certainly! Slow cookers are good for those individuals who want to lose weight. Cooking with a slow cooker will give you a healthy meal since the cooking relies only on low heat, which may reduce the disintegration of nutrients. Aside from that, when using a slow cooker, it will only require you to use fresh and natural ingredients, and with that, it can give you a healthy diet, which reduces your weight.
Slow Cooker Advantages and Disadvantages
We all know that there is no perfect kitchen device, but slow cookers are the best among them. To this date, slow cookers are trending because of the features and advantages that they can bring. However, there are some cases where it can't do some things. Here are some of the advantages and disadvantages that you can look into before getting a slow cooker for your kitchen:
Advantages:
It can prepare foods quickly and easily.
It cooks foods consistently and slowly with heat to give a perfect meal finish.
Cooking with a slow cooker takes less effort to do.
Having a slow cooker with you keeps your budget safe.
Cleaning slow cookers are a no-brainer.
Disadvantages:
You can't sear meat in a slow cooker.
Cooking frozen directly inside a slow cooker is not applicable.
Power outages can be a problem since slow cookers use electricity for cooking.
Final Word
Overall, getting a slow cooker will give you a boost in life. It will give you a healthy meal and a stress-free life. You don't need to make more effort just to prepare something to eat because the slow cooker will do the cooking for you. Slow cookers keep the majority of nutrients that make
The majority of slow cookers in the market depend mainly on natural ingredients because they will give the best way to prepare healthy and fresh meals. To get the most out of using the device, ensure that you prepare ahead of time and set it up nicely according to your needs and preference, and in the end, you will have a tasty meal that you can enjoy.