Outfitting an entire kitchen is a fun project, but it's important to keep costs and budgets in mind. Not every kitchen tool is worth spending a fortune on (though some definitely are!). Read on to discover what high end cookware is worth the splurge, and where you should save money instead.
 Splurge: Kitchen Knives
Everyone needs at least one quality chef's knife, and preferably a paring knife and a bread knife as well. Look for a knife with a full tang and a comfortable handle that you can hold for a long period of time without stressing your hand. Learn how to sharpen it using a whetstone, and your knife will give you many years of service in the kitchen. If you feel the need for additional knives beyond this, then you can look at affordable brands to help you stick to your budget.
Save: Mixing Bowls
Mixing and prep bowls are kitchen workhorses, but that doesn't mean they have to be overly expensive. They can come in plastic, metal and ceramic versions, depending on your preferences and budget. If you want a slight upgrade, get a set with fitted plastic lids so they can double as food containers as well
Splurge: Stand Mixer
There's really no replacement for a full-on stand mixer, and a set of beaters will only get you so far. If you bake or do a lot of mixing by hand, then you will definitely not regret splurging on a KitchenAid mixer and some attachments. These mixers can be heavy and hard to move, so we recommend making room on your kitchen counter so it can have a permanent home.
Save: Sheet Pans
Sheet pans can be used for everything from roasting vegetables to baking cookies, but you still don't need to spend a lot of money on them. An aluminum baking sheet with a lip can be found for $10-$20, depending on the size. You might also want to get a flat sheet without a lip if you bake a lot of cookies. Add on some silicone baking sheets and you'll be ready to throw something in the oven at a moment's notice.
Splurge: Cookware
Since cookware is essentially used in a kitchen every day, it's essential to splurge on cookware that will last. Whether you prefer copper cookware, stainless steel cookware or ceramic nonstick cookware, this is your sign to make the plunge and invest in a high-quality cookware set! Not only is your cookware an obvious kitchen necessity, but you can also use stylish cookware to decorate your kitchen with. Talk about a win win!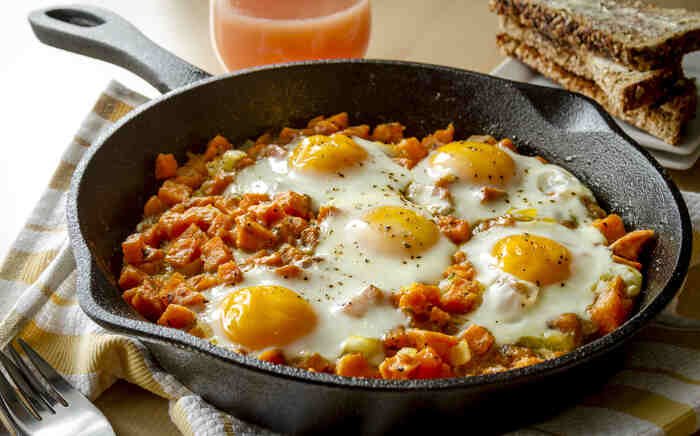 Save: Cast Iron Skillet
Most cast iron skillets are actually created equal, so if you haven't inherited one yet, there's no need to drop a lot of money on a brand-new one. Go with an affordable brand with a good reputation, such as Lodge, and make sure to season the skillet properly before its first use to keep food from sticking to it.
Splurge: Espresso Machine
If you're shelling out for a specialty coffee every day, it might be worth it over the long haul to invest in a quality espresso maker for your home (not to mention it will reduce all the waste you're creating with those disposable cups). You'll need a lot of counter space for this one, but if you have a big kitchen and are a coffee lover, this is worth the splurge.
Save: Utensils
There's pretty much no huge reason to drop a lot of money on kitchen utensils, whether that is a mixing spoon, spatula, vegetable peeler or basting brush. Get some quality yet affordable kitchen accessories in a mix of materials, such as metal, wood and plastic. You can even buy a pre-selected set if you're starting from scratch and don't know what basics you need yet.
Splurge: Stainless Steel Cookware
Unlike nonstick, which will wear down over time no matter what, stainless steel cookware will last for years if you treat it right. Thus, there's no reason not to invest in a quality set of tri-ply stainless steel cookware that will conduct heat evenly and last you for a long time. If you can't afford to get a whole set, start with a sauté pan and a saucepan and then add on from there as your budget permits.
Save: Nonstick Pans
Even the most expensive nonstick pan will eventually have to be replaced after a couple of years due to the coating breaking down and wearing off. Therefore, it doesn't really make sense to drop a bunch of money on one. Choose a middle-of-the-road model and commit to handwashing it to prolong the life of the nonstick coating as much as possible.
Splurge: Select Kitchen Appliances
A quality multipurpose kitchen appliance is worth spending cash on — as long as you'll actually use it, that is. Think about the functions you'll use the most and seek out appliances that check as many boxes on the list as possible. For instance, a blender can double as a food processor, and an Instant Pot has both slow cooker and pressure cooker functions.
Save: Cutting Boards
You definitely can spend a lot of money on a gorgeous wood cutting board, but you don't need to. Affordable plastic cutting boards will get the job done just as well. Look for models that have rubber or silicone grips integrated into the bottom so you don't have to worry about it sliding around on your kitchen counter while trying to dice a tomato.
What kitchen tools have you splurged on in the past that you have no regrets investing money in? Or have you made any kitchen splurges that turned out not to be worth the hype? Whatever the case, building out the supplies in your kitchen should be exciting and tailored to your exact needs.