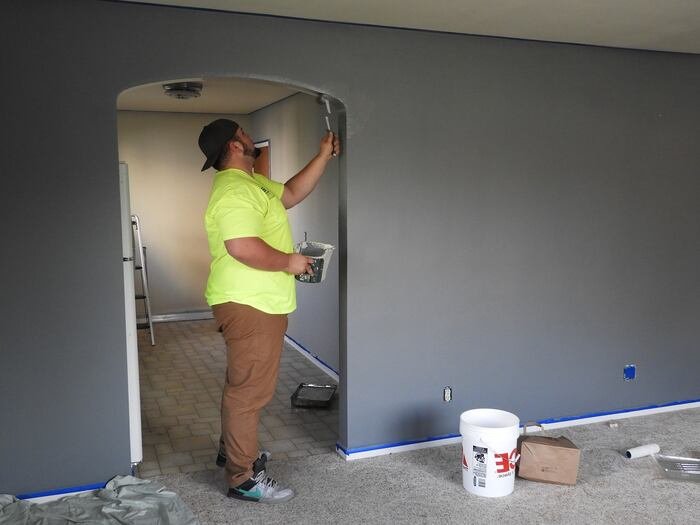 Home remodeling can be an exciting journey that offers a fresh chapter of your life, set within the familiar confines of your living space. A well-executed home renovation enhances the property's value and reinvigorates the space you call home. As enticing as the end result sounds, getting there can be fraught with challenges, unexpected costs, and stress. But does it have to be that way? The good news is that with meticulous planning, clear communication, and the right strategies, you can easily sail through the remodeling process. Let's embark on a journey to ensure your next home remodeling project reaches its potential in terms of aesthetics and functionality and is a relatively stress-free experience.
1. Plan Meticulously and Ahead of Time
Home remodeling is not something you can jump into overnight. It demands foresight and preparation. Start by identifying what you wish to achieve with the remodel. Is it about maximizing space? Or perhaps modernizing an old design? Once you have a clear vision, create a detailed blueprint. This might involve hiring an architect or designer. Don't skip this step, as having a tangible plan will minimize unexpected surprises.
Next, budgeting comes into play. Allocate funds for different aspects of the project, keeping a little extra for unforeseen expenses. Remember, a well-planned budget will ensure that you don't stretch your resources too thin.
2. Choose the Right Professionals
Your choice of contractor can make or break your home remodeling experience. While there might be a temptation to go with the cheapest bid, remember that you often get what you pay for. Do thorough research. Ask for references, check reviews, and ensure the contractor is licensed and insured. A good contractor will execute the job flawlessly and offer invaluable advice and solutions during the process. And especially, when considering a revamp of your living space, partnering with a trusted name like Home Concepts Custom Remodeling can make all the difference in achieving your dream renovation
3. Establish Open Communication
A successful remodel is as much about seamless execution as it is about clear communication. Ensure you and your contractor are on the same page. Weekly meetings can be beneficial to discuss progress, address concerns, and make any necessary adjustments. A good practice is to maintain a project journal. Document decisions, keep track of product orders, and jot down any ideas or changes. This serves as a reference and ensures that everyone involved has clarity.
4. Prepare for the Unexpected
In the world of home remodeling, not everything goes as planned. There might be unforeseen structural issues, delays due to weather, or backorders on essential materials. Instead of panicking, prepare mentally and financially for such hiccups.
5. Protect Your Belongings and Establish a Safe Zone
Construction can be messy. Dust, debris, and the constant movement of workers can take a toll on your belongings. It's smart to pack away any valuables and cover furniture and electronics. This minimizes the risk of damage and ensures your living space remains relatively unscathed.
Safety should be paramount, especially if you have kids or pets. Establish zones that are off-limits to them. Ensure any hazardous materials or tools are securely stored away at the end of each working day.
6. Plan Your Living Arrangements
Depending on the scale of the remodeling, you might need to consider alternative living arrangements. Setting up a temporary kitchen or living space for minor projects might suffice. For larger-scale remodels, consider moving in with family, renting a place, or even going on a short vacation. A little planning here can save a lot of discomfort in the long run.
7. Stay Involved, but Don't Micromanage
While it's essential to be involved and informed about the progress of your project, avoid the temptation to micromanage. Trust in the expertise of the professionals you've hired. Constant interference can not only slow down the process but can also strain the relationship with your contractor.
8. Celebrate Small Wins
Home remodeling can be a lengthy process. Instead of waiting for the final reveal, celebrate the small milestones. Whether it's the completion of a room or the installation of fixtures, taking a moment to appreciate the progress can be a great morale booster.
9. Embrace Sustainable Practices
In today's world, it's more critical than ever to consider the environmental impact of our decisions. When it comes to home remodeling, many sustainable options are available. The choices are abundant, from using eco-friendly materials and energy-efficient appliances to installing solar panels or rainwater harvesting systems.
Discuss with your contractor about integrating green practices into your remodel. It could be as simple as ensuring proper insulation to reduce energy consumption or choosing paints that are low in volatile organic compounds (VOCs). Sustainable remodeling benefits the environment and can lead to long-term savings in utility bills. Plus, it's a great selling point if you ever decide to put your house on the market!
10. Take Time to Decompress
No matter how smoothly a project runs, constant decision-making, budget tracking, and general upheaval can be mentally taxing. It's essential to remember to take breaks and give yourself time to relax. Whether it's a short weekend getaway, a spa day, or simply a day where you unplug from all remodeling-related concerns, allowing yourself some downtime can refresh and rejuvenate your spirits.
By ensuring you have moments of respite, you'll be better equipped mentally to handle the demands of the remodel. It can also provide a fresh perspective, leading to even better decision-making. Remember, your well-being is just as crucial as the project itself. Prioritizing self-care ensures you remain at the top of your game, making the remodeling process smoother and more enjoyable.
Summary
Home remodeling is an exhilarating adventure that, when done right, transforms not just spaces but also lives. To ensure this transformation is more joy than jitters, meticulous planning, and preparation are paramount. By identifying clear goals, budgeting wisely, and choosing the right professionals, you set a strong foundation for success. Open communication forms the backbone of any successful project while staying prepared for unexpected challenges ensures you're never caught off guard. With these strategies, your home remodeling experience can be smooth, efficient, and enriching.