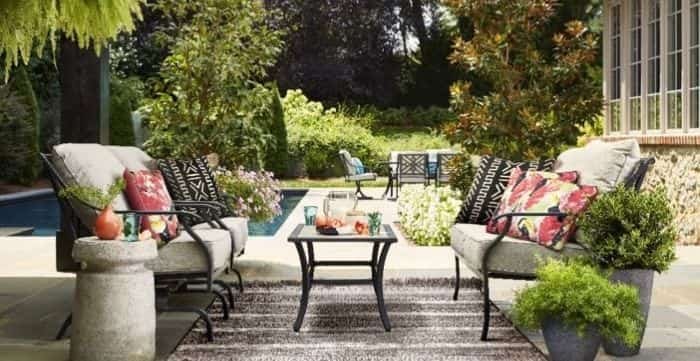 The patio is one of the most advantageous exterior parts of a house. It adds value to the property and boosts its curb appeal. In addition, it provides more space for house guests and friends, allowing better entertainment for visitors. Furthermore, it protects the front side of the house against extreme temperatures and elements.
If you're planning to install a patio, you may want to know about the different materials to choose from. That way, you'd see each material's strengths and weaknesses that will help you decide which one you should pick. As such, this article talks about each standard material, describes it, and guides you in selecting what suits you. So, read on!
1. Brick
Brick patio materials have been popular for decades now. They're known for their durability, so they last longer than most patio materials. And because of their design flexibility, many brick materials complement old and modern patio designs. In addition, they could fit any patio shape, such as oval and other geometric configurations.
You can install bricks in a bed of sand, but if you want to have a better and firmer installation, you may use mortar. Bricks are also easy to maintain and repair and can be installed with other materials, such as pavers and concrete. However, they could be more expensive than the others. If you want low-cost bricks, you may use the reclaimed types.
2. Concrete
Concrete is one of the most durable materials in the market. It's also easy to install and maintain, which makes it an excellent choice for homeowners everywhere. Cleaning concrete only entails regular power washing. In addition, it could easily adjust to any soil bed it's built onto, whether slope or hollow. It could also work with other patio materials, such as pavers.
Some homeowners use concrete as a solid patio base. They only add other materials on top for decorative purposes. However, concrete tends to crack in freezing weather conditions. To avoid this, you may use concrete bonds to keep your patio intact.
3. Pavers
The difference between concrete and pavers is the latter's prefabrication. Generally, pavers are ready-to-install cement blocks for flooring. Because they're also made of concrete, they may crack during free-thaw cycles. Yet, they are durable most of the time.
You could set up interlocking pavers with the need for cement or asphalt patch. However, most pavers need patches to stay stable. They may require resealing every three to five years. In addition, weeds may grow in between the pavers leading to paver shifting. If ignored, it may result in severe cracking and damages.
4. Tile
Tiles are generally grouped into unglazed and glazed types. The unglazed tiles are suitable for a typical patio floor because it has a rougher texture. In contrast, glazed tiles, including marble ones, have better decorative qualities. That way, they're ideal for upgrades in the kitchen or any other part of the house. They are also easier to clean and maintain than most materials. The downside of glazed tiles, however, is that they tend to be slippery.
In setting up a tiled patio, you may consider the concrete slab you'll use as a base as it may serve as the support for the tiles. You may also look into the various sealers and enhancers to prevent the materials from dirt and stains.
5. Gravel
Gravel is one of the easiest to install in a patio setup. You may place it as it is or in-between other materials such as concrete and bricks. You may also use them as top-up materials for a concrete slab. Additionally, it is known for its drainage qualities. Puddles of water wouldn't be much of a problem as gravel allows for quick absorption.
This material is also easy to maintain as you could replace it anytime as long as you have an extra pile of gravel. You can choose between river rock or seashore gravel.
6. Flagstone
If you're looking for a highly durable patio material with a vast array of options, flagstone would be a great choice. It comes in different colors and irregular and uneven sizes and is offered in diverse types, including bluestone, sandstone, and quartzite.
However, flagstone may call for the help of a professional contractor as it could be challenging to install because of its weight and hardness. The installation typically requires a particular set of tools and equipment to cut through the stones and lay them properly in place.
7. Cut Stone
Cut stones, otherwise known as stone tiles, are similar to flagstones because they're both rock-based materials. Their main difference is in the way they are cut. Contrary to flagstone's uneven cuts and sizes, cut stones have more formal and geometric layouts.
Additionally, the cost of a cut stone depends on the type of stone it uses. For example, travertine is less expensive and is easy to install. Homeowners may choose this as a more cost-effective option, but the patio's needs and the homeowner's taste would still determine the final material.
8. Slate
Slate types provide a range of beautiful designs and hard-wearing qualities. However, they're typically expensive and are difficult to install. Because of this, they require professional installation services for proper and firm placement.
To keep the slate patio clean and maintained, you may need to use a pressure washer to remove dirt buildup. In addition, you could pour polymetric sand into the slate's joints. If the slate patio has a lot of dirt and grime that even washers fail to remove, you may need to soak them in a mild detergent solution. Rub the liquid off before drying the material with a towel.
Wrapping Up
Patios have become one of the most sought-after home improvements in the past years. With recent trends, many homeowners find it hard to choose among the different patio options. So, if you're planning to install a new one, you could take the insights you've gotten from this article.
However, before you jump into your decision, you may want to keep a few considerations in mind. Durability determines if your patio will last for a long time, while maintenance allows you to take care of the materials to increase their longevity. Apart from these, you consider the materials' aesthetic qualities, installation and maintenance cost, and ease of application and repair.