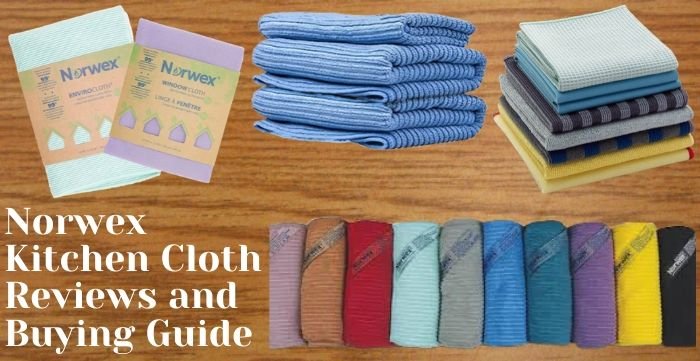 How is Norwex different from others? Why is Norwex Kitchen cloth expensive? Features to consider while buying kitchen cloths.  Comparison between Norwex and other kitchen cloths. Norwex Kitchen Cloth is a revolutionary household product. It has made cleaning of kitchen easier than ever. This review consists of all kitchen cloth products you can buy online. And, everything you need to know about the products.
Norwex kitchen clothes are better than cotton cloths for the kitchen. They also work better than Polyester mix products for the kitchen. There are no two ways about it.
They are made of microfibers and contain an anti-bacterial agent. The microfiber gives it a powerful cleaning action. The anti-bacterial agent keeps the foul smells go away. These two together, Northwex Kitchen Cloth is probably the most durable product in the market.
The Best Norwex Kitchen Cloth Reviews 
1.
Norwex Envirocloth Cloth
NorwexEnviro Cloth is a multipurpose cloth from Norwex. It removes dirt, dust, grime, and grease from almost all washable surfaces. It works on metal, glass, tiles, marbles, Car interiors and other surfaces around the household. You can use it dry and wet.
It comes with a 2-year warranty on online order but it is better to confirm with the seller when buying online. Like other Norwexkitchen cloths, you do not need detergent or chemicals to clean. It is available in 4 colors.
Each EnviroCloth has a dimension of 13 inches by 13 inches. It is made of high-quality microfiber with BacLock technology. BacLock technology is a trademark of Norex. This technology ensures that cloths do not smell foul and inhibit the growth of bacteria. It costs $22 without a discount
Pros:
Enviro Cloth has multipurpose use
It can be used for all the surfaces
It is an environmentally friendly product
Cons:
It is slightly expensive than other similar products
It cannot be used for rough surfaces like that of stones
2. Norwex Basic Package
Norwex is all about reducing the usage of chemicals. It is about sustainability. It is about a clean environment. It has replaced chemicals with enzymes to achieve its aim.
The basic package consists of a Glass Window Cleaning Cloth and Household Enviro Dusting Cloth. You can use this basic package to keep your window spick and span. This can also be used to clean any smooth surface, even your eyeglasses. The material is Microfiber Antibacterial. Norwex basic package costs around $40.
The smooth surface could be your table top or your car headlight. To clean the smooth surface: you soak the Environ Dusting Cloth and use it to remove the dust from the surface. The Window Cleaning Cloth is then used to give a spotless smooth surface. It is as easy as it sounds.
Norwex Kitchen Cloth is slightly on the expensive side. But, if you are looking for a permanent solution, you should have one at home. The longevity and the performance of the product are better than all the competitors.
Pros:
They last long
They can be used on almost any smooth surface in the kitchen
They just need water to clean
They are bacteria-free
They can clean wooden surfaces
Cons:
They are expensive
They have to be cleaned regularly
3. E-CLOTH Microfiber Cleaning Set
E-Cloth Microfiber Cleaning Set contains 8 pieces of cloth set for your kitchen. It cleans all oil and grease present in the kitchen. They just need water to clean. These clothes can be reused many times. Hence, they are good for the environment. These are completely chemical-free.
The Cloth set has- Cloth for kitchen, Cloth for Glass & Polishing, one for Bathroom, one for Window, one for Dusting, and one for Steel and another for Range & Stovetop. All come in 16 inches square shape. They can remove 99% of bacteria from your home.
All the clothes come with the tag. So, you know where to use them. You just have to warm rinse it once a day. This keeps it clean for daily use. Machine wash should be done using a little detergent and no bleach. It comes with a warranty of 300 washes. The whole set costs $27.
Pros:
Each cloth serves a specific need.
They don't require chemicals
They are cheap
They don't need to be washed every time
Cons:
Too many clothes can be confusing
They have to be Machine washed regularly
4. Norwex Household Plus Package
A complete package for you: Norwex Household Packages contains Envirowand with two-sided sleeve, Enviro Cloth, Window Cloth, and Dusting Mitt. It is a must-have for a household. The whole package costs $89.
The Environwand is fixed in length but has the provision for attaching Telescopic handle. It can be used to clean all nook and corner of the house. Like other Norwexkitchen clothes, they do not need any chemicals and can be easily washed and rinsed using water. Hot water is recommended.
The dimensions of Enviro Cloth, Window Cloth, and Dusting Mitt are 35cm by 35cm, 45cm by 45cm & 26cm by 14cm respectively. And, each cloth can be used for multiple purposes.
Pros:
It is a complete package and covers up every need of a household
The products are interchangeable in usage
All Norwex products are environment-friendly
Cons:
When bought online they do not come with a warranty
The telescopic handle does not come with the package
5. AUNTI EM's Kitchen Towel
The 13 pack Aunti Em's décor towels for your kitchen costs below $20. The fabric is 100% renewable natural cotton and you can choose from three options. White with Red, White with Green and White with Blue: each towel is fashioned in a vintage style with stripes.
The towels come with a Lifetime Customer Satisfaction Guarantee. The towels can be embroidered like it used to be in the past. Each towel is generously large- 25 inches by 15 inches. It can be used as a decoration item.
Pros:
It is aesthetically pleasing
It gives you value for your money
It can be easily washed
You can make designs on it
It is environment-friendly
Cons:
These are not very thick for better absorption
These towels shrink after few washes
6. FECIDO Classic Kitchen Dish Towels
The vibrant coloured Fecido Classic kitchen Dishtowels are extremely absorbent. The set contains 4 towels made from high-quality cotton. The towels can last for years. It's a good combination of performance and durability.
The 4 towel set costs about $30. You can choose from the range of 13 colours. The kitchen towels can also be used as a table decoration. It is a good gift for those who love being in the kitchen.
Each towel is sized at 19 inches by 27 inches. The towels are of professional grade. It can be machine washed but without bleach and fabric softeners.
Pros:
It is beautiful
The towels are generously sized
The towels don't leave lint
The towels can be used beyond the kitchen
Cons:
They lose colour
The soaking isn't as great as microfiber
7. SINLAND Dish Cleaning Cloth
SINLAND Absorbent Microfiber Dish Cleaning cloth comes in a pack of 12. These are available in 3 colours- white, black and grey. Each towel is small 12inches by 12inches in dimension. The microfibers pick up dirt, moisture, and bacteria from the surface and lock it.
The fiber can penetrate little crevices. This gives deeper cleaning. The ultra-soft material keeps paints and coats surfaces safely. This is a product well suited for the kitchen. It can also be used to clean car windows.
The absorbency rate is high. It dries way faster than cotton. These cloths can be washed hundreds of time in machines. It is recommended that you rinse them once before its first use. It should not be washed with other towels as it may attract and trap lint. These cost only $11.
Pros:
They are cheap
They have multiple usages
They can be used beyond kitchen
They are durable
They attract dust by developing opposite charge
Cons:
These towels can only be washed in cold water
It cannot be washed with powder detergent
8. The Homemakers Dish Towel
The Homemakers dish towel set consists of 4 cotton tea towels. The towels are large with dimensions of 20 inches by 28 inches. They cost around $22 and are well suited for embroidery.
It's 100% cotton. They are thick and don't get wrinkled. They are large so can be used for multiple purposes. These are super absorbent and include a loop for easy drying. This set also comes with a money-back guarantee.
It can be used for drying both hands and dishes. They don't need to be ironed and are lint-free. The high-quality cotton doesn't shrink on multiple washing. It neither fades. The colour is maintained.
It's a good buy for gifts. It can be used easily for decoration, too. They are good in and out of the kitchen. They can be washed easily. The towels should not be breached under any condition.
Pros:
Easy to wash
it is able to be used as a decorative piece
It comes with a hook
It absorbs water well
It is 100% cotton. Hence, good for skin
Cons:
On first washing, the dark colours might bleed
It is too big for the kitchen
9. SINLAND Kitchen Cleaning Cloth
SINLAND Thick Microfiber Kitchen Cleaning cloth set comes with 6 cloths. It costs only $11.60. The clothes are made of 80% polyester and 20% polyamide. These are hypo-allergic, soft, lightweight, compact and durable. Each rag measures 13 inches by 13 inches.
You can wring them dry and they resist drying. These clothes dry quickly. They resist staining and bacterial growth. They are ideal for cleaning mirrors, windows, tabletops, etc. They can be machine washed with warm water without bleach and fabric softener.
Sinland Kitchen Towel is a good value for money. Another advantage is the product can have multiple uses beyond the kitchen. You just need to remember that you need to wash it far too often.
Pros:
They are cheap
They are durable
They can be easily washed and dried
They can work on slightly rough surfaces
The colours don't bleed on washing
Cons:
The colour might run sometimes
There are no loops you can use to hang them
10. E-CLOTH Kitchen Microfiber Cleaning Pack
E-Cloth Kitchen Microfiber Cleaning Pack set contains a cleaning cloth and another for finishing. This two-piece set costs around $25. Like other E-Cloth products they give better performance are good for the environment. It only needs water to clean the kitchen.
The cloths use Microfiber that locks the dust and dirt inside. The dirt comes out during rinsing or machine washing. For better results, rinse it once a day with warm water. The use of bleach during Machine wash is discouraged. Bleaching damages the microfibres.
If you are obsessive about the cleaning of your kitchen you should buy this product. But then, you can buy the 8 pieces set from E-Cloth by paying a few more dollars.
Pros:
Environment-Friendly
They don't need regular washing
They don't need other cleansing agents
They come with a warranty of 300 washes.
Cons:
They can lose colour in machine wash
The life is shorter than Norwex
11. VIBRAWIPE Microfiber Cleaning Cloths
VibraWipe Microfiber Cleaning Cloths come in a 12-pack set. It costs only $23. They are made of densely packed microfibers we learned earlier. This density creates an area 40 times the cleaning area of cotton of the same dimension. They absorb 5 times more liquid than cotton.
If you don't use the beach the clothes can last hundreds of washes. They don't need chemicals and work on all hard surfaces. The stitching locks at the helms ensure that they remain intact.
The pieces come in 4 different shades of grey. You can use the various shades to colour code their usage. The material used is 80% polyester and 20% Polyamide. Each towel is 36cm by 36cm in dimension.
Pros:
Value for money
The stitches don't easily unravel
The results are lint-free and streak-free
The towels are plush and soft
Cons:
The colours can be confusing
12. PUDDLE JUMP Premium Kitchen Dish Towel and Scrubber
Puddle Jump Set comes with a non-stick mesh material that holds the soap lather. While cleaning the soap remains; other particles are washed away with the water. The set contains two pieces and each is made up of 100% polyester.
All kitchen utensils and glasses can be cleaned and dried using the Puddle Jump Towel and Scrubber. Normal Scouring Pads get damaged easily. They last long. The dimensions of each towel are 14 inches by 14 inches. They cost just less than $15 without a discount.
Puddle Jump gives Good value for money. But the drying isn't as good as the cleaning. Buy it if you have an extra drying towel. The material used is different from highly effective Microfiber.
Pros:
They last long
The big holes in the mesh keep it less messy
They are eco-friendly
They can be regularly cleaned
Cons:
The water soaking isn't great
You might need to buy another towel for drying
13. Norwex Kitchen Cloth
Norwex Kitchen Cloth is made of microfibers and comes with extra absorbents. They come in size of around 14 inches by 11 inches. The cloth quality of Norwex Kitchen Cloth is as good as other Norwex products. The cloth is soft, can be easily washed, lasts longer and comes with anti-bacterial properties. It needs no chemicals and cleans all kitchen items with a few drops of water. It costs around $16 so far.
The item comes with BacLock Technology. NorwexBacLock combines the silver-based agent that has anti-bacterial properties with microfiber. The anti-bacterial agent is placed inside the microfiber by the trademarked technology by Norwex. It ensures that cleaning comes with health. And, it prohibits the foul smell that accompanies the usage of cloth so far.
It is recommended that Norwex Kitchen Cloth is rinsed in hot water after use. It increases life.
Pros:
It works on wood, glass, marble, steel, ceramic and other materials in the kitchen
It can replace sponges and paper napkins from the kitchen.
Cons:
It does not have a magnet or hooks for hanging.
It is lightly expensive
14. Norwex Window Cloth
Norwex Window cloths come in a couple of variations of pink and purple color. It does not scratch glass surfaces and works with all kinds of glass. For better results, you need to use NorwexEnviroCloth to wipe the window and the window cloth to dry the surface. The Window Cloth comes in 17.5 inches by 16.5 inches. And, it costs $32 without a discount.
The Cloth can be easily hand washed or machine washed. The tags on the cloth tell you which one is window cloth and which is environed. Like other Norwex kitchen cloths, they are made of microfibers and come with anti-bacterial properties. The fibers come with active silver that prevents fouling and smells.
Though it is recommended to use Environ for cleaning and window for drying, you can use either for both the purpose so far.
Pros:
It works with all types of window materials
They are environment-friendly
No chemicals needed
Cons:
They are slightly expensive
They have limited color options
Q1: How to know which one is Window and which is Enviro Cloth?
Ans: The corner tags on the clothes tells it clearly
Q2: Isn't the size of Norewex cloths too small?
Ans: Our idea of the area comes from what we see. Because of microfibers, the area available for cleaning is large.
Q3: Do they kill bacteria?
Ans: No. None of the cloths kill bacteria. They only inhibit growth.
Q4: Do these Clothes contain micro silver for anti-bacterial action
Ans: No, they just discourage the growth of bacteria
Q5: Why it says no fabric softener
Ans: The Fabric softener destroys the property of keeping in dust and absorbing water
Q6: How do we wash the product?
Ans: You can wash it in a washer, dryer or dishwasher. You can also boil it.
Conclusion
Norwex Kitchen Cloth guide for kitchen clothing has been curated by choosing the best available on amazon. Norwex Kitchen is expensive than the competitors. But, Norwex kitchen cloth stands out for its longevity. On the long run, they turn out to be the cheapest. The others have their advantages, too. The suggestion is to get a mix of Norwex and other cheap kitchen towels for all kitchen needs.
Related Review Articles: