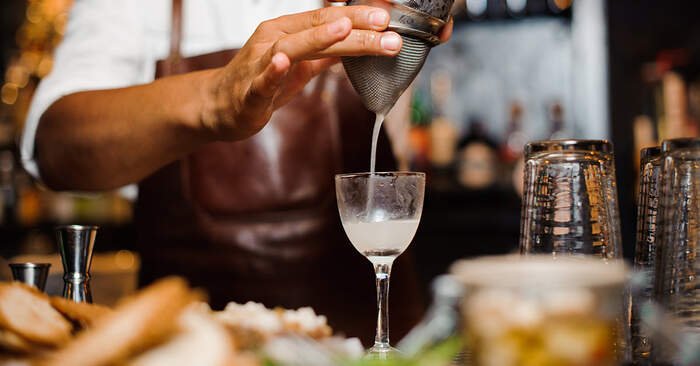 When in a bar, you may have heard the term 'mixologist' thrown around, sometimes in reference to a bartender. What is a mixologist, and what is the difference between that profession and a bartender?
What is Mixology?
Mixology is the study of the history of mixed drinks, and it is the skill of being able to create original cocktails and drinks. In some contexts, it's used as another term for bartender, though the two have their differences.
A mixologist is an individual who is knowledgeable about the history of drinks and cocktails and who has a mixology certification. They understand the significance behind the ingredients as well as the importance of different mixing techniques. Using traditional knowledge and innovative ideas, mixologists craft original cocktail recipes.
What is a Bartender?
The concept of a bartender is well known. They are the positions that tend to a bar and serve beer, cocktails, and other spirits from behind a counter. They are professionals who know their products and can multitask while performing their job; there is a big emphasis on customer service for this position.
Duties
Mixologists and bartenders have varying duties to perform.
Mixologist
The duties of a mixologist are more generated towards the crafting of original recipes.
Recipes:

Mixologists need to be consistently playing with drink recipes to create new cocktails and infusions to improve menus. Mixologists also need to look over old cocktail books and recipes for inspiration.

Trends:

Mixologists have to stay on top of trends and innovations so that the establishment they work for can keep up.

Bar:

Mixologists need to know how to work behind a bar. Often, mixologists serve as head bartenders or managers.

Consult:

One of the duties of mixologists is to work as cocktail consultants. In this position, they help develop cocktail menus and programs for different bars and restaurants, old and new.
Bartenders
The duties of bartenders are more geared towards customer service and interaction.
Make Drinks:

Bartenders need to know how to make all of the standard cocktails, as well as any of the specialty cocktails. When a customer orders a drink, the bartender should immediately know what goes into it and how to make it.

Work Quickly:

Bars can get crowded, so bartenders have to remain calm and efficient under pressure and work well in a crowded bar.

Customer Service:

There is a lot of interaction between customers and bartenders, and bartenders have to be friendly and sociable.

Bar Stock:

Bartenders have to keep their register balance and maintain their bar stock to prevent accounting errors and losses. A well-stocked bar ensures that business will not stop because of a lack of supply.
Skills
The skills of both of these professions overlap significantly, as they both require similar knowledge and the ability to mix drinks. Below are some of the skills that both professions need to have to be successful.
Knowledge of the Industry
Knowledge of the industry is critical to both professions. Only by being aware of the different recipes and monitoring different industry trends can they effectively complete their jobs. Bartenders need to know how to make traditional drinks, and mixologists need to be able to create new drinks.
Communication
Both professions require excellent communication skills. Bartenders spend most of their shifts interacting with patrons, and they need to be able to communicate effectively with co-workers as well. Mixologists, when working and establishments, have to communicate with bartenders and co-workers to suggest and teach new recipes.
Customer Service
Because both professions interact with customers, having excellent customer service skills can enable them to interact positively with patrons and answer any questions about the wide selection of drinks.
Creativity
Creativity is important; bartenders display their creativity when they are mixing drinks and when customers request customized cocktails. On the other hand, mixologists need creativity to incorporate innovative elements and ingredients into their drinks. With a lack of imagination and creativity, mixologists would have a difficult time crafting new drinks.
Memory
Memory is possibly one of the most important skills for bartenders and mixologists to have. Both professions need to remember hundreds of different drink recipes as well as mixing techniques. When behind the bar, both professions also need to be able to recognize which patrons ordered what during busy hours.
Free-Pouring
The ability to Freeport is an excellent one to have, especially during a bar's busy times. It's a unique skill, and it's when both professions can pour drinks without using anything to measure the amounts. It is a skill to develop, but it can save time.
Organization
Complying with food and safety regulations is a high priority, as is serving customers in a timely order. By keeping their drinks and utensils organized, both bartenders and mixologists can achieve both of these goals.
Beyond the knowledge required to be a mixologist, there aren't many differences between mixologists and bartenders; a bartender can be a mixologist, and a mixologist can be a bartender.