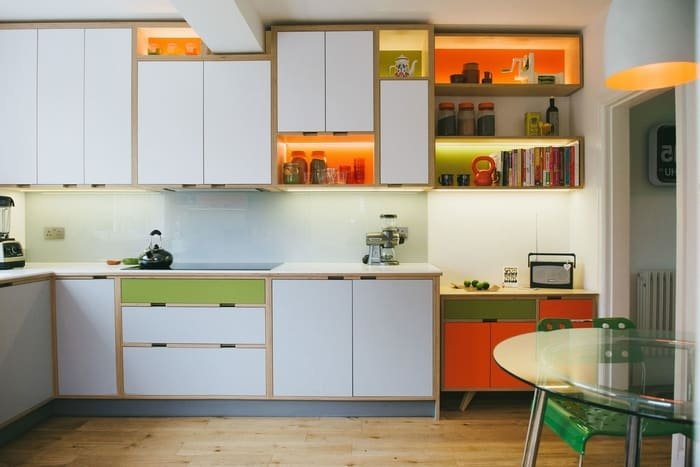 It's amazing how what was once considered "outdated" always seems to resurface and become popular again. We see this in clothing trends, music, and even in political movements. But we often see the trends of yesteryear resurface in home design as well.
Retro is in. And what was once considered "old" has now become revitalized. But when it comes to home interiors, retro themes have been trending in recent years, especially in the kitchen.
You may remember the flat colors and the bulky appliances that looked more like they were made in an automobile factory from the days of old. And today, these designs are making a comeback in many areas of the country. But what are the best ways to incorporate a retro kitchen design?
You might be surprised at how easy it is to incorporate retro designs. So If you're looking to turn back the clock while adding a bit of style, the following will explore a few ideas for retro kitchen remodels.
Countertops
While most vintage kitchens feature laminate countertops, you don't need to work too hard on your countertop designs for these to blend nicely with a retro look. In fact, even a modest gray or metallic countertop would suit nicely for the retro vibe you're going after.
Countertops can range from tile to brick, or you may even decide on a traditional wood countertop with bright coloring.
For example, during the 1950s, brightly colored countertops were the standard design. Home designers knew that the kitchen was a primary room within the home, and many designers felt that offering bright elements made the kitchen more inviting.
When it comes to retro design, your countertops won't be the focal point. But when deciding on countertops, you'll want to ensure that whatever you choose blends nicely with your other elements.
Appliances
If you really want to take retro to the ultimate level, you need to start with your appliances in order to make this design theme truly authentic. And don't worry, you won't have to dig through a junkyard to find the right items.
Today, you can buy retro-chic refrigerators at a low cost. But if you're really out to have a truly authentic kitchen with appliances from the mid 20th Century, you may have to do some old-fashioned picking or peruse vintage appliance and antique stores.
Other appliances and items with a vintage mid-20th Century appeal you might consider adding are as follows:
Toasters
Toaster ovens
Range stove
Kitchen fans
Vintage juicers
Salt boxes
Hanging fruit baskets
Though your retro appliances will offer you the finishing touch when your design comes together, these are absolutely essential for that authentic retro kitchen feel.
Colors
If you can envision a kitchen from the mid-20th Century, you're likely to envision a kitchen with pastel block colors, probably with a soft white trim throughout. And this is the theme you'll want to incorporate to go fully retro in your kitchen space.
For example, if you think "1950s diner" then you'll probably think of elements that include bright pinks, soft pastel or powder blue., chrome, and a background of white. And you can incorporate this into your cabinetry with relative ease.
Simply by painting the background of your cabinetry white, then painting your drawers and cabinet doors blue, pink, canary yellow, or deep red, you can evoke that feeling of the 1950 roadside diner. And adding chrome knobs and handles for your cabinets drawers will surely seal the deal for this type of retro renovation.
Flooring
Do you want to walk into your kitchen and get the urge to play hopscotch? Well if this is the case then there's nothing like retro checkered flooring to get the job done and tie in all of your retroelements.
The traditional flooring in mid-20th century kitchens were often made out of linoleum. In fact, though invented in the 1800's, linoleum actually became popular in the 1950s. And this material is beginning to make a comeback simply because many homeowners like the fact that most linoleum flooring is made from all-natural materials.
Black and white checkered linoleum flooring is an essential item when you're attempting to go fully retro in your kitchen. And this is actually one of the cheaper alternatives when you consider the cost of expensive ceramic tile.
Walking into your kitchen and feeling like you've stepped back in time as if you're about to head out to a sock-hop in 1955, is much easier than you think to achieve. And by following the advice listed here, you'll be well on your way to enjoying a fully retro kitchen.