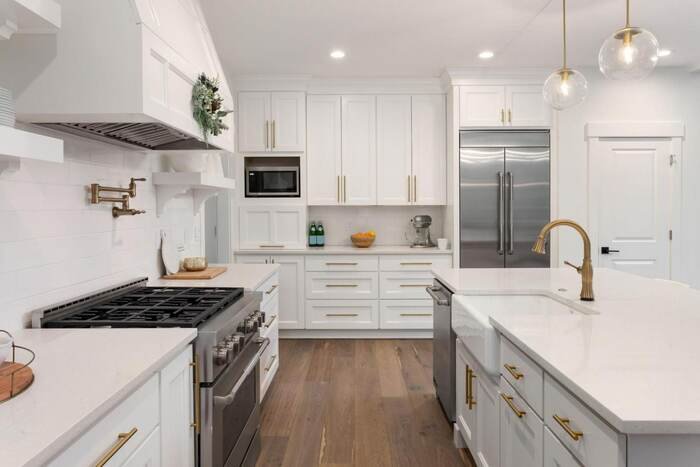 From cabinets to color schemes, countertops to appliances – there's a lot that goes into a kitchen renovation project. And in order for the end project to match your original vision, all of the different parts have to come together to complement one another. We don't need to tell you that this is often easier said than done – and pulling it off takes careful planning and consideration in nearly every step of the process.
In this post, we'll cover some of the hottest color and design trends for the home kitchen in 2023. Here's a closer look at some inspiration if you have a kitchen remodel on the docket this year:
Kitchen Design Inspiration for Your Next Project
Custom Made Kitchen Cabinets
One of the most important considerations in any kitchen renovation project is cabinets. Cabinets don't just serve a functional purpose for storing cooking supplies and dishware, but an aesthetic purpose too. In many ways, they set the visual tone and pattern for the rest of the kitchen. And rather than just selecting from stock options at the local hardware store, custom cabinets are becoming increasingly popular so homeowners can ensure they're getting just the look and feel that they're striving for in the space.
Kitchen cabinets can be customized from the type of wood they're made of to the wood finish to the type of door style the cabinets will have. There are various types of wood finishes, hundreds of colors and finish varieties available and plenty of door styles to help you achieve the exact look that you're going for in the kitchen. When you go with custom cabinets, you'll never have to settle for something that just fits "good enough" in your kitchen. You can have exactly the look and feel that you want.
The All White Kitchen
All-white kitchens are currently trending, largely for their crisp, clean look and feel. Once considered uninviting, the all-white kitchen is now thought to be bright and vibrant. Now the kitchen doesn't have to be all one shade of white. It can mix gray and different shades of white, and other features like countertops and backsplashes can mix in other complementary colors. White appliances and cabinets can serve as a nice way to round out the all-white kitchen.
Subdued Countertops
Not long ago, bold and dark-colored countertops were the big trend in the kitchen. Now, that's not so much the case. Today, more kitchens are moving to subdued lighter colors to help brighten up the space. These more muted countertops tend to work well with the wood cabinets that homeowners prefer. What's more is that more and more kitchens are moving away from granite countertops and instead settling on quartz or quartzite. Granite is better known for its bold patterns and colors, while quartz is more known for a subdued muted look that compliments the cabinets and many other key features in the kitchen.
Pops of Complimentary Colors
If you're going with more neutral colors in the kitchen, that doesn't necessarily mean you can't get creative with some of the other features. Take the backsplash and the countertops, for example. Selecting a color or pattern that complements the color scheme throughout the rest of the kitchen but also includes various other, perhaps more defining colors, can make for a nice touch without throwing the entire color scheme off throughout the room. Outside of the countertops and backsplash, you can get a little more creative with color in things like lighting, window coverings or even placemats on the kitchen table to add some contrast to the neutral-colored kitchen.
Kitchen remodels are one of the most intensive and costly renovation projects you can do in the home, with an average price tag of $14,500 on the low end and upwards of $40,000 on the high end. Noting both the cost and time investment – it's estimated that a kitchen remodel can take anywhere from three to six months – it's imperative to ensure that you don't settle for the end result. From custom made kitchen cabinets to getting creative with your color schemes, there are various ways to ensure that the project meets or even exceeds your expectations.