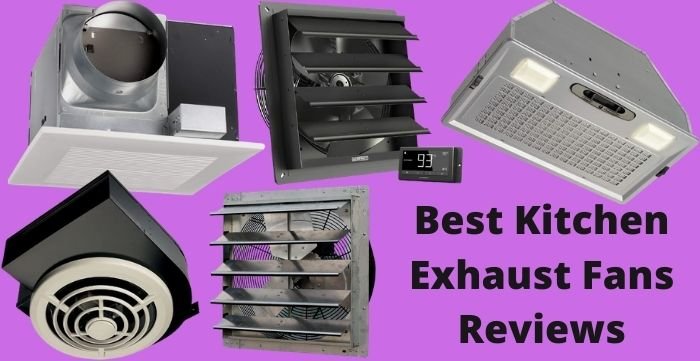 A fully functional and stable exhaust fan is what every kitchen needs. Kitchen exhaust fans play an essential role in a kitchen by keeping you safe and healthy without you even knowing. The stale air, the smoke in your kitchen is not just uncomfortable to inhale they are also known to be hazardous for your health. Especially when you have a packed kitchen with no ventilation in the house either. Many health issues like asthma, constant migraines or headaches, or some allergic reactions start from there without us having a clue.
Moreover, when your house is packed with minor to no ventilation system then you might not know about the mold and mildew growing there quickly. This proves how you need a perfect and stable kitchen exhaust fan to prevent all these problems.
The market is loaded with exhaust fans, some are super effective with a ton of features in them which make them a bit out of range too. While others fail to meet your requirements because of the tight budget. Here we have gathered some of our best picks of kitchen exhaust fans that will be durable, effective and won't put a hole in your pocket!
10 Best Kitchen Exhaust Fans Review and Features
1. Broan-NuTone PM390 Kitchen Exhaust Fan
Broan-Nutone is a superb brand when it comes to kitchen exhaust fans. These are known to be safe for usage and have HVI certification. The powder coating on it makes it ultra durable and authentic for use. No need to worry about the hood, as it allows you to use in both, ducted or non-ducted discharges. Easy installation and easy to clean properties makes it user friendly. The aluminum mesh filter attached to it effectively captures all the grease. Furthermore, an incandescent lighting improves the look of your kitchen décor and makes it easy for you to look up your cooking closely.
Further features include automatic detection of surroundings that adjusts the blower itself while it is 250 CFM which is considerably high. The three-slide speed controls are easy to use while the stainless steel provides better air and ventilation.
Pros:
Easy installation and a wider capacity
Auto detection takes it to another level
High CFM.
Incandescent lighting is a plus
Cons:
The built quality could use a little bit of
2. Panasonic FV-30VQ3 WhisperCeiling Ventilation Fan
This kitchen exhaust fan is known for being a lightweight, compact and energy efficient fan. Panasonic Fv-30VQ3 kitchen ceiling exhaust fan has many features that wins the hearts of buyers as they are looking for something quiet, energy efficient and easy to install and use. This exhaust fan has a durable stainless steel material too that makes it rust resistant.
The exhaust fan is made up of a motor condenser that's a unique feature. Moreover, the double-tapered and fully covered motor works efficiently. It also features a bladed wheel placed in the center of the fan which is dolphin-shaped and assists mainly in transferring large volumes of air in and out from the room at minimal noise levels.
Pros:
High powered
Quiet performance
Quality and value for money
Energy efficient and moves large air volumes to and fro and thus is able to prevent overheating.
Cons:
Its installation might be a bit difficult for a few as the package does not have any mounting hardware.
3. Broan-NuTone 9093WH Exhaust Fan
The Nutone 9093WH Exhaust Fan is not only a ventilation fan but also a Heater, and a  Light source. This is a rather powerful ventilation and heat combo that consists of everything you need.
In addition, the powerful heater allows you to warm up your kitchen when the ventilation process is not occurring. Also, the ventilation system in it can assist you in reducing the growth of mildew and mold. It also features a bright LCD light that will light up your kitchen. The modern looking fan circulates the air at around 70 CFM, which means clear up the smoke from your kitchen within 60 seconds.
Pros:
Easy Installation
User friendly
High-Capacity Performance
Multiple and effective functions
Cons:
Not works with suspended ceilings
Difficult to switch out
4. iLIVING ILG8SF20V Wall Mounted Exhaust Fan
This one from iLIVING is a good ,sturdy fan which is well built and weather resistant outer shutters and blades. This fan allows large volumes to flow in and out and will make your kitchen well ventilated and warm. The motor runs with 110 volts and has good effects on the temperature inside the room. The fan is basically a 20 inch diameter that means good air flow. Hence the purpose is fulfilled.
Made with top quality and durable material which is Aluminum. The material does not corrode early and stays with different weather and different heat, smoke and greasy surroundings. iLiving Shutter kitchen exhaust fan is designed to offer something similar to superior ventilation services in any type of kitchen.
Pros:
High powered
Deep shutter metal box
Good air flow
Cons:
A rattling noise disturbs
No variable speed
5. Broan-NuTone L300 High Capacity Ventilator Fan
Broan-Nutone L300 is another exhaust fan with high capacity which operates on 120v power for an effective and powerful performance. This one is a perfect fit for a home as it is a long-lasting use. You even have an option to duct the fan horizontally, vertically, or in a line with a separate adapter or whatever is in your convenience. The lubricated motors provide a noise-free operation.
The fan is made of  galvanized steel, which can easily be installed on the wall or ceiling.
Pros:
8 inch diameter duct
120 volts of power
Horizontal or vertical discharge ducts available
Cons:
Comparatively low powered
6. iLIVING ILG8SF24V Wall Mounted kitchen Exhaust Fan
This wall mounted kitchen exhaust fan is very easy to install and has a very effective and powerful motor which automatically sets the temperatures and speed of the exhaust fans. With variable speed and cooling properties this fan is perfect for home kitchens or attics. The cooling properties make it unique with a durable material.
Pros:
Easy to install
Powerful motor
Cons:
7. Broan-Nutone L400 High Capacity Ventilator Fan
This Broan-NUTONE exhaust fan is solely for commercial use due to its incredible high capacity ventilator fan which is of 434 CFM. These are made for large kitchen areas like restaurants or commercial kitchens.
For amazing performance, the package offers a pair of impact-resistant blower wheels which are generated by another 120V motor. The motors are lubricated well to give an uninterrupted and noiseless performance throughout.
The automatic backdraft dampers included removes all unwanted insects from the kitchen too along with preventing the entrance of contaminated air again in the kitchen. Place vertically, horizontally or in-line with a separate adapter as it has a lot of options.
Pros:
High powered
Commercial use
Backdraft dampers for insects or excessive grease
Cons:
Installation is a bit difficult
Heavy weight
8. iLiving 18 Inch Smart Remote Shutter Exhaust Fan
This one is a modern designed and an efficient kitchen exhaust fan that deals with large air volumes which means large places. It comes with a remote controller for customisable speed and temperatures. Accompanied with a thermostat and humidistat, this one makes it to one of the most durable ones. The 120V motor is perfectly lubricated that leads to zero to minimal noise.
With weather resistant shutters and programmable timers, this kitchen exhaust fan gives a spectacular performance.
Pros:
Weather resistant shutters
Timer and a controller
Multipurpose
Cons:
9. Broan-Nutone 8310 Side Discharge Ventilation Fan
This Broan-Nutone operates at an incredible power of 160 cfm and has quite a high rating for quiet performance and a durable, reliable use.
It features a fan blade that stays in place and will not distort even after years of usage. This means the fan is high quality and made of a sturdy material. It comes with quite an easy installation. Helps basically in removing kitchen odours, grease and smoke
Pros:
Reliable and long lasting
Made of a sturdy durable material
Cons:
10. AC Infinity AIRLIFT T14
This is a high-airflow exhaust fan which is designed to ventilate heat, moisture, different kitchen odors, and dust from various spaces. Especially works well as a kitchen exhaust fan. It has a controller with a corded probe, that can easily adjust fan speeds when exposed to various temperatures and humidity.
The motor is quite energy efficient and noise less. Moreover, it features galvanized-steel shutters, outside the fan and aluminum blades which are dust and rust resistant.
The product is made from alloy steel and comes with an LED controller instead of a remote.
Pros:
Multiple functions
Durable alloy material is used to improve its built quality
Rust resistant
Cons:
Buying Guide
As you can see, you have a lot of choices when you are buying kitchen exhaust fans, but what you need to do is some smart research that serves you in the long term. This way your money would be safely invested and your needs will be addressed as of what you were looking for.  Listed below are a few factors you really need to consider if you want to get the most productive kitchen exhaust fan for your home:
The very first thing you need to consider in an exhaust fan is whether you want to go with a vented or a ductless hood. Both offer unique features and their systems operate quite differently. However, we would not recommend a ductless hood to anyone as it takes in all the smoke, humidity, and odors but after a time distributes it throughout your kitchen and it spreads in the rest of your house.
This makes it useless according to us. On the other hand, venting the hood of the duct outside the house is better, however a little complicated and time taking to install. But it gives off the desired results.
Furthermore, nothing to worry about as the majority of hoods and ducts on the market offer installation for both types so that you can choose for yourself and according to your needs.
The size of the kitchen exhaust fans is one of the most significant parts. Here, you should clearly know that bigger is better. Ensure while purchasing that it's about the same width as the cooking surface or stove you are intending to install it above. Also, try to avoid downdraft hoods as they are seen not to be as effective as their other counterparts when it comes to managing extreme humidity, odors, and smoke.
This is something that annoys a lot. So if you're considering to install your hood on your own, you need to be very sure that the installation is rather quick and susceptible too. Follow the given directions while installing and continue step by step.
Also, make sure you have enough space for it to be fixed and you are placing it at a safe distance.
There are quite a few types of kitchen exhaust fans so make sure you are choosing the right one for your kitchen. Wall chimney hoods are considered ideal when there aren't any cabinets or mounts on the wall. Island hoods are the ones that  work above a peninsula and are placed to the ductwork and vented through the ceiling and to the outside of the house.
If you're someone that would like to concentrate and are easily annoyed with noise or the sound of a running fan then you should check precisely that the motor of your exhaust fan runs correctly and that even at low noise or not.
What is more important than buying quickly is calculating the expenses of the electricity bill, maintenance and such things. There are exhaust fans that can end up having a huge impact on your electricity bill. This usually happens if you're not careful enough. So if you want  cut down on your energy costs, and keep it low maintenance then you surely should keep an eye out for a kitchen exhaust fan that's energy saving or just a moderate one.
Frequently Asked Question FAQs:
Q: Can an exhaust fan help in cooling the room?
Ans: The exhaust fans do not produce any cool air itself, what it does is that it pushes the warm air outside your kitchen and if the air is cooler outside the room then a cross current of air happens and it replaces the hotter air with the cool air from outside.
Q: Why are ventilation systems needed in kitchens especially?
Ans: Different types of food are cooked in the kitchen so the aroma is released because of the ingredients used and oil. This makes the kitchen surrounding stingy and they develop odor because of this mixture of aromas. However, the air inside your kitchen should definitely be replaced by the fresh air from outside. This is what exhaust fans do. Due to this reason, you need to have a good ventilation system or an exhaust fan inside your kitchen.
Q: What is the best way to clean the range hood?
Ans: The exhaust fan performs the function of ventilating your kitchen from smoke and grease, this makes the range hood get these things on its surface. So it needs to be regularly cleaned out. Use a detergent with warm water and a rough towel and clear the surface.
Q: How can I deep clean my kitchen exhaust fan?
Ans: Cleaning the surface can be done by a detergent and warm water while when it needs a deep cleaning then remove the mesh filters of the exhaust fan and pour some hot boiling water on them. For the removal of the grease from the fan blades or surface, make a solution of water, soap, and some baking soda. Also, vinegar can be used to remove the fat.
Q: Are exhaust fans able to get rid of grease and oil vapors?
Ans: Of course they can. However, if you have a kitchen that is used daily or even twice thrice a day for cooking, and a lot of greasy foods are made in there, then ensure that you have chosen the right kitchen exhaust fan system that's specifically designed to be easy to maintain and clean.
Conclusion
As you've seen, there are plenty of options available out there when it comes to choosing the best kitchen exhaust fans. And here we are with our top picks and a very susceptible and comprehensive buying guide that prevents you from researching tons of products while desperately wanting to pick the best one according to your requirements.
The product list, the buying guide and a few tips must have made you realize that having a kitchen exhaust fan in your home is very significant for a fresh and cool atmosphere. With that being said, we make sure all the kitchen exhaust fans reviewed in this article are of the best quality and will offer their services like no other. Customize the settings according to your needs and go for it!
Related Review Articles: