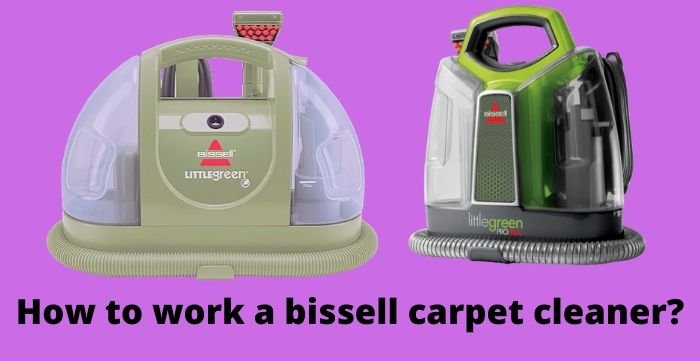 Introduction
After cleaning your carpet, you may have aching knees and a sore back. A carpet cleaner makes your work in cleaning the home or office carpets simpler. This guide provides more info on how to work a Bissell carpet cleaner on your first and subsequent cleanings.
Reasons why you need a Bissel Carpet Cleaner
Deep Cleaning System- Bissel carpet cleaners offer deep cleaning systems for upholstery and carpets. It removes pet odors and stains from all surfaces.
Advanced Technology- your cleaning is made easier by the dual rotating PowerBrushes, heatwave technology, and EdgeSweep brushes for the removal of odor and stains.
Additional Features for Deep Cleaning- Bissell carpet cleaners have a pet hair collection basket, deep reach tool, tough stain tool, and a trial size 2x pet stain and odor formula.
Factor to Consider When Purchasing a Carpet Cleaner
The Type of Surface you Need to Clean- When buying a carpet cleaner, you need to consider your type of floors, upholstery, and other surfaces that you need to clean. A cleaner that maneuvers to reach the hidden corners is best for your home.
Your Budget- there is a wide range of carpet cleaners in the market. You can save for one of the best products in the market. You should spend quite a dime to get one of the Best Carpet Cleaners from renowned producers like BISSEL.
The Possibility of Hiring- in most cases, you can hire a carpet cleaner or a professional cleaner to give your home a new and fresh. For regular cleaning of your home or office, it is more advisable that you get a carpet cleaning machine(s) to cut on the costs of cleaning.
Portability- You may need to carry the carpet cleaner around the house to clean all surfaces and rooms. Most Bissell carpet cleaners are portable and easy to move around as you clean your home or office.
The Noise Produced- as you clean your carpet and upholstery very much often, you need to protect your ears. The best way of ensuring that your hearing is intact is by getting a carpet cleaner with the lowest noise. Bissel Carpet cleaners are designed to emit low sounds.
Maintenance Cost- you need efficient maintenance to keep your Bissell carpet cleaner in perfect condition. You might need to replace your filter once in a while for its efficiency. For better results, you need to get a cleaner that has a washable filter for lower maintenance costs.
Preparing to Clean your Carpet
Read the manual- Before you clean your carpet, you need to read and understand instructions from the manufacturer. Bissell carpet cleaning tutorials provide more information on how you can clean different surfaces effectively with more understanding of specific differences.
Ensure that your Cleaner is in Perfect Condition- before you commence using the Bissell carpet cleaner, you should inspect it to ensure that it is in perfect condition. To avoid disappointments, you should develop the culture of proper maintenance of your machine.
Stock up Your Accessories- you need to get a specific cleaning solution for your Bissell carpet cleaner. Avoid using homemade solutions that might need additional cleaning to remove from the surfaces and also to protect your machine from breaking down.
Remove Furniture- The furniture is likely to hinder you from moving freely as you clean the interior of your home. You may also need to move the furniture to avoid putting scratches on them. For the furniture that you may not move, ensure that you can reach the deepest corners.
Power up your carpet cleaner- after ensuring that everything is in order and creating enough space in the room, you can power up the device to start cleaning. Ensure that you get a machine that has a long power cord to ensure that you can maneuver freely.
Focus on the regions that need thorough cleaning- pre-treat the carpet using a standard Carpet Vacuum. Proceed to use the Bissell carpet cleaner in cleaning your upholstery and carpet. Focus on the areas that need a thorough cleaning to remove notorious stains. You may need to clean the surfaces twice or thrice to remove all the dirt, stains, and odor.
Empty and refill your reservoir with hot water- After some cleaning, you need to refill the water reservoir with hot water. Ensure that hot water is flowing smoothly from the faucet. The user manual provides additional information on how you can refill and clean your reservoir.
Use a piece of equipment on your hose to clean concealed corners- you need additional pieces of equipment to clean the hidden and visible parts of your carpet or upholstery. Use a tool that is compatible with your Bissell carpet cleaner.
Read the owner's manual- specific differences are accounting for the efficient operation of different carpet cleaners. You should read your manual to understand it better.
Clean the tank and brushes after each use- before putting your carpet cleaner in storage, you should clean the tank and brush. Regular cleaning prevents the accumulation of bacteria and mold spores as you get to keep the brushes in perfect condition.
Use the recommended carpet cleaning solution- You need to use the specific carpet cleaning solution for the best results and to keep your machine in perfect condition.
Store the carpet cleaning well- do not expose your machine to extreme temperatures. Your manual provides more guidance on how you can store it best.
Bottom Line
While cleaning your carpet and upholstery, you need a machine from a trusted manufacturer. Bissel carpet cleaners are some of the best in the market for the last decades. You should consider the basic instructions from the manufacturer due to the slight differences in how they operate.