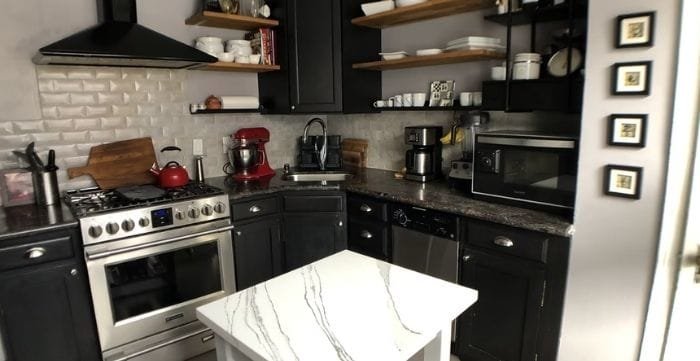 A kitchen is, by far, the busiest and most happening room in the house. A big part of that is the number of electrical appliances used within. If you can somehow compare the monthly power bills generated due to activities in the kitchen to any other room in the household, you would be surprised by the stark difference.
On top of that, a lot of effort is required to properly position these appliances.  Many homeowners struggle with this very issue and end up making irreversible errors that cost a fortune to fix. The purpose of this article is to provide you with a comprehensive guide on how to plan for the electrical items in your kitchen. Each of the following sections describes some of the key aspects that you would need to keep an eye on.
Outlets and Sockets
In most kitchens, there are two types of socket outlets: sockets above the countertops and the ones that are placed below. The outlets above these worktops are used for small devices like the toaster, kettle, and microwave. Depending on the form, design, and structure of the kitchen, these outlets are fitted and positioned in the right places.
The outlets that are placed underneath or inside a cupboard unit are used for static or fixed appliances. Washing machines, freezers, dishwashers, dryers, single ovens, and integrated microwaves are typical examples of the units that would be connected to these ports. The socket and outlets for these appliances would need to be placed in an easily accessible cabinet. This helps in keeping the electrical ports and connections at a safe, isolated location to prevent them from getting damaged from the overall wetness of the kitchen.
It is recommended that you know the number of outlets that you can wire on the same circuit. This is crucial as you do not want to break any safety regulations or initiate any health hazard.
Lights
The lighting inside your kitchen determines its overall elegance. A bright environment not only makes the interior look classy and refined but also increases the convenience and ease of working there. Even if you do not do a single piece of repair work, tactfully increasing the luminous intensity of the interior will make you feel as if you have entered a completely different kitchen.
There are a variety of kitchen lighting options in the markets that you can choose from. Depending on your budget, try to keep a particular theme when purchasing the lights. This would mean, with proper placement, a consistent level of lighting will persist throughout every corner of the kitchen. Let us take a look at some of the most common lights installed in a kitchen.
Low Hanging Lights
If you already have or plan on having a breakfast bar or dining table in the kitchen, you should go for low-hanging light pendants. This gives the eating area a modern look which is found in many kitchens these days. The entire meal experience is enhanced by lights emanating directly from above. Try adding more lights to amplify the effect, although we recommend you stop at 2 or 3 as excessive lighting will only make matters worse.
In case you have a limited budget, you can install a large, single light that can be positioned centrally on the ceiling. This will work just fine, although we suggest you not discard plans for further lighting installations in the future. Make sure you keep more outlets available for future renovation.
Downlights
Downlights are also great when it comes to focusing light on a particular position in the kitchen; the dishwashing area for instance. Try to maintain a tactical angle when installing the lights so that they are not placed directly above the head, as this would create shadows and hamper work. Independent lighting like these provides a touch of class in any kitchen and makes it look highly contemporary.
Under Unit Lights
No matter how intense the ceiling lights are, the places underneath the kitchen worktops remain comparatively dark. As mentioned earlier, this is where the additional sockets, outlets, or even switches would go. Thus, it is important to have an ample amount of light installed in those places so that accidents do not happen when trying to utilize any of the outlets.
Hob, Cooker, and Oven Circuits
The cooker is arguably the most essential appliance in the kitchen, and quite rightfully so. Thus, knowing the right way to plan and handle the cooker circuitry is necessary if you want to take a hands-on approach to renovate or take care of your kitchen. A dedicated circuit is needed for the cooker hob or oven as they mostly require an excessive amount of power, making them unsuitable to be connected to the general kitchen socket circuit. Although this entirely depends on the Kilo-wattage of the devices, most however do surpass the safe limits and thus require isolation.
Make sure the switch that controls the circuitry is also placed in an isolated and convenient location. This would allow easy access. Modern kitchen modelers try to keep all the electrical materials hidden from view to maintain the aesthetics.
Consult an Electrician
Despite all the aforementioned guidelines, we still suggest consulting a professional electrician if you have major kitchen renovations in mind. It would cost money, but hiring the right people would ensure that the job will be done without any confusion or hassle, in the best way possible, using the right methods and according to the law.
Final Words
There is hardly any home decor enthusiast who does not crave to design their modern kitchen. The busiest room in the household does deserve to be adorned with as much aesthetics as possible. As electrical appliances hold a major part of modern kitchens, make sure you know all about their operations and layouts before planning a kitchen remodel.