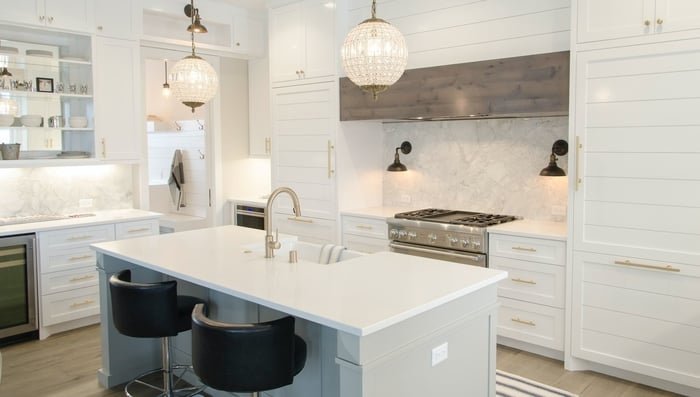 Kitchen lighting plays an incredible role in enhancing and elevating your home's overall interior. Lighting elevates the space and adds to the functionality of your kitchen. To improve the design of your kitchen to its maximum potential, you should consider the lighting of your kitchen from the very beginning and seamlessly incorporate it into the complete plan for the construction of your new cooking space.
In modernly designed kitchens, kitchens are not just the space for making your delicious meals but also a space where family and friends can gather on occasions. Choosing the proper lighting can help you set the ambiance you want for your house, and it can enhance the overall aesthetic of your kitchen place. Here are the top things to consider when planning out the lighting of your kitchen:
1. Positioning the Lights
You can improve and enhance your kitchen's overall lighting by positioning lights across various areas. Ambient lighting, which brightens the whole room, is usually all about the ceiling light, as it directly distributes the light rays over the entire space. The second concept is proper task lighting to brighten the surfaces where you perform particular tasks. The third one is accent lighting, which enhances the beauty of your space by making specific features look more vibrant and noticeable. 
2. Layering the Lights
If you want to improve the practicality of your kitchen space while beautifying it, you can try mixing and matching the lighting styles. Installing a variety of lights across the kitchen in a way where one overlaps, and layers with the other one will increase the depth and character of your kitchen. It will enhance the most prominent features of the kitchen by directing the light and attention toward them. 
3. Using Ceiling Lights
A ceiling or roof is the first place where most people start installing their lights, as any light installed on the ceiling will brighten the entire room. You can add a subtle vibe to your kitchen by adding the old-fashioned LED downlights, as downlights can really brighten your complete kitchen. These lights are equally suitable for both traditionally designed and modern kitchens. LED downlight ceiling lighting is commonly available and does not take much energy, so it's very cost-effective for your home. 
Pendant lights are also a great option and have gained a lot of popularity over the last few years. They can also provide ambient lighting and brighten up the complete space. Pendant lights come in a huge variety of designs that can align with your overall kitchen design.
4. Adding Cabinet Lights
Lighting inside cabinets is often overlooked and not considered in overall planning. Your cabinets are the perfect spot to add that extra light to help you see everything you store in them much better. This enhances broad light through the concept of task lighting. This type of lighting will also ensure that your worktops are used safely for food preparation, especially during nighttime when the flow of natural lighting is low to none in your house. Cabinet lights also act as a great asset in creating a calm and peaceful environment for evenings, especially when you have guests over for that football match. 
If you integrate lights into your display shelves, it will draw attention to your beautiful crockery and enhance the look of your kitchen space. This lighting will make your kitchen glow and give it more character and a hint of personal touch. The enhanced visibility will make your kitchen unique and help you in functionality as well.
5. Installing Decorative Lighting
To complete the design of your kitchen, you can add a few decorative lights that can complement your space and the overall design. You must ensure that the decorative lights do not dominate your leading lights. That can disturb the established lighting system, especially if your decorative lights radiate a different colored light. 
You can incorporate pendant lights, chandeliers, and even floor lamps. A general rule is to install these lights approximately 30 to 36 inches from the counter. This distance between the base of your installed light and the top of your kitchen counter will ensure that task lighting is followed, and even decorative lights increase the functionality and visibility in your kitchen.
6. Focusing on Natural Light
The most important thing to consider while planning out your kitchen design is the flow of natural light. When it comes to improving or installing lighting in your kitchen, it is more common to think of dangling chandeliers or artificial ceiling lights with dramatic effects. However, it is way more important to ensure the right positioning of windows and blinds to ensure sufficient natural light is entering your space. An expert kitchen designer can help you revamp your kitchen space in a way that allows maximum natural light to enter the room in daylight. The flow of natural light into the kitchen will add to the peaceful aura and enhance the positivity of the space.  
 Endnote
Using appropriate lighting in your kitchen is not just about practicality but also about creating the perfect ambiance. Lighting ensures that you have enough brightness to cook safely in your kitchen. Appropriate lighting in your kitchen will set the tone for the home and ensure that your kitchen is workable during daytime and nighttime. To improve the aesthetic of your kitchen, you can invest in ceramic lighting, chandeliers, or ceiling or wall-mounted fixtures in colors that align with the interior of your house.
Focusing on the alignment of your lighting with the design of your kitchen is fundamentally essential to maintaining the style you opted for your kitchen space. You can even hire an interior designer to help you design your dream kitchen. It is an investment that will facilitate you by providing you with a comfortable space to cook in for the upcoming years. However, if you do not have the budget to hire an interior designer, you can get a consultation from a good designer to ensure that your lighting choices complement the vision you have and bring your dream design to life.