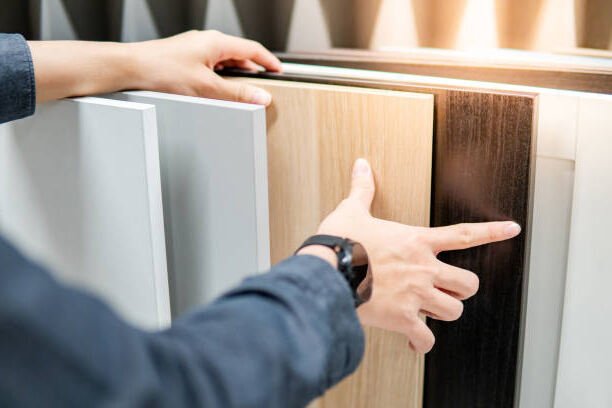 When it comes to choosing kitchen cabinets, it is normal to feel overwhelmed. Where do you even start since there are so many options?
You may just browse Pinterest and home improvement websites to compare designs, but it's also a good idea to create an initial checklist to help narrow down your options. This will assist you in determining which solutions are best for you.
Consider Modern Designs
Many of the most modern kitchen cabinet designs have an elegant look that is suitable for many contemporary houses. The functionality of handleless kitchen cabinets with push-open and close designs rather than knobs or pulls may be enhanced by employing modern slab cabinet door designs. Another option is to use cabinet pulls that are recessed inside the cabinet. These pulls provide a surface for you to hold when opening and closing your cabinets, yet they don't distract from the overall look of the area. Installing slender handles on the doors of modern kitchen cabinets may also provide a flashy finish.
Choose Your Kitchen Color Scheme
Even though the main purpose of the kitchen is functional—this is where you cook and clean your dishes—that doesn't mean your kitchen has to be boring and unimpressive in appearance. You must create the aesthetic look of your kitchen, and the color of your kitchen cabinets should be determined by the color scheme that you have chosen.
In an ideal world, your cabinets' color would contrast with the colors of the floor and walls. Thus, the cabinets will stand out more and provide depth to the area.
Focus on Drawers
Consider the bottom cabinets. Some of them have doors and shelves, but many contemporary interior designers prefer ones that have drawers instead.
When utilizing a drawer, there is no need to bend down to view the inside since the contents are seen in full once the drawer is pulled out.
For those who like the look of a door, there is a solution: install pull-out drawers that mimic trays inside the cabinet and conceal them behind a hinged door.
Enhance Your Storage
If you're the kind of person who cooks a lot, you undoubtedly have a lot of kitchen equipment, utensils, white products, and consumables that need to be stowed away. If you live in a tiny house or apartment, you will surely struggle to find enough storage space in the kitchen.
Therefore, it is a good idea to consider techniques for making the most of the space in your kitchen cabinets. Kitchen drawers, for example, are becoming more common in contemporary design since they improve organization and allow you to store more goods in a stacked vertical pattern. This enables greater storage capacity to be utilized.
Look for Hidden Features
Some kitchens include pull-out pantries with useful racks for keeping food organized. Cabinets may be more than just a little storage place. Some include built-in containers for storing grains, flour, and sugar and providing easy access to them.
Cabinets may also be used to hide equipment, creating the impression that your space is more structured. When you're not using certain kitchen tools, such as a toaster, mixer, or electric kettle, you may conceal them behind a door that folds down when not in use.
Choose a Timeless Design
Even though cutting-edge designs that are presently popular appeal to you, you should consider which style is most likely to stand the test of time. Would you still find the same colors and patterns appealing in a few years? Is it possible that the design you've fallen in love with today may become obsolete in the not-too-distant future? The best option would be to go with a classic style that has been modernized in some manner so that it remains popular in the future for both kitchen and bathroom cabinets in general.
Select High-Quality Materials
Higher-quality materials not only have a longer lifetime, but also have a better aesthetic and feel. Solid wood is an increasingly popular material for kitchen cabinets since it is robust, has the feel of genuine wood, and lasts a long time as it does not fracture or discolor easily over time. Veneer boards and laminate are common alternatives to solid wood.
Take Organization into Account When Making Decisions
Your kitchen should be well organized. Consider how you use your kitchen the most, as well as how it is going to function in the future as your family grows. As there are so many excellent organizational options accessible to you, from pullout utensil pantries to wall-mounted message centers, you should be able to find the best plan for managing your kitchen cabinets.