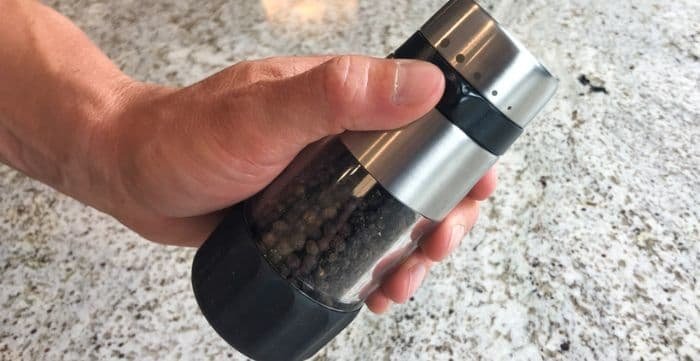 Oxo salt and pepper grinders are easy to adjust and sit flush on the surface when refilling them. Today, you can learn how to open the Oxo salt and pepper grinder for a refill or cleaning.
Pepper is perfect whether you want to season your soup, salads, sandwiches, or stews. However, for fresh seasoning, you need a pepper grinder. Oxo is one of the best salt and pepper grinder you can have in the kitchen.
It features stainless steel and ceramic parts that do not absorb odors or flavors. However, when the salt and pepper that come with the grinder finally run out, you have to open it up for a refill.
So, let us learn how to open Oxo salt and pepper grinders.
Types of Oxo Salt and Pepper Grinders
You can find your best salt and pepper grinder from Oxo when it comes to variety. They have a range of products that go well in every kitchen. Some of their best Oxo grinders include:
Contoured mess-free salt and pepper grinders: These grinders have 5 grind sizes and dispense ground salt or pepper from the top. The body comprises a non-corrosive ceramic material. The base is also easy to use, while the airtight lid keeps everything inside fresh and dry.
Accent mess-free salt and pepper grinder: The adjustable grinder has a flat base that rests flat on a surface. It also has a non-corrosive ceramic and stainless steel body.
Radial pepper grinder: This grinder had a long turning arm with a comfortable non-slip handle. It also uses ceramic grinding mechanisms with adjustable outputs.
The clear door on the side opens easily to allow refills, while the base keeps it stable on the countertop.
Sleek mess-free mill set: This set consists of salt and pepper grinders with 5 grind options, a top-grind design, and a ceramic grinder. They also have wide openings for easier refills.
Components of the Oxo Salt and Pepper Grinder
The pepper grinder consists of larger and smaller grooves. The large grooves are channeling grooves, which line up the peppercorns, before reaching the smaller grooves or grinding grooves. After the channel grooves crack the peppercorns, the grinding grooves break down the pepper into finer particles.
However, the Oxo salt and pepper grinders are unique. They have a top-grinder mechanism. So, after grinding your salt or pepper, you leave the grinder in an upright position without leaving a mess on your kitchen counters.
How to Open an Oxo Salt and Pepper Grinder
Even though Oxo grinders come with salt and pepper, you may run out of peppercorns. At such a time, the guidelines of how to open an Oxo salt and pepper grinder are simple.
1. Single Spice Grinder
In this case, single spice grinders are the Oxo grinders that hold either salt or pepper at any point. To open these, you should:
Remove any remnant pepper or salt on the grinder by shaking it over a kitchen towel, sink, or food
Turn the mill upside-down so that the stainless steel part is on the lower side while the non-slip plastic part is facing you
On the base, there is a lid screwed on
Grip on the horizontal handle and turn the lid in a clockwise direction to open it
Once the lid is off, you notice a large opening at the base that allows you to refill the salt and pepper grinder without needing a funnel or even making a mess.
2. Combination Grinder
Oxo also has a different grinder that pairs as a pepper grinder and a saltshaker. To open one of these;
Unscrew the top stainless steel lid by turning it in a clockwise direction
Remove the top compartment that holds the salt
You can now refill the pepper by pouring it into the body of the grinder through the top opening
3. Radial Pepper Grinder
Unlike other Oxo salt and pepper grinders, the radial grinder had an arm that you turn to crush your pepper. When grinding, you remove the lid at the bottom of the grinder to release the finely or coarsely ground pepper.
When you need to refill it, opening it is easy.
Place the grinder on a flat surface
Place your finger at the protruded part on the clear window
Slide it open
Pour your peppers and slide it back to close it
Bottom Line
Oxo is one of the best salt and pepper grinders. The ergonomics of their grinders are top-notch, and they are easy to use and handle. Overall, they have an easy-to-open mechanism, which allows you to refill your salt or pepper, even without a funnel.
The design on their lids is simple. They also include small handles you can use to screw or unscrew the lids back in place comfortably. Whether you are using a single-spice, combination, or radial arm grinder, you can depend on Oxo to make it straightforward for you.