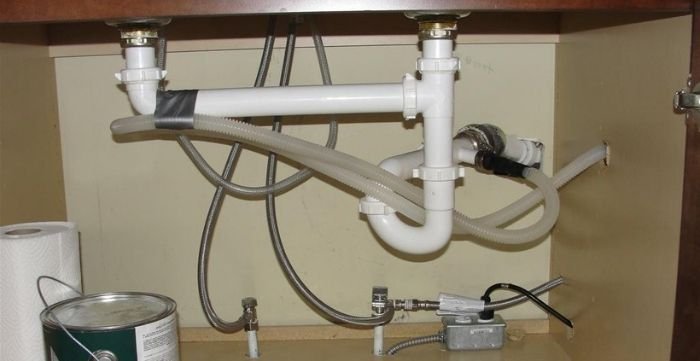 Dishwashers are a great way to save time and effort. They also come with a whole host of different features that make them even more convenient, from how they clean your dishes to how you can control how much water goes into the wash cycle. So, how do you hook up the dishwasher drain hose?
The effectiveness of a dishwasher also depends on how well it is maintained. Whether you own a double drawer dishwasher or a standard dishwasher, the drain hose needs to be appropriately connected. This will enable dirty water to easily flow from your sink into the dishwasher and out of the drainage pipes after the wash cycle. This post serves as a guide on how to connect your dishwasher drain hose properly so that you can ensure its effective operation.
Different Types of Drain Hoses
Different dishwashers come with varying types of drain hoses. Some come with a snap-in fitting or a slip joint. However, in most cases, the best dishwashers come with drain hoses with threaded fittings at both ends. These allow you to connect them by screwing them into each sink or appliance's end.
Both ends need to be watertight so that dirty water does not seep out during the wash cycle and when draining. The best way to ensure that this does not happen is by using the right tools and techniques when connecting your drain hose. That being said, how do you hook up a dishwasher drain hose?
How to Connect a Dishwasher Drain Hose – a Step-by-Step Guide
There are two ways of doing this: the air gap method and direct attachment. Both have their pros and cons. Make sure you understand how they work before beginning the process.
Air Gap Method
If you want to use an air gap instead, all you need is a special adaptor. The adaptor will convert the threaded drain hose connection into a standard air gap so that it can fit your existing sink faucet.
The air gap method is a better alternative to using a dishwasher elbow. This is because it allows you to separate dirty water from the clean one. In turn, this prevents cross-contamination during washing or rinsing cycles.
Step-by-Step Guide
Check if you have an air gap already. These are the small openings on your sink faucet that allow water to drain out from it and prevent dirty water from going back up through the spout again. If you do not have an air gap, you will need to buy an adaptor. There are different types of these adaptors, so make sure you get the right one for your dishwasher's model.
Once you have the correct adaptor, fit it into the threaded end of the drain hose and tighten it by twisting it clockwise. Make sure that the air gap is facing upwards so that water can flow down from your faucet instead of going up through the spout again.
Connect the other end of the drain hose to the dishwasher by screwing it into the threaded fitting. Tighten it by twisting it clockwise as well.
If you have a double sink, you will need two air gaps, one for each sink.
Ensure there are no leaks between any parts for everything to work perfectly.
Test the dishwasher by running a cycle. If everything is set up correctly, the dirty water will flow from the sink into the dishwasher and out of the drainage pipe without any problems.
Direct Attachment Method
If you want to directly attach your dishwasher's drain hose to the drainage pipe under your sink, then you will need to use the correct type of connectors that fit well. These can be crimp rings or compression fittings, depending on your dishwasher drain hose and drainage pipe design.
Measure how much length you have available from the dishwasher to the drainage pipe. This will help you determine how much of a connector you need and what type will fit best.
Cut the connector to the desired length and then fit it onto one end of the hose by crimping it or compressing it into place. Make sure that it is on tightly and there are no leaks.
Do the same for the other end of the hose, making sure that it is on securely as well.
If you have a double sink, ensure you have two connectors, one for each sink.
Check for any leaks between all parts and tighten them if necessary.
Test the dishwasher to see how it is draining.
Precautions to observe when hooking a dishwasher drain hose up
Remember that this is an electric appliance so switch the power off before you start doing anything.
Also, ensure that the dishwasher is not running when attaching or disconnecting any parts of its drain hose. This will help prevent scalding accidents should water get into contact with electrical components and cause them to malfunction while in use.
Never attempt DIY repairs if you are unsure how the dishwasher works or how to attach its drain hose properly.
Ensure that the dishwasher is properly grounded to avoid any electrical shocks while in use.
If you are using an air gap, make sure that the adaptor is tightly fitted into the faucet so no water can escape. If not, dirty water might flow back up through the spout and into your clean dishes.
Do not use excessive force when tightening any parts to avoid damaging them or making leaks.
With this guide, you should have no questions on how to hook up a dishwasher drain hose. Just make sure that everything fits well together, and there are no leaks before running any cycles. And if you are still not confident in your abilities, it is always best to call in an expert to do the job for you.