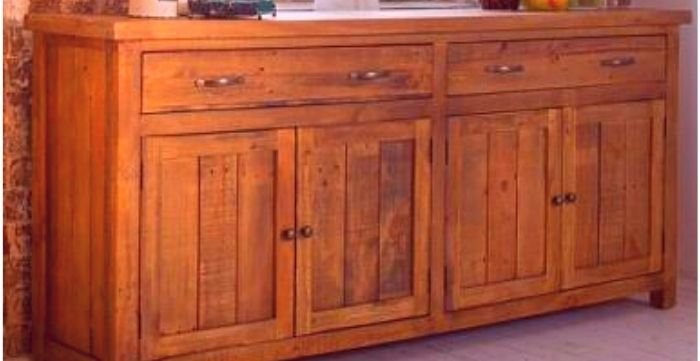 Introduction
A sideboard is a fantastic addition to any family home! This classic piece offers up so much style, storage, and functionality, no matter where you choose to place it within your household. Maybe you've already secured yourself a gorgeous sideboard and you're looking for some styling tips, or you're on the hunt for the perfect piece to enhance your home, either way, you're going to need some decorating pointers! Read on for a few pro tips and tricks to making your new sideboard as beautifully style and as homely as possible…
Find the right fit
Finding the right piece will make everything so much easier for you. Whilst it can be tempting to indulge in cheap packaged furniture, the truth is that if it seems too good to be true, it probably is. You really get what you pay for when it comes to homewares, so take your time and invest in a classic piece that's going to last you for so many years to come! Hunt for a sideboard or buffet that's crafted from sustainable, natural materials – when it comes to character and versatility, you can't get any better than reclaimed timber. This is a rich, warm material that looks better and better over time, perfect if you have younger children and you don't want to have furniture that you have to be too precious about. Plus, it's going to mix and match with plenty of different design styles!
Style within a design category
Speaking of different design styles! One of the easiest ways of putting together a beautiful home is just working within a chosen style category. There is a tonne of options to explore, so start the process by doing your homework to give yourself some direction. You could lean into the classic tone of sideboards and buffets and style a classic, french provincial or country style home, or use it as a contrasting piece against more modern mid-century, industrial or bohemian rooms. Your style can be established by the item itself, or you can let your accessories and add ons do the talking! 
Layer textures and colors
Layering textures and tones are the best way to style a personal feeling, yet well put together, sideboard surface! Take the opportunity to use your sideboard's surface as a design point. Add greenery, sculptures, ceramics, and artwork or photos to turn the piece into a personalized styling statement. Choosing textures such as ceramic, dichroic glass, cotton and linen will keep the scene feeling light and bright, you don't want to drag down the corner of the room with heavy tones and materials.
Sneak in some storage
Sideboards and buffets are great because they also provide plenty of sneaky, subtle storage! Originally used as an additional serving station informal dining rooms, the sideboard has compartments for stashing crockery, cutlery, and placemats, freeing up storage in your kitchen and making mealtimes seriously simple. Use the cupboards and drawers for your dining kit or stash electronics, books, magazines, or any other family gear in there instead, there really are no rules! 
Play around with placement
Just because a sideboard is a traditional dining room staple, doesn't mean that you have to strictly use yours for mealtimes. You can easily repurpose the piece through creative placement. Consider moving into the hallway for shoe storage and a useful surface for stashing your keys. You can even move it into the living room and use your buffet as a creatively cool TV cabinet. Again, the only limit is your imagination!
Start hunting for your perfect buffet or sideboard to bring style, storage, and comfort to your family home.