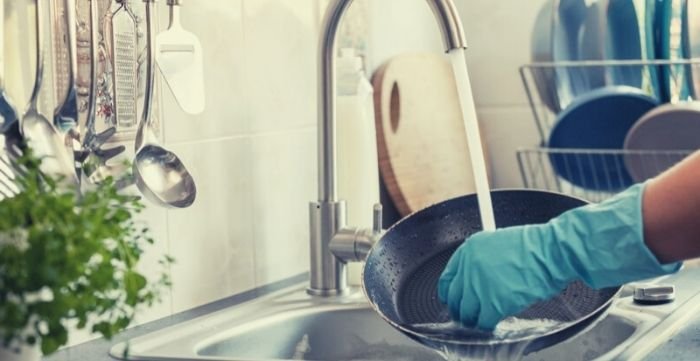 The granite frying pan is among the bestselling on the market. This is mainly attributed to its nonstick feature, high heat conductivity, durability, even cooking, and great aesthetics. The granite frying pan is arguably the best nonstick pan on the market. It delivers very impressive results whether you use a lubricant or not. This means that cleaning a granite frying pan is relatively easy compared to other frying pans like Caraway Marigold Fry Pan.
Cleaning your granite frying pan properly not only helps to enhance your health and that of your family but it also helps to prolong its lifespan and also makes it look attractive all the time. But the big question is, how can you clean a granite frying pan? Below are tips on how to clean granite frying pan.
Equipment / Tools You Need
Hot water
Dish soap
Washcloth/nylon scrubber
Baking soda
Vinegar
Toothbrush
Scrubbing pad
Step One: Let the Pan Cool
Before you start cleaning your granite frying pan, let it cool properly. This is important because it will help to limit the chances of warping. It is also much easier to clean a cool pan than a hot pan.
Step Two: Wash the Granite Frying Pan Using Warm Water
Once your granite frying pan has cooled off, rinse it with warm water, while scrubbing gently with a washcloth. This will help to remove any loose residue stuck on the surface of the pan.
Step Three: Wash the Pan with Soap
Once you have removed all loose residues on the granite pan, clean it with soap and warm water to remove grease and other residues that cannot be removed by plain water. Scrub it gently using a nylon scrubber or washcloth to remove deep stains before rinsing. If the frying pan does not have deep stains, you can rinse it off with clean water and let it dry. However, if it has deep stains, then you should proceed to step four.
Please don't use abrasive cleaning tools such as stiff brushes, steel wool, or scouring pads to clean your granite pan. These harsh materials will crash the non-stick surface thus ruining your pan.
Step Four: Make a Paste by Mixing Water and Baking Soda
Some grease and sprays on your granite pan can be difficult to remove with soap and water. In that case, you need to use other powerful solutions that can remove the deep stains. Mixing baking powder and water can help to get rid of deep stains that soap and water cannot remove. Start by mixing water and baking soda to make a paste then spread the paste gently on the deep residues and grease. Let the paste dry for about 30 minutes to 1 hour. Scrub the pan surface with a scrubbing pad and toothbrush to remove the paste and the residues, then rinse the pan with clean water.
You can also remove deep stains on your granite pan using vinegar. All you need to do is fill your sink with straight vinegar that is enough to submerge your granite pan fully. Soak the pan for about one hour, then use a toothbrush and scrapping pad to remove the softened residue and grease.
Step Five: Rinse Thoroughly
Rinse your granite frying pan thoroughly and ensure that all soapy residue has been rinsed and eliminated.
Step Six: Dry Thoroughly
Wipe the frying pan with the dry cloth then let it dry before storing it safely on a hanging pot rack.
Tips for Keeping the Nonstick Surface on Your Granite Pan Intact
Don't use metal utensils on your granite pan. Metallic utensils such as spoons will scratch and damage the non-stick coating on the granite pan. Instead, use nonmetallic materials like nylon, wood, rubber, silicone, or any other utensil design for the nonstick surface.
Never cut into the food that you are cooking on your granite pan with a knife. This is a sure way of damaging the non-stick surface on your granite pan.
Don't use your granite pan under the broiler or use it at temperatures higher than 450 degrees F. The intense heat will damage the nonstick surface of your granite pan.
Season your granite pan with oil. Seasoning the nonstick granite pan with oil will help to prevent the non-stick surface from getting damaged. Please read the instructions that came with your pan to know how often you need to season your pan. Once the process is complete, rinse and dry your pan. Seasoning your granite pan with will make the nonstick surface to last longer.
Conclusion
Cleaning a granite pan is not difficult as many people think. In fact, it is one of the easiest frying pans to clean because of its incredible non-stick feature. The cleaning tips given above will help you clean your granite frying pan with ease, whether the pan has deep or mild residue. However avoid abrasive cleaning tools such as stiff brushes, steel wool, or scouring pads to clean your granite pan. These harsh materials will crash the non-stick surface thus ruining your pan.
Review Article: Granite Stone Cookware Reviews