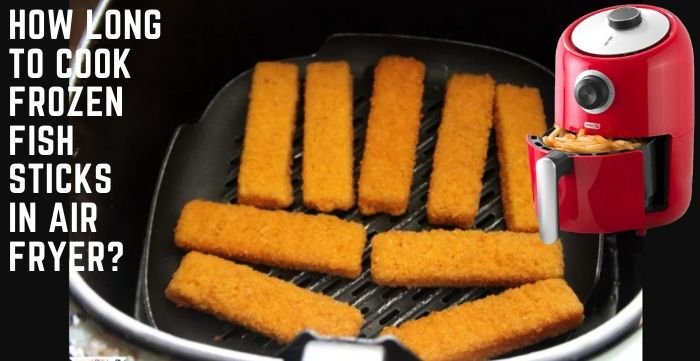 Introduction
Do you want to prepare frozen fish sticks in the air fryer? If yes, then you are making the right decision. An air fryer is a crucial kitchen appliance, especially for those who love preparing delicious, healthy, and crunchy meals. Unlike deep-fried foods containing a lot more fat, foods cooked in an air fryer contain less fat, which is a healthier option, especially for those who want to limit their fat intake. An air fryer is the only appliance cooking appliance that allows you to cook frozen food like frozen fish sticks without de-freezing it first. So, do you want to prepare frozen fish sticks in your air fryer, but wonder how long it will take to cook them? If yes, then you are in the right place. In this article, we are going to discuss how long to cook frozen fish sticks in the air fryer.
How long does it take to cook frozen fish sticks in an air fryer?
Cooking frozen fish sticks in the air fryer only takes 10 minutes. This is faster than using an oven, which takes about 20 minutes to prepare. Additionally, the crunch that you will get from this machine is over the top compared to cooking them in the oven. It gives your fish sticks a fantastic crispy texture that you are look longing for. The good thing is that you don't need to use eggs, flour or breadcrumbs while cooking your frozen fish sticks in the air fryer to get the crispy texture.
How to cook frozen fish sticks in the air fryer?
Ingredients:
Frozen fish sticks
Oil of your choice
Tartar source (optional)
– First, preheat your air fryer to 400 degrees. The Dash Air Fryer will take about five minutes to preheat to 400 degrees Celsius. Preheating is vital because but allow your fish ticks to start cooking immediately. If you don't preheat, it will take a longer time before your meal starts to cook.
– Spray your air fryer with some oil so that your fish sticks don't stick on the fryer. This is important, especially if you are using an older air fryer version that is less nonstick.
– Put the frozen fish sticks in the basket. Please don't overlap the fish sticks to allow air to do its job and get you a nice crispy crunchy. Repeat the same process is with the remaining fish if you want to cook more than one batch. Close the drawer and let it cook for about 5 minutes.
– Flip them gently after five minutes using a spatula. Please turn all the pieces to enable even cooking. If the fryer is sticky, add some oil.
– Close the drawer and let it cook for another five minutes and then check if it is ready. If you want, then crunchier, let it cook for another five minutes.
– Season it by sprinkling pepper and salt, then serve it with tartar sauce.
Important cooking tips:
Cook your frozen fish sticks directly, no need to thaw
Spay some oil after 5 minutes of cooking. This will help prevent your fish from losing your golden-brown crust.
Preheat the air fryer before cocking to less the cooking time.
If you want more crunchy fish sticks, add an extra five minutes cooking time.
Why air fryers are widely preferred for cooking fish sticks
They promote healthier eating.
A higher intake of food leads to weight gain. This is because deep-fried food contains many calories and fat, which can lead to weight gain. Air fryers help to promote healthier eating because they reduce the regular intake of unhealthy fat significantly.
Deeping frying food in container full oil boil oil poses the risk of splashing and spilling that can cause fatal injuries. However, that is not the case with air fryers. The fact that you will not use oil at all means that the risk of injuries is minimal. However, it is important to follow all safety precautions when using your air fryer to ensure safety.
They reduce the risk of the formation of toxic acrylamide.
Frying food in oil can lead to the formation of a dangerous compound known as acrylamide. This toxic compound usually forms when food is cooked with high heat like it is the case with deep frying. Research has shown that acrylamide increases the risk of some cancers such as pancreatic, ovarian, and breast cancer. Switching to air fryer will help to lower the likelihood of having acrylamide in your food.
The air fryer cooks a lot faster than most conventional cooking methods. The new technology air fryers use enables them to cook healthy, crispy, and crunchy and meals fast.
Conclusion
An air fryer can help you cook delicious, crispy, and crunchy fish sticks in as little as 10 minutes. The cooking process is also easy and safe. However, to get the best results, we recommend purchasing the Best Air Fryer from a reputable online store.