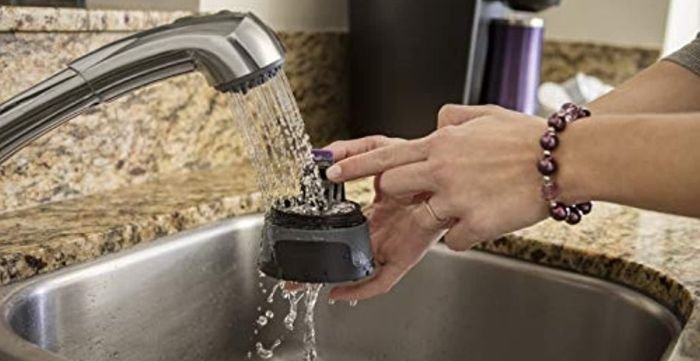 Juicers require regular cleaning to continue serving you the days ahead. You need to rinse your juicer parts after every use. Use a dish soap and scrubber dish to scrub all dirt from the surfaces to ensure they are clean for next use.
However, there are at times you require to deep clean your juicer. What process or route do you undertake to accomplish such a task? Right, our presentation covers the process to deep clean a Hurom juicer in detail. Moreover, we shall provide insight into eliminating tough stains from the Hurom juicers.
How Do You Deep Clean a Hurom Juicer?
After a long period of using these appliances, other parts will start developing some brown or graying coats on their surfaces. Left unattended will provide bacteria an opportunity to grow. Therefore, you need to scrub off such coats immediately as they start forming up in your juicer parts.
For such deposits, you won't just clean the juicer in the regular cleaning process. Here, take a swipe to the deep cleaning method. But how is the deep cleaning process conducted? Before we enlighten readers more about the topic, let's get through tips that you should adhere to during cleaning.
Mind about the metal parts of the juicer. Avoid soaking them for more extended periods since they can rust or, to an extent, damage.
The main body of a juicer holds essential components of the appliance like the motor. Never place the body in water or even spray water on it. Water might damage the motor or make it malfunction. If you need to clean the main body, wrap it using a clean cloth or paper towel.
When purchasing these appliances, why not choose what you can easily wash? Hurom juicers are easy-to-wash models you can consider.
Only wash the Hurom juicer parts in a dishwasher if recommended by the manufacturer.
Ensure you employ the right chemicals to clean your Hurom juicer. Consult the manual for the right products to employ cleaning the juicer.
Avoid using any sharp object rubbing over any surface. Sharp objects can scratch off surfaces and make the cleaning process even tricky.
The Deep Cleaning Process
Deep cleaning is not something you carry out when you note the development of grayish deposits on your juicer parts. You need to conduct the exercise at least once a week. This process is also paramount after you have left food particles to harden on the juicer surfaces. Follow these steps to accomplish such an activity.
Removing Dried and Sticky Particles
Dealing with dried pulp, for instance, is hectic, and you might spend time just scrubbing it off. Now, removing these requires hot water and dishwashing soap or liquid. Fill your sink or bucket with hot water and add a few soap droplets to it.
Stir the mixture a little for a few seconds. Soak the juicer components in the mixture and wait for the magic to happen. Allow these components to settle in the mixture for about 20 minutes before you get them out.
Next, you will get dry baking soda and either a bottle brush or a toothbrush. Use your bottle brush or toothbrush, in this case, to scrub the components gently. You will continue with scrubbing as you rinse the parts till they get their original look.
Removing Water Spots and Streaks from Surfaces
Dirt can be of different forms. Other than stains and other deposits, your juicer components might have water spots and streaks on their surface. Removing the spots and streaks requires distilled white vinegar and rinsing water.
Fill the juicer components with your vinegar liquid. As per the above process, you will wait for about 15 minutes for them to soak properly. After this period, you will pour the vinegar and employ non-abrasive vinegar to wipe them. Finally, rinse the components and dry them using a microfiber towel.
Cleaning Hurom Juicer Stains
Dealing with juicer stains is also a hectic task if you haven't done it before. When dealing with stains, there are necessities you require to accomplish this task with ease. They include;
 A spray bottle
White vinegar
Bowl
Denture tablets
Salt
Enzyme dish liquid
Milk
You need these things before sitting to deal with your juicer stains. Follow our stain removing guide below to accomplish such a project.
Start by disconnecting the Hurom juicer from the power outlet. This prevents you from an electric shock from the metal parts.
Next, you shall disassemble the components as you prepare for the cleaning process. Here, you will use an enzyme dish liquid instead of the regular option. This detergent can easily work on slimes and other hard build-ups on these components.
Get all the stains, and those that remain have a different approach. Soak the components with remaining residue in water and soap.
In your soapy water, add two or three denture tablets. Form a mixture and soak the components for some time. Ensure they get completely submerged in the solution for the process to complete successfully. Leave them for about three hours and check whether they are free of the sticky stains.
In case of the stains still haven't disappeared, consider milk and vinegar as your stain remover. Form a mixture of these elements and pour it into a spray bottle. You will spray the spots directly with the mixture and wait for results. Continue spraying the spots until they break down to a state you can easily scrub.
Lastly, you can also clean stains using a saltwater solution. Make the solution using warm water and soak the components. Just rest and wait until the stains are easy to scrub off sufficiently.
Conclusion
Hurom juicers are essential kitchen appliances for every person. They enable us to enjoy healthy and tastier juices every day. However, you will only enjoy its services if adequately maintained. Deep cleaning a Hurom juicer is an excellent way of caring for these devices. Grasp all the steps in this article to enable you to accomplish such a project quickly.
Resource: