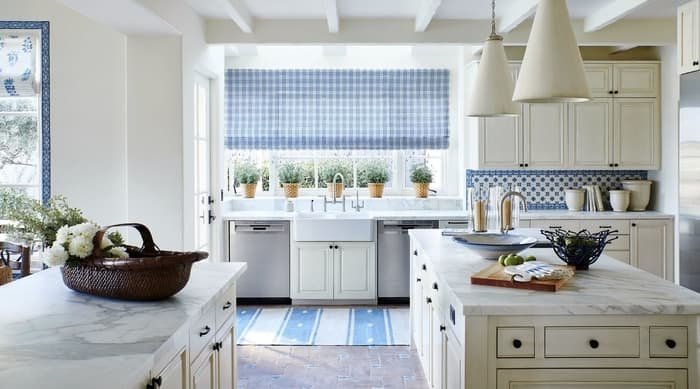 The kitchen is one of the most important areas of the house. It is also one of the areas where you will spend most of your time. One of the best ways to make your kitchen more lovely and welcoming is through decoration. Besides enhancing your kitchen appearance, a good decoration will also make your kitchen appear big. If you have just renovated your kitchen and are searching for redecorating ideas, then today you are in the right place. In this article, we will give you great ideas for redecorating your kitchen. Read until the end so that you don't miss any valuable idea.
Install a Bright Stylish Light
One of the top things to do when redecorating your home is to install a bright stylish light. Good lighting will not only enhance visibility and make the kitchen look good but it will set a good tone and mood. Installing good lighting will also guarantee safety, ensure easy cleanliness and also enhance visibility, thus making it easy to see and perform your chores in the kitchen. Good kitchen lighting will also help to prevent headaches and eye fatigue, thus enhancing your overall experience while in the kitchen. To make your kitchen look stylish and more attractive, install stylish and attractive kitchen lighting.
Add More Color to Your Kitchen
Another great thing to do when redecorating your kitchen is to add more color. Adding more color to your kitchen will unify your kitchen structure and design thus making the area look more vibrant and lively. And when your kitchen is livelier, your cooking will also be more engaging and fun. There are many great ways to make your kitchen more colorful including painting the stand-alone cabinets, adding a colorful splashback, adding colorful stools, and much more. When it comes to adding more color to your kitchen, you can be as creative as you want. There is no rule as to how you should mix the color. You can mix as many colors as you want, provided they blend well. Get insightful tips on great colors to add to your kitchen when decorating at Real Estate Agent Directory .
Adding more storage when redecorating your kitchen will make it look bigger and more organized. More space is always better even if your kitchen is bigger. Of course, you may wonder how you can add more space to your kitchen, especially if you have limited space. Regardless of the size of your kitchen, you can always add more storage space. For instance, you can install wall cabinets, pot rack hooks to hang mugs, a cutlery tray to store utensils, and much more. Make sure to use high-quality drawer slides to optimize your cabinet and drawer storage as well. This is especially important considering the constant usage your cabinetry will undergo. There are so many ways to add more space to your kitchen, just look for ways to work for your kitchen.
Adding a runner is a brilliant and inexpensive way to redecorate your kitchen. A unique and colorful runner will add elegance and more watch to your kitchen. Additionally, a runner will also add warmth to your kitchen as well as keep crumbs and spills under control. There is no doubt that your hardwood floor looks great but runners will make your kitchen look even more vibrant and attractive.
When decorating your kitchen, don't forget to paint the ceiling. A well-painted kitchen ceiling adds balance and depth to the room. It will warm up your kitchen and make it lively. You can paint any color provided they blend well with other accessories in your kitchen. However, bright colors are highly recommended because they make the kitchen warm and brighter.
Replace Cabinet Doors With Glass
Another brilliant kitchen decoration tip is replacing the kitchen cabinet doors with glass. This redecorating tip is highly recommended especially for people with limited kitchen spaces because it makes the kitchen appear larger. Replacing the cabinet doors with glass will make people see more than just the cabinets thus making the kitchen appear bigger. More so, kitchen cabinets with glass doors are also more attractive and stylish.
Most people usually focus on enhancing the quality of artificial light and forget about natural light. If your kitchen does not have good access to natural lighting then you need to make some changes when redecorating it. The effect that natural light will bring to your kitchen is impressive. It will make your kitchen appear bigger and also feel brighter. Natural light will also change your kitchen atmosphere and make it feel inviting and dynamic. Natural light in your kitchen will also lower your electricity bill.
Final Thoughts
If you are planning to redecorate your kitchen and looking for great ideas that will transform it, look no further than the tips given above. The ideas given above will transform your kitchen in ways you never imagined. These redecorating ideas are also inexpensive and easy to implement.