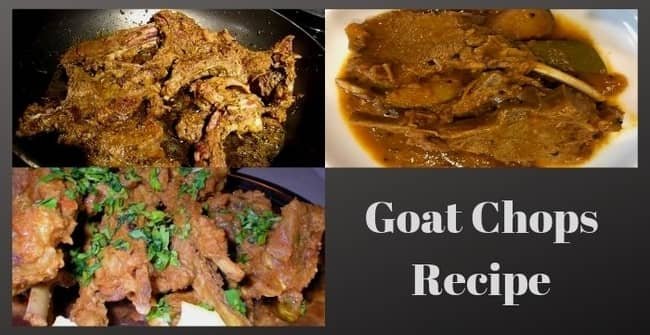 Goat meat is one of tastiest and delicious meat that you can ever eat on this earth. However, it all depends on how you prepare it. Goat chops recipe is much simpler, but over the years it has advanced to various methods all recipes tiered to inspiration. All in search of a great taste- always to fulfill the personal taste and preference that changes dynamically. It is always our want to have some tasty chops and have some good time with food. Having different goat chops recipe will not only improve your kitchen cooking magic but also enhance your undying appetite optimally.
Preparing some of the finger liking goat chops requires a great mastery of skills but am here today to provide you with great secrets that will make your family fall in love with goat chops. Change your style and just make it like a professional. All you need to do is to follow the instructions carefully so that we can achieve our goal. Let's look at the top two goat chop recipes that will give you a world-class taste of feeling. Let's enjoy doing this together.
Goat Chops Onion & Garlic Grill With a Tinge of Lemon and Italian Spices
This is one of the best goat chops recipes with a crusty taste grilled with onions and garlic with a little bit of lemon garnish. It is an Italian foodstuff that whenever you taste your desires will increase the crunchy crusty taste with succulent and delicious chops inside will make your saliva drop down. They grilled and just prepared like barbecue over a wooden fire. To make sure you have an optimal taste of your life then get a lamb chop just smaller and bit younger for a delicate flavor.
Ingredients
I chopped the onion.
A cup and two tablespoons of extra virgin olive oil.
Two large Lemon zest.
I large lemon juice about 6 tablespoons.
Cup of dry wine.
4 teaspoons of dried Oregano.
¼ teaspoon of salt
¼ black grounded pepper.
10 one inch loin goat chops.
  The Procedure of Preparation;
In a blender mix the garlic, coarsely cut onion, cup of olive oil, a pinch of salt, orgeano & pepper (amount Depending on preference), a little bit of zest, dry wine and lemon juice.
Let them mix for about 1 to 2 hours to make a good marinated mixture.
Marinate the chops with the mixture together for about 30 minutes.
Pour the marinade into a bowl and toss the chops entirely side to side and you may use a skillet spoon to make sure that the marinade covers well the chops
Put in the refrigerator for the next 1 to 2 hours but not in the deep freezer.
Okay, to cook, drain off the marinade but make sure you do not wipe it off.
Heat the 2 tablespoons of olive oil in a saute pan over the grills and fire with high heat.
Place the chops on the skillet and make sure that they do not touch each other.
Let them cook for 2-4 minutes bearing that they are one inch in thickness until they turn brown.
Turn down the heat to medium and heat the chops until they feel hard on the press.
To make sure that the goat chops are well cooked they should be pink when you cut.
Serve the goat chops while hot with anything of your choice.
Broiled Goat Loin Chops
This Goat chops recipe uses the succulent loins. Goat meat is one of the sustainable meat available, and depending on which part you are willing to prepare different methods to apply. Broiling of goat loin chops may be old school, but its preparation is much different than what you may think. That boiled goat chop is much tastier if prepared by slow heating to give it a mild flavor that is much sweeter. To cook boiled goat chops, you need the following:
Ingredients
6-10 small 1-inch goat loin chops.
3 tablespoons of avocado oil or any fats you may put in consideration.
Tablespoon of salt.
Teaspoon garlic powder.
Dried mango powder.
¼ teaspoon Cayenne
/4 teaspoon ground cumin
¼ tablespoon black pepper.
Instructions to Prepare:
Using a food processor or a blender garlic powder, dried mango powder, ground cumin, black pepper, and 2 spoons of avocado oil or any fats of choice.
After you have mixed the ingredients carefully, let them marinate for overnight if possible.
Let the mixture marinate with the chops and let them be filled up with the mixture adequately.
Allow the marinated chops to gain room temperature before broiling.
Add a few pinches of salt.
Place the chops on a grill or saute pan and let them lay on it for 3-5 minutes.
Turn on the broiler or oven
Put the goat chops in the broiler and broil the chops for the next 15 minutes while they are 4-5 inches away from the heat source.
While broiling makes sure that the chops are about 145F using an oven thermometer and be a rare medium measure.
Put off the oven and remove the chops and let them cool for about 5-10 minutes before serving.
Serve with any a food of your choice for taste.
Conclusion
Goat meat has been a human delicacy for ages and ages. However, its taste and flavor have changed over the years and making it not only the best foodstuffs that a person enjoys but also elevating family times. These two goat chops recipe will provide you with delicious meals and health. They need great mastery of cooking skills and putting everything to details.
Goat Chops recipe is a culinary art. Make sure you miss no ingredient to make it happen. Enjoy while it's hot for better taste, and it can be combined with other foods. I know you are already armed to the teeth to chew some chops then let's have a date with the kitchen and make our family and friends happy with sweet delicacies that will be worth a memory.
Related Articles:
Best manual meat grinder reviews