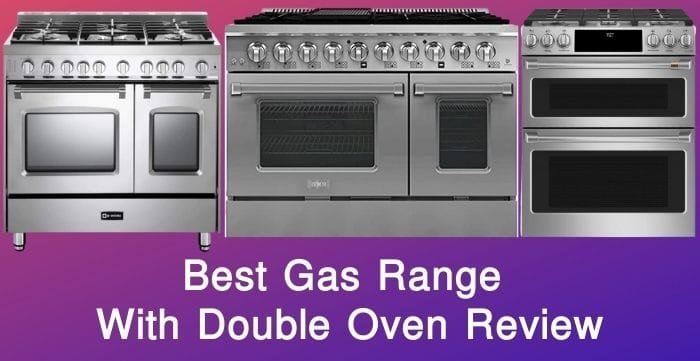 Whether you have a large family or entertain guests in your home, your current oven may not be large enough. If it's time to upgrade your range, consider a gas range double oven to solve the problem. This type of range requires a natural gas or propane line into your home. Gas power is more economical than electricity and these ranges are not only powerful, they're large, and give you the oven space to prepare more foods at the same time. If you're ready to make the switch, use our gas range double oven reviews and buyer's guide to know what to look for and how to find the best range to meet your needs.
Best Gas Range Double Oven Reviews and Great Features
1. Thor Kitchen 48-inch Double Oven Gas Range
This is Thor Kitchen's professional-quality 48-inch double oven. Prepare a multi-course meal with 6 burners, a griddle, and two ovens for fast and easier preparation for larger amounts of culinary delights.
Features:
Chef Quality for professional-level food preparation
Six burners to prepare multiple courses simultaneously
Handy griddle for making pancakes, french toast, crepes, and more.
Stainless steel materials are strong and durable for years of use
Pros:
Attractive range in black and grey fits in with any kitchen decor
Two ovens are ideal for large meal preparation with spacious ovens and plenty of room
Cast iron cooking grates distribute heat evenly
Automatic re-ignition safety feature makes this range safer to use
Cons:
Burners are hard to clean without scratching them
2. Thor Kitchen HRG4808U 48 in. Double Oven Gas Range
Two ovens are better than one when you're making more than one dish at a time. Bake several pies or cakes simultaneously, or a complete meal with two convenient ovens. This range offers a 2.5 cubic inch oven and a second large 4.2 cubic inch oven to cut down the amount of time you spend baking. Six burners give you all the cooking space you could need for making big meals fast.
Features:
Natural gas for clean and less expensive energy source
Improved results with even heat distribution
Infrared broiler with commercial convection fan with advanced range technology
Three single burners and three dual burners
Pros:
Burners heat quickly
Powerful heat sources
The griddle is a nice feature that makes it easy to fix grilled items
Durable construction with the benefit of cast-iron grates for the griddle
Cons:
The oven racks are not smooth gliding. This feature could be improved
3. Verona Prestige Series VPFSGG365DSS 36 inch Double Oven Gas Range
Italian-made high-quality stainless steel double gas range with unique continuous grates. The double oven cuts baking time in half when fixing large spreads. This range is loaded with useful features in an attractive design that fits in with most kitchen decorating schemes.
Features:
Italian-made stainless steel is attractive and durable. High resistance to corrosion
Two ovens with 2.4 cubic ft main oven and smaller 1.5 cubic foot secondary oven
Five sealed gas burners for easier cleaning and ample cooking space
Beveled doors
Cast iron grates for even heat distribution with 2 turbo-electric convection fans
Pros:
Easy to clean thanks to the porcelain interior
Sealed burners prevent spills from going inside the range top
Convenient double oven for home chefs
Durable product with good customer service
Cons:
Some ranges have had factory defects, but limited reports of issues with good reviews for customer service
4. FORNO Galiano 48 in. Pro-Style Double Oven Gas Range
The Forno Galiano adds convenience to your life with the largest available cooktop space and the added convenience of two ovens. Prepare all courses for a spectacular meal at the same time to cut your cooking and baking time by more than half. Spend more time with guests than in the kitchen.
Features:
8-burner range for preparing multiple courses at the same time
Italian sealed burners make cleanup fast and easy
Precision heat controls for even cooking with plenty of power
Heavy duty construction with adjustable stainless steel legs
2 halogen oven lights and 2 electroplate racks for easy gliding
Pros:
Heav dut range that handles the biggest cooking jobs
Attractive appearance with stainless steel
Double ovens make it easier to bake desserts and main dishes at the same time at different temperatures
Easy cleanup thanks to sealed burners
Cons:
Some users had difficulty with defects in adjustable legs.
5. Cafe 30″ ADA Slide-In Front Control Gas Range with Double Oven
The Cafe 30″ is made for smaller kitchen spaces with a unique design that stacks the ovens. Enjoy the convenience of two ovens with 6 burners for preparing huge spreads for family and guests.
Features:
6-burners for making multiple dishes simultaneously
Audible preheat signal tells you when the oven is ready for use
Auto Oven shutoff with override is an added safety feature
6.7 cubic feet of oven space
Pros:
Attractive stainless steel exterior is both durable and good looking
Cooks foods perfectly with even heat distribution
Convenient for making large meals
Nice design for convenience for the average to large family size
Cons:
No cons associated with this product
6. 48″ 6 Burner Gas Range with Double Oven
Thor is a premium brand that offers the convenience of six burners and two ovens. This model is a deluxe unit made for larger kitchens to give home chefs the necessary space for preparing large gourmet meals in half the time.
Features:
Infrared broil burner for the state of the art cooking and high-end heat radiation for searing foods and sealing in the juices
Commercial convection fan produces even heat distribution
Automatic re-ignition if burner flame goes out
Stainless steel drip pan for the easy cleanup
Pros:
Plenty of cooktop space
Durable stainless steel looks good with fast cleanup
Burner flame comes back on if it goes out
Fast heating and convenience of two ovens is nice for entertaining
Cons:
Reports of some issues with the ignition system working
7. Verona Prestige Series VPFSGE365DSS 36 inch Dual Fuel Gas Range with Double Oven
The Verona Prestige is a high-end gas range made of premium 304 stainless steel. It's attractive and convenient for home chefs entertaining large crowds
Features:
5 sealed gas burners
Continuous cast-iron grates
Digital clock and timer
Ignition flame failure safety feature
Pros:
Attactive stainless steel with chrome nobs is a lovely addition to any kitchen
The gas heat is even and cooks foods quickly with precision control
Runded oven handles are a nice feature
This range cuts cooking time significantly and sealed burners make it easier to clean
Cons:
No power cord with this unit. You have to buy it separately.
8. LG LTG4715BD 6.9 Cu. Ft. Black Stainless Double Oven Gas Range
This range is the best option if you're looking for the convenience of a double gas oven at an affordable price. It's an exceptional value for the cost and offers LG quality in a trusted brand.
Features:
6.9 cubic feet of cooking space in a 2.6 cu ft secondary oven and a larger 4.3 cubic ft main oven
ProBake convection for even heat distribution
Easy clean interior
SmartThinQ technology for advanced cooking convenience
Pros:
Ideal for smaller kitchens with a more compact size
Attractive black and stainless steel design
Durable unit that holds up well under frequent use
A good value for the price
Cons:
No negative reviews associated with his product
9. FORTE FGR488BSS 48" Freestanding All Gas Range Double Ovens
Convenient double oven with a total capacity of 5.53 cubic ft of cooking space. This is an exceptional choice for small to medium-sized families adding the convenience of two ovens and 8 burners for rapid meal preparation.
Features:
Even gas-powered cooking to save money on electricity
8-range-top burners for ample cooking space
Dual ovens for baking multiple items at once
Sealed burners for cleaning convenience
Broiler feature included
Pros:
Convenient layout
Attractive design
Durable and strong materials hold up well under frequent use
Cuts cooking time significanty
Cons:
No negative reviews associated with this product
10. Cosmo COS-EPGR486G 48 in. Slide-In Freestanding Double Gas Range
Enjoy the convenience of two loves, six burners, and a griddle for all your cooking and meal prep needs. This is a convenient unit that gives you precision control over the heat for even cooking and better results.
Features:
6 sealed burners for easier cleanup
Powerful gas range with 9,000 BTU burners and 15,000 BUT griddle
Spacious main oven with 4.6 cubic feet of cooking and fan assisted distribution of heat with no cold spots
Heavy-duty construction for durability and resistance to corrosion
Pros:
Wide burners accept large cooking pots
Even heating for the best cooking results
Spacious for cooking large meals
Easy to convert kitchen from electric to gas. Works flawlessly
Cons:
Some units arrived missing handles, but customer service was prompt in delivering
Gas Range Double Oven Buying Guide:
The best double oven gas range is the one that most closely meets your needs. This will be different for each individual because we are not all the same. If you're wondering how to find the best choice, here is our buying guide to help you know what to look for in a double oven gas range.
Quality of build and design
The first thing to think about is the quality of the materials used. In our experience, stainless steel is one of the most durable materials for an oven because it helps to resist corrosion and it holds up longer under frequent use. Pay attention to the product descriptions and examine the materials used in the construction of the range. Also, consider the pros and cons in the product reviews. This can let you know what people liked the most and what they think could be improved. Most discuss the quality of materials and workmanship. They also let you know if the design or layout of the range is useful or if it is hard to use.
There are two things to consider about the size. The first is that the double oven gas range must fit in the space that you have available. Check the measurements to ensure that there is ample room for the range to sit in between the cabinets and that the gas hookup lines up with the range. You should also consider the size of your family and how much cooking and baking you do. This will help you determine the size and capacity of the range that will work the best for you. Some ranges come with five burners or six, while the larger ones come with eight burners and two ovens.
Finally, consider which features you will find the most useful before you make your purchase. For example, some double oven gas ranges come with a griddle feature, a built-in digital timer, continuous cast-iron grates across the top, and so forth. Compare each range in our list and pay attention to the features to find the one that will be the most convenient. For example, some models are made for smaller kitchens, while others are large and of professional quality, suitable for use by professional chefs.
FAQs:
Q1: What is a double oven gas range?
Ans: Double oven gas range is a unique range that comes with two ovens. The sizes can vary so it's important to choose a range that offers ovens large enough to accommodate your cooking style and requirements for larger dishes, e.g. turkey, etc.
Q2: How to measure a double oven gas range?
Ans: You must measure a double oven gas range thoroughly to make sure that it fits into your available space. Measure the width, the length, and the height. Compare the measurements with the space you have in your kitchen. You must also accommodate the piping for your natural gas supply line to ensure that it will fit in between cabinets and connect to the gas line. Some freestanding ranges can help accommodate for differences.
Q3: What is the largest capacity double oven gas range?
Ans: The largest capacity double oven gas range is 6.8 cubic feet combined oven capacity. These units come in a variety of configurations so pay attention to the capacity of each oven.
Q4: How to reset flex duo double oven gas range?
Ans: It's always best to refer to the user manual that comes with your gas range. If you don't have it, look up the model number online for complete instructions. Each range may be a little different. Most require you to unplug the range, then plug it in again
Q5: What is the best double oven gas range?
Ans: The best double oven gas range is the one that meets your cooking needs and fits into the available space you have. You should also consider which features are the most useful. For example, sealed burners prevent spillage from entering the interior of the range. It's a useful feature that makes cleanup easier. You should also consider the materials of the oven. Porcelain coverings in the ovens are also easier to clean and durable. The best ovens are made of quality materials and have good reviews from previous users. Also consider the size the meals you will prepare and the number of burners you will use, along with the size of the oven capacities.
Q6: What is the extra benefits of double oven gas range?
Ans: A double oven gas range gives you two ovens instead of one. It can cut your baking time by half so you have more time to spend enjoying the meal and less time cooking.
Q7: How much do double ovens gas range cost?
The prices of double oven gas ranges vary from $2100 for some of the best budget models to around $6,800 for the larger professional quality high-end models.
Q8: Do I need a double oven gas range?
Ans: Only you can answer this question. In our opinion, anyone can benefit from a double oven gas range. It saves time and money.
Q9: Where to buy a double oven gas range?
Ans: You can find a double oven gas range selection at various online retailers or at your local appliance retailer. Most retailers these days only keep demo models in stock and they are usually available by order. Your best bet is to order online through Amazon.com.
Conclusion
A double oven gas range is one of the kindest things you can do for yourself if you do a lot of cooking. The ranges in our reviews are the best on the market today with the highest reviews from users. Gas power is less expensive than electricity and the second oven cuts your baking time by half, in most cases. You can prepare more dishes faster with even heat distribution that does a better job than most electric ranges.
double oven gas ranges, best double oven ranges, 8 burner gas ranges, 6 burners double oven gas range with griddle, convenient double oven gas ranges, 5 burners double oven gas ranges.
Related Review Articles: