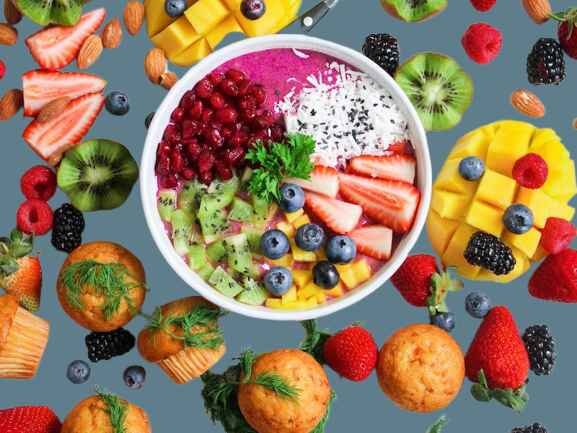 Desserts are generally perceived as a guilty pleasure, and we don't associate the word "healthy" with these delectable treats. However, guess what? The times are changing! We're becoming more aware of our eating habits and seeking solutions to fulfill our sugar cravings without compromising our health.
Do you want to go on a guilt-free dessert adventure? Prepare to be inspired and explore a world of healthy ingredients that will satisfy your sweet tooth while nourishing your body.
This article discusses some amazing guilt-free dessert recipes that are delicious and simple to make. So, prepare to pamper your taste buds and revel in these delectable sweets that will leave you wanting more!
Banana Ice-cream
Banana ice cream is becoming increasingly popular as people discover its delightful flavor and that whipped bananas closely resemble soft serve ice cream in texture. And the best part? This frozen delight is made with only a few basic ingredients.
You can easily modify it to suit your needs. If you like chocolate, add some natural unsweetened cocoa powder for a rich and chocolaty twist. Have a craving for mint chips? Add a dash of pure peppermint essence and some raw unsweetened cocoa nibs for a refreshing and delicious flavor.
Making banana ice cream is easy. Begin by freezing a ripe banana, then combining it with a small amount of unsweetened almond or coconut milk in a food processor. Blend the ingredients until they have the consistency of soft serve ice cream. That's all there is to it!
Sugar-Free Cakes
On a health spree and want something soft, moist, and flavorful? Fortunately, it's sugar free cakes to the rescue!
The range of sugar replacements available is one of the benefits of sugar-free cakes. Natural sweeteners such as monk fruit sweetener, stevia, or erythritol deliver sweetness without the added calories or blood sugar rises associated with ordinary sugar. These sugar replacements can frequently be included in recipes in a one-to-one ratio, making it simple to make sugar-free versions of your favorite desserts.
You can still attain the same soft and fluffy texture when baking a sugar-free cake. Try using whole wheat or almond flour for the increased nutritional benefits and a nutty flavor. To minimize fat content while preserving moisture, replace butter or oil with healthy alternatives such as mashed bananas, unsweetened applesauce, or Greek yogurt.
Vanilla Maple Bites
Join the energy bite bandwagon and enjoy a guilt-free dessert with scrumptious vanilla maple bites. These bite-sized treats are ideal for a fast sweet fix or to satisfy post-dinner cravings.
Gather the following ingredients to make these delectable treats:
1/4 cup pure grade B maple syrup
20 Medjool dates (soaked and pitted)
1 tablespoon pure maple syrup
34 cups raw cashews (soaked)
a sprinkle of sea salt.
Now that everything is in place, it's time to bring these bites to life. Combine all ingredients in a food processor and blend until they form a cohesive consistency. When the mixture is fully mixed, create bite-sized circles and indulge!
Coconut Flour Cookies
When baking cookies, coconut flour gives you a world of options. Coconut flour is not only gluten-free, but it also has other nutritional advantages. Coconut flour is a great way to experiment with healthier alternatives to traditional flour. By integrating this versatile ingredient into your cookie recipes, you can satisfy your sweet taste while enjoying the benefits of a healthier option.
Remember that coconut flour is incredibly absorbent, so you'll require less than regular flour. Classic chocolate chip cookies with a twist are one delightful way to use coconut flour in a cookie recipe. Instead of sugar, use pure grade B maple syrup, and add unsweetened cocoa nibs to improve the flavor and texture.
The end result? A delectable delicacy combining the richness of coconut flour, the decadence of chocolate, and the delicate sweetness of maple syrup.
Chocolate Covered Nuts
If you're seeking an indulgent snack, chocolate-covered almonds are a great choice. Forget the sugary store-bought alternatives; creating your own at home is surprisingly easy and far healthier.
To make a batch, you'll need soaked almonds, unsweetened dark chocolate, and some coconut oil. Begin by combining dark chocolate and coconut oil. Drizzle this tempting mixture over the soaked almonds after it has melted. Allow them to cool in the refrigerator, and there you have it! You now have a guilt-free and delightful snack to enjoy.
Peach Delight
As a delicious dessert choice, indulge in the naturally sweet and guilt-free enjoyment offered by peaches. These luscious fruits provide not only a rush of flavor but also necessary nutrients, digestive advantages, and even help to maintain healthy-looking skin.
Prepare yourself for a delectable treat with this easy-grilled peach dish that is low in fat but high in flavor. The best thing is that you can create this dessert as a single dish, making it ideal for some sweet me-time.
All you have to do is combine some freshly cut peaches with cinnamon, vanilla, and honey marmalade. Next, grill the marinated peaches by tossing them in the oven for 20 minutes until they turn golden and tender.
Chia Seed Pudding
Try chia seed pudding, a creamy breakfast treat that will revolutionize your mornings. It's as simple as blending chia seeds with your favorite milk, whether almond, coconut, or oat, and finishing with natural sweetness from maple syrup or honey. Stir thoroughly to ensure the small seeds are uniformly dispersed, then place it in the refrigerator overnight.
As the night goes on, the chia seeds absorb the liquid and grow into a velvety, pudding-like texture. Top your chia seed pudding with fresh, vivid fruits like berries or succulent mango chunks for an added dose of deliciousness. Each mouthful will be infused with a rush of flavor and natural sweetness. Alternatively, top with a handful of almonds or granola for a wonderful crunch that your taste buds will thank you for.
Conclusion
Desserts can be enjoyed without sacrificing taste or health in today's health-conscious world. You can fulfill your sweet appetites without compromising your health by investigating healthier dessert options. Whether it's experimenting with natural sweeteners, combining healthful ingredients, embracing fruit-based joys, or embracing creative approaches, there are several ways to enjoy tasty sweets while supporting our health objectives. By making thoughtful decisions and being creative in the kitchen, you can have the best of both worlds—a delicious dessert experience that satisfies your taste buds while ensuring optimum health.