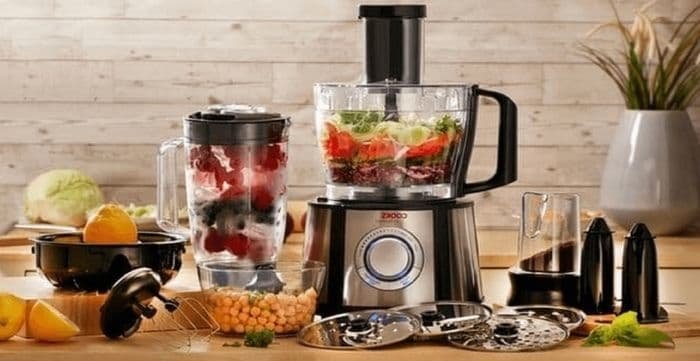 Kitchen jobs are time-taking, especially when you don't have any house help. Thanks to technology, we have kitchen machines to help us. Most complicated processing is done in minutes. But, it is important to know what kitchen machine will work for your requirements.
Whether you are looking for the Best Blender or food processor for your kitchen, it is recommended to first find out the differences and similarities between both. Educating yourself will help you make a smart choice.
In this article, you will get a deep insight into what each of these two machines does and how they are different or similar to each other.
What is a Food Processor?
A food processor is a multi-functional kitchen tool that can chop, cut, slice, grind, and puree almost any material rapidly and effortlessly. Some designs can also help you make citrus and vegetable juice, cake batter, knead pizza dough, whip meringue, and grind vegetables and meat.
Types of Food Processors
Hand-Operated
Since most processors are powered by electricity, if you want the benefit of being able to carry your food processor with you wherever you go, you should opt for a hand-powered model. This implies you can take your processor outdoors with you or simply bring it out into the backyard to use when you're cooking outdoors.
Being allowed to utilize your machine without needing to stress about remaining next to a power outlet gives you a lot of flexibility when it comes to preparing for meals. Hand-operated processors are ideal when you want to do simple tasks like slicing vegetables for a dish or a salad. They aren't powerful enough to manage large amounts of products at once or to deal with hard vegetables or meat.
Electric
Probably the most prevalent kind of processor, electric models are readily obtainable in most shops. These do mandate an outlet to function, but they are much more potent than hand-operated models. The feeding nozzle on many electric processors allows you to pass the stuff you want to be processed down into the bowl, where they will strike the blade and be sliced up.
The price of these machines can differ significantly, so you should be able to obtain one within your budget. Naturally, as they become more costly, they will have more features and functionalities to select from, allowing you to use them in a variety of manners in your kitchen when preparing for your meals.
Advantages of Using a Food Processor
Processing is Simple and Quick
If you've got a food processor, you can never be slow in having to serve meals to your relatives. This multi-functional kitchen gadget will handle all of your food processing necessities, including chopping, cutting, pureeing, shredding, and much more, in just a few minutes. When it comes to making condiments or butter, there is no need to wait for a long time. Simply entrust the job to your food processor, and it will produce puree or butter in a matter of minutes.
Saving Time
This machine can help you save a lot of time. You can now save time by entrusting all of these duties to your food processor instead of cutting, chopping, or combining different items. The machine will complete its task in minutes, allowing you to cook your meals in less time.
Cooking for a Large Group is Simple
You can conveniently cook for a large group if you have a food processor in your kitchen. You won't have to worry about cutting, crushing, chopping, shredding, pureeing, or other preparation methods. This machine is extremely quick and convenient. Your cooking will be made more accessible if you have an appropriately sized food processor.
Consuming Nutritious Meals at Home
The best thing about having a food processor in your kitchen is that you can always eat organic, home-cooked meals. Despite the fact that commercially packaged eatables are usually unsanitary, we actually consume them because cooking at home is time-intensive. However, if you have a food processor at home, you can quickly prepare delicious foods without wasting time.
Most relevantly, if you can prepare your meal as quickly as possible, you will be less likely to eat out and will be able to prevent bad foods. Furthermore, by reducing your expenses of eating out, you will be able to conserve money.
What is a Blender?
A blender is a kitchen tool that is utilized to combine liquids and solid ingredients and convert fruit and vegetables into fluids.
Types of Blenders
Immersion Blender
Blending soups and hot liquids are one of the significant applications for an immersion blender. They're also helpful for quick mixes that require combining powder and liquid. Making protein shakes, milk powder, and even instant custard is a breeze with a hand blender.
Single-Serve Blender
These are the first smoothie blenders. They're fantastic at blending frozen fruit, ice, and grains into a creamy drink. They can also be used to make a make a quick omelette or pancake batter; moreover, single-serve blenders should only be used to make very fluid recipes. Preparing baby meals is another prevalent application for these blenders. They can whip up mashed substances in no time.
Commercial Blender
It's all about the strength of these blenders. They are designed to combine more sturdy ingredients and are designed for a frequent user. Commercial blenders are ideal for making mass quantities of hummus or dips, as well as making smoothies or ice-cold drinks at least once every day. If you're going to be making blended foods and drinks more than once a day, they're a must-have.
Advantages of using a Blender
Versatility
A blender could almost blend any type of fruit or vegetable, which is impossible to do with any other machine.
Saves Time
Blending is the single most time-saving kitchen device available. It's as simple as pressing a button. This can help you to make you make juice, salads, and milkshakes in a fraction of the time it takes to do so manually.
Blends Spices
A blender is also helpful for crushing spices into granules or powder. You can easily powder your spices and use them instead of store-bought spices. If necessary, grind them into a smooth paste.
Blender VS Food Processor
Though these types of equipment have an equivalent function and appearance, they serve different purposes. So, it's advisable to read up on each one before purchasing. The functions that these two devices are intended to do are the most significant difference between them: Blenders are crafted to pulverize and incorporate (in other words, blend) wet and dry substances. In contrast, food processors are intended to cover a wide variety of food preparation processes.