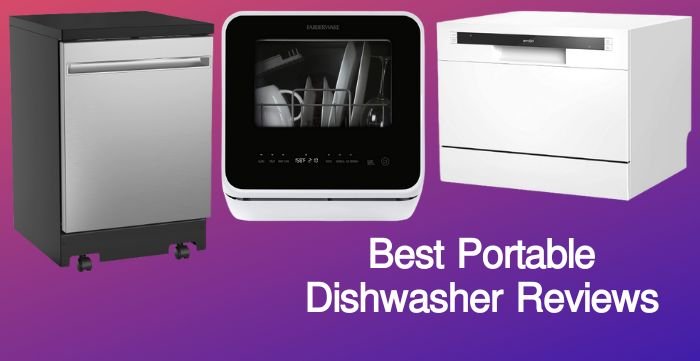 If you live in an apartment or dormitory, space is probably an issue. This doesn't mean that you don't have room for a dishwasher. Some of the latest models are small, compact and can give you a break from doing the dishes every day. We've put together a list of the best portable dishwasher reviews for your consideration. Use our buying guide to find the ideal choice to make your life easier. We've included full descriptions with pros and cons for each model to make it easy for you to make the best choice. Here are the top 10 best portable dishwashers on the market today.
Top 10 Best portable dishwasher reviews and buying guide
1. hOmeLabs Compact Portable Countertop Dishwashe
This portable dishwasher is small and convenient. It fits easily in small kitchens to clean dishes after dinner so you don't have to. It sits on countertops or a small table and doesn't require a lot of space.
The controls are user friendly. There are light indicators on the control panel to tell you when the dishwasher has completed its cycles. There are 6 wash cycle options to choose from including heavy, normal, ECO, glass, speed and rinse. This meets different dishwashing needs.
The streak-free drying features make this portable dishwasher even more convenient. It dries the dishes for you without leaving marks or streaks. This feature works with rinse aids that are designed for an automatic dishwasher. The feature also offers an indicator light that tells you when you need to refill the dispenser
Pros:
No tools needed to connect to a faucet
Energy star efficient saves water and energy
Compact size for small kitchens
Easy to use with 6 different settings
Cons:
The wash cycles run slowly
2. EdgeStar DWP62SV Portable Countertop Dishwasher
This attractive portable dishwasher features a stainless steel interior. The display is digital for a modern look that will fit in with any kitchen decor.
The portable size is handy for small kitchens. It fits under most cabinets and sits easily on the counter without taking up much space.
This is a deluxe portable dishwasher that gives you a choice of 7 wash cycles. It holds up to 6 standard place settings. It comes with a cup shelf, a cutlery basket, and a dish rack to clean all your dishes conveniently.
Pros:
Easy hookup to any standard faucet
It holds up to 6 standard place settings
Water consumption is under 3 gallons per load
Cons:
It takes 45 minutes to complete the normal cycle
Doesn't completely dry the dishes
3. Danby DDW621WDB Countertop Dishwasher
This dishwasher is ideal for small kitchens. It has a compact countertop design that fits under most cabinets.
The delay start option is a useful feature. It lets you choose when you want the cycle to start. You can program it to start in 2,4,6, or 8 hours so it can start when you're at work or out of the home.
This is one of the quietest portable dishwashers. Most run at 55 db, but this one operates at just 52 db. It won't disturb you when you're trying to sleep if you run it at night.
Pros:
Space-efficient for small kitchens
6 wash cycle choices
Quiet operation
Delay start option
Cons:
12″ dinner plates do not fit in the rack
4. BLACK+DECKER BCD6W Compact Countertop Dishwasher
This is a compact dishwasher that fits easily on countertops in small kitchens. It doesn't take up much space but it accommodates plates that are up to 10 inches and has a 6 place setting capacity.
The delayed start option is convenient for pre-programming the dishwasher to start at a certain time. You can go out up to 24 hours on this model.
The child lock feature is great for families with kids. This prevents the washer from being accidentally started by kids pushing the buttons.
Seven wash programs give you a better range of cycle choices. You can also adjust the time that it takes, or choose a soak option for dishes that need extra soaking time.
Pros:
LED Display on control panel
Multiple was programs
Child lock safety feature
6 place setting capacity
Cons:
Jets are not very powerful
5. Sunpentown SD-2213W Countertop Dishwasher in White, Gray
This is a compact stand-alone unit. It is small and fits easily under most cabinets in small kitchens. It doesn't take up much space and works for apartments and dormitories where space is limited.
The rinse aid warning indicator tells you when it's time to add more rinse aid. This is a part of the LED display that lets you know where the washer is at in the cycle and when it is finished.
The delay start feature is worth mentioning because it is convenient. You can set it to start in two, four, six or eight hours for automatic washing.
Pros:
Portable and fits into small areas
Dependable and reliable
Easy to use control panel
Water supply warning indicator alerts when the tap is not turned on
Cons:
Does not dry dishes very well
6. Farberware FDW05ASBWHA Complete Portable Countertop Dishwasher
This portable dishwasher has a compact design that fits under most kitchen cabinets. It doesn't take up much space and it's ideal for small kitchens. It is small but it can wash dishes up to 12 inches in diameter when placed at an angle, unlike most other portables.
A fruit basket is included so you can clean fruits and vegetables in the dishwasher. This is an extra feature that makes this a deluxe model in a small size.
The steam feature makes this a good choice for families with babies. It has a Baby Care cleaning cycle that's made for sanitizing baby bottles.
The built-in tank feature lets you fill the dishwasher with water. You don't need to have a water hookup when using this feature.
Pros:
Extra special features
Compact design
No special hookups needed
Rapid wash feature cleans faster than most
Cons:
7. EdgeStar DWP62BL Portable Countertop Dishwasher
This dishwater is portable and compact enough to fit in small kitchens under the cabinets. It's ideal for small areas with a low profile just over 17 inches tall.
The hookup is easy with the faucet adapter It fits male or female threaded faucet connections. No special tools are required to hook up the dishwasher.
This unit runs more quietly than most. The average noise output is 55 DB, but this dishwasher runs at 52.3 DB.
Pros:
6 place setting unit
7 wash cycles
Quick-connect adapter for standard kitchen faucets
Quiet operation
Cons:
The cutlery basket is fragile
8. Ensue Countertop Portable Compact Dishwashing Machine
This dishwasher has a portable design so it can be moved. It is also compact and it doesn't take up much space on the countertop. It's an excellent solution for smaller kitchens.
The temporary connection doesn't require permanent installation. It attaches easily with the quick connect kit that is included. It connects to any standard kitchen faucet quickly.
The controls are easy to use. The control panel is simple with a power button to start and end. There is also a program selector with a choice of four wash cycles, and for controlling the rinse and speed.
Pros:
Portable and compact
User-friendly
Energy efficient
Simple installation
Cons:
Quick connection leaks in some of the units
9. Farberware Professional FCD06ABBWHA Compact Portable Countertop Dishwasher
This unit has a compact design that makes it a great choice for small kitchens. It also works well for campers and RVs, boats, and dormitory rooms because of its small size.
The seven washing programs give you a choice of the type of washing cycle. It features heavy, normal, baby care, light, and glass options.
The extra drying function provides additional heat during the final rinse. This helps the dishes inside to dry better than average dishwashers.
There is also a child lock feature. This prevents the dishwasher from being started accidentally by children.
Pros:
Loaded with extra features
Six place setting capacity
Compact and portable
Cleans dishes thoroughly
Cons:
Long wash cycle 1-1/4 hours
10. Automatic Compact Portable Countertop Dishwasher
This is a compact dishwasher to that is designed to save space. It fits under most cabinets and sets on the countertop for convenience.
This is a fully automatic portable dishwasher. Just load the dishes, fill the detergent dispensers and push a button. It completes the cycle in about 45 minutes.
Another useful feature is the control panel. The controls are easy to use and clearly marked. The light indicators let you know when it is finished.
The drying feature is noteworthy. This washer offers UV, high temperature, and medium temperature drying combined.
Pros:
Dries dishes better than most
Fully automatic
Small and compact for smaller spaces
Easy to use
Cons:
The connection to the faucet requires a screwdriver
Best Portable Dishwashers Buying Guide
After reading our reviews of the 10 best portable dishwashers on the market, we've followed up with a buying guide. This guide is meant to help you know what to look for in a portable dishwasher. We've included some useful tips to keep in mind before you make up your mind which one to choose.
The first step is to measure the space near your kitchen faucet. It's important to choose a portable dishwasher that will fit under the cabinets. Find out how much space you have to work with. Before buying a dishwasher check out the size specifications. This will be helpful in getting a unit that will fit perfectly in the space that you have available. Not all portable dishwashers have the same length and height, so this is an important consideration.
Our reviews of the 10 best portable dishwashers include a variety of different brands and models. Among these, are some with basic features, but some have advanced features. For example, a few of them have child lock safety features. If you have a child you may want to consider one of these. If you don't it may not be something you're interested in. Another has a fruit washing feature with a special basket for holding fruits and vegetables. Some portable dishwashers come with different kinds of wash cycles to choose from. Two on our list have a baby care setting that is used to sterilize glass baby bottles. Think about the features that would be the most useful for you, and find the model that best suits your needs and your preferences.
Portable dishwashers come in a range of brands and models as well as prices. If you're working with a budget, then choose the model that is the most affordable for you. The most expensive isn't necessarily the best, nor is the cheapest always the best option. Although we've been careful to only include highly recommended dishwashers, there are others that might be offered for a lower price, but in most cases, you get what you pay for. Let the buyer beware that it's better to spend a little more than to have to replace a unit in a year or so.
Our best portable dishwasher reviews include the most highly recommended units by other buyers. These are people who have purchased, and used them, then given their honest opinions. This is why we included the pros and cons of each item. Each of the 10 dishwashers in our reviews gives you an idea of what to expect based on the feedback of other consumers. One of the units requires the use of a screwdriver to attach. For some, this isn't a big deal, but for others, it could be an annoyance. Don't settle for anything less than you believe will meet your needs and do the job satisfactorily.
Frequently Asked Question FAQs
These are the most frequently asked questions from people considering a new portable dishwasher. You may find some of the answers to your own questions here.
1. Question: Does this dishwasher come with the attachment for the kitchen faucet?
Answer: The dishwashers in our reviews come with the attachments to connect to the kitchen faucet. Only one requires a screwdriver to attach the adapter.
2. Question: How noisy is the dishwasher?
Answer: The dishwashers in our reviews run between 55 and 52 DB. Most run very quietly and most noise happens when the water is discharged during the wash cycles.
3. Question: What is the height of the dishwasher?
Answer: You can find the precise measurements of each item in our reviews by checking out the website where it is offered. The exact dimensions are given so you can determine if it will work in the space you have available.
4. Question: What if it doesn't fit the faucet?
Answer: Then you can unscrew the end of the faucet. In most cases, the adapter will work then.
5. Question: How much water does it use?
Answer: Most of the units in our review use under 3 gallons of water for each wash and rinse cycle. You can refer to the full description for each for more information about water consumption.
Conclusion
When you're looking for the best portable dishwasher, It is important to consider the available space you have and which features are important to you. The best portable dishwasher is the one that most closely meets your needs. The tips we offer in this buying guide are designed to give you some ideas on how to go about choosing the best unit the first time. We offer reviews of the most highly recommended portable dishwashers from others who have had experience using them.
Related Review Article: