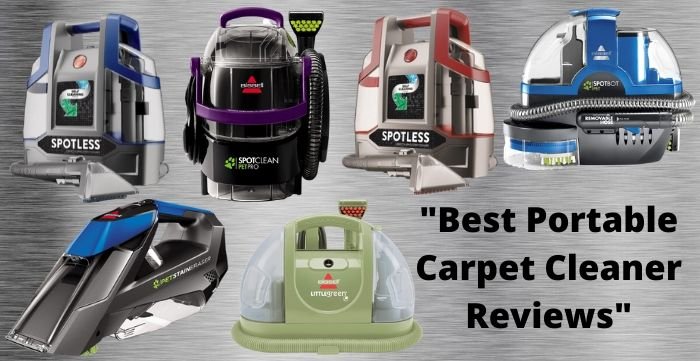 Introduction
There are many portable carpet cleaners out there so it can seem challenging to find the best one for your home. It is not just as simple as looking at the price or a specific name brand.
You need to look at features, pricing, product reviews, and much more to find the best fit for you. When it comes to those features, there are a number to consider including weight, whether it is cordless or not, and what size the water tank is.
To help you out so shopping is not such a challenge we have done the research for you. We have put together this guide featuring reviews of the top portable carpet cleaners on the market and what to look for. You will be able to make an informed decision and will end up with a top-rated carpet cleaner and the cleanest carpet.
Top 10 Best Portable Carpet Cleaner Review and Features
1. Bissell Multi-Purpose Portable Carpet Cleaner
This is a great portable carpet cleaner that can handle all spills big and small. It tackles stains with ease and the water tank is easy to remove when refills are needed. Complete with the HydroRinse attachment, targeting spots has never been easier. The unit is lightweight and easy to carry around with the cord and attachment reaching being good for all over the house. The machine is also made of nearly 50% recycled materials and the tank and hose are PVC-free.
Pros:
Eco-friendly
Tough Stain Tool included
Great for removing pet hair and stains
Easy to carry
Easy to remove and refill water tank
Cons:
Does not do well for longer cleaning sessions
Has low suction
2. Rug Doctor Deep Carpet Cleaner
This unit is one of the largest we recommend but the best for large carpeted areas. It is operated in a similar fashion to a vacuum cleaner and has an extra-wide head. The strong suction power ensures all dirt and grime and hairs are removed. The attachment included also makes sure that upholstery and stairs can be cleaned with ease too. Despite its size, this unit is easy to maneuver and is not heavy to transport. It also comes from a name you trust in the carpet cleaning industry.
Pros:
Attachments include
Easy to carry
Great maneuverability
Deep clean
90-day factory warranty
Cons:
3. Hoover Spotless Portable Carpet Cleaner
Do not be fooled by the bigger size of this cleaner, it is very lightweight. It is often misleading as people think it is heavier than it is. It also has the power of a bulkier and larger unit, which means you get the best clean. You can move this easily through your home and up stairs. This unit is perfect for daily messes, animal stains, and thorough deep cleanings. The self-cleaning hose can reach up to 5 feet so you can get difficult spots and the upholstery clean too.
Pros:
Easy to assemble and clean
Safe to use on hardwood floors
Easy to separate clean and dirty water
Multi-purpose cleaning solution included
Cons:
Power cord is not very long
4. BISSELL Little Green ProHeat Portable Carpet Cleaner
This multi-purpose wet cleaner is lightweight and gives the same deep clean as steam cleaners. It sprays cleaner, suctions, and slightly dries the rug in one step. The flexible 4-foot hose lets you clean upholstery and you also get a brush to help remove tough stains. It is portable to move around the house as you go and has the ability to clean many surfaces. With 9-amps, you get a powerful clean and clean and dirty water is always kept separate. The built-in heater makes sure you get water that is 25 degrees hotter than others.
Pros:
Deep cleaning
Easy-to-fill tank
Built-in heater
Easy to transport
Cleaning formula included
Cons:
Does not leave rugs as dry as it claims
5. BISSELL SpotClean Pet Pro Portable Carpet Cleaner
This is a cleaner the professionals use and is a consumer favorite. It is moderately priced and weighs 13 pounds so is easy to carry around as you clean. The tank holds 96 ounces which is far more than the typical 48 ounces of carpet cleaners, and you get consistent power with a 5.7 amp motor. The tank is easy to fill and you get a cleaning solution included. You also get six stair tools for scrubbing the steps which always get the most wear. Stubborn stains on white carpets can even be removed with the SpotClean Pro and the large hose lets you reach every nook of the house.
Pros:
Powerful motor
Easy to move around
Tough Stain tool for stubborn stains
Attachments are gentle for upholstery
Cons:
Cleaning and maintenance takes a long time
6. BISSELL SpotClean ProHeat Portable Carpet Cleaner
This slim portable design is great for carpet cleaning in any home or business. It weighs less than 12 pounds so can go anywhere you go. It is also slim enough to easily clean inside your vehicles too. The tough stain tool gets pet stains and stubborn messes. The deep stain tool can get anything that may be left. The tanks are easy to remove and fill so it never takes long to get ready for cleaning.
Pros:
Slim and portable
Includes two Bissel formulas
Two cleaning heads
2-year limited warranty
Cons:
No wheels
No motorized heads
7. BISSELL, 20037 Pet Stain Eraser Cordless Portable Carpet Cleaner
It may have a pet in the name but this cleaner is good for removing all stains. It is the perfect compact size to clean big and small messes. You can easily reach stairs, upholstery, and your car with the attachment hose too.One machine will spray, scrub, and suction the messes for you, so messes have never been easier to deal with. The cleaning path is 3-inches wide and has suction on all sides of the brush so no water or solution is left behind.
Pros:
Ready-to-use formula included
Budget-friendly
Run time is 15 minutes
Rechargeable battery
Cons:
Dirty water tank leaks if it gets too full
Leaves caret damp
8. Hoover Carpet Cleaner, Blue Spotless Deluxe
This compact unit weighs 5 pounds, making it one of the most powerful, small cleaners on the market. The machine has a self cleaning hose that flushes itself clean after every use. You also get multiple tool heads to allow for the most versatile cleaning abilities. Bacteria are never an issue because there is antibacterial protection to prevent them from collecting in the tanks and hoses. This lightweight and versatile cleaner is great for daily messes, pet stains and accidents, and stairs and upholstery.
Pros:
Inexpensive
Compact but powerful
Multiple tool heads
Cons:
No wheels
Small tank capacity
9. Hoover ONEPWR Spotless GO Cordless Carpet Cleaner
This is one of the most popular units for pet owners. Whether it be dog stains or accidents, this cleaner is great for giving your carpet a deep clean. There will be no stain or odor left. It is powered by a rechargeable lithium battery so you get to grab and go with ease. No more struggling with a power cord. The battery takes about 3 hours to fully charge. Maintenance and tank emptying is easy and quick to do. Runtime is only about 10 minutes so this is really only ideal for quick messes.This way you can clean up a mess before it gets a chance to settle in.
Pros:
Affordable
Convenient
Easy to use and maintain
Cons:
Older stains may take several passes to get clean
Only ten minutes run time
10. Bissell SpotBot Pet hands free Portable Deep Cleaner
Another great model for pet owners that also cleans up general messes too. The powerful suction and brushes dig deep to get stubborn stains and remove all odors too. You can choose between an auto-cleaning cycle or your own settings. And once the machine is going, you can leave it to clean while you take care of some other tasks.
Deep Reach technology means all stains get cleared and yet it is also gentle enough to clean upholstery. You also get a 5 inch attachment hose to get into small nooks and crannies.
Pros:
Cleaning solution included
Great for all kinds of spills, including wine and pet waste
Cleans for six sessions before tank cleaning is needed
Cons:
Portable Carpet Cleaner Buying Guide
Even with our recommendations, there are several things to consider before you buy a portable carpet cleaner. That being said, it does not have to be an overwhelming situation. There are many styles and brands out there not to mention all the varieties of features. Using our buying guide, you can narrow down the features that matter so you know exactly when to look for when you go shopping. Once you know what matters to you and what you are looking for, you can start with the top ten cleaners we recommend. You are sure to get the best portable carpet cleaner that way.
The weight of the cleaner is important. The idea is that you want a portable unit, so get one that is portable. Everybody has different strengths, so you need to get a weight that is easy for you to carry around the house. Portable cleaners typically weigh anywhere between 5 and 20 pounds. They can be bulky and slim. Before you start looking at features, decide how much weight exactly you want to be carrying around.
Anyone that has pets will want a portable carpet cleaner. From puppies and kittens to adult pets, animals make messes. It is important to get the messes clean before the stains get time to set. A portable and handy cleaner is a necessity. You want to look for certain features on cleaners if you have pets.Deep cleaning ability, wider openings to reduce hair clogs, special brushes, and the ability to grab and go. Most portable carpet cleaners can be used for pet stains, but there are some designs that are better equipped to handle these messes, and that is what you need to look for.
You need to get enough suction to pull dirt from the carpet. You do not want a surface only clean. It is important to note that while larger motors will have stronger suction, this is not always the case. There are a number of cleaners that are small but pack a big punch when it comes to suction power. Better suction also means there is less drying time when you are done. Carpet cleaners with better suction will also typically be able to heat the water for more thorough cleaning. Also keep in mind that more power also means more noise.
There is no right or wrong size when it comes to tanks. The tank capacity you want to look for will depend on your cleaning needs. If you want to be able to clean a larger room without refilling, then you need a larger tank. If you are only looking for a clean as you go spot cleaner, then you can get a cleaner with a smaller tank. Remember that larger tanks will come in heavier units and will not be as easy to carry. Smaller tanks if used for room cleaning may need to be refilled several times. It is a trade off. You either stop for more refills or carry around a heavier unit.
If you plan to use the cleaner you buy for your upholstery, there are certain features to keep in mind. Most cleaners will clean curtains, beds, sofas, and plush carpets in addition to regular carpeting in the house. Look for a model of cleaner that has attachments to provide a deeper clean for these items. You will also want to look for a decent length hose to reach all these areas. The cleaner will end up bulkier with these attachments, but you will also get greater suction power and better on the spot cleaning.
You want a portable carpet cleaner that will last a long time. The durability of a cleaner will depend on the materials used to make it. A cleaner made from high-quality materials will last longer and will give a better clean. But it will also be more expensive. If you think of it in terms of an investment, you pay more up front and end up with a quality and long-lasting product. In the long-run what you pay up front will be worth it.
FAQs:
Q: Will the cleaner come with any cleaning solution?
Ans: This varies by unit. Some come with a cleaning solution included and others do not. Most often there will be a sample of a cleaning solution included. And, most cleaners can accommodate any brand of cleaning solution which are easy to come by in any store.
Q: Can I use the cleaner for an auto vehicle?
Ans: Yes, a portable carpet cleaner can be used for the car interior. Not every unit will be good for this task, so check the manual first. Many will come with attachments and hoses that allow you to easily clean inside your car.
Q: Can I use the cleaner on the entire couch?
Ans: Most carpet cleaners can also be used for cleaning upholstery, which includes the couch cushions. There will be brush attachments that will remove dirt and debris from the cushions. Some brushes are harsh and others are more gentle. If you plan to use the cleaner for upholstery often , try and get a unit that has brushes specifically designed for that purpose. To clean any upholstery, you will always need to use the attachment hose.
Q: How often should you use a carpet cleaner?
Ans: How often it is used will depend on you. Some use it regularly such as twice per month. Others prefer to use it as messes occur. Cleaners can be used for grab and go messes and for routine deep cleaning. For those with pets, it is recommended to use a portable carpet cleaner at least once a week.
Conclusion
You are looking for the best portable carpet cleaner and we want to make the process as easy as possible for you. We have eliminated most of the complications and research with our guide and top ten list. A portable carpet cleaner is a great investment and will keep your carpets clean and looking like new.
A carpet cleaner is an essential household item and this is even more true for those with pets. Because you are going to be making an investment, you want the best portable carpet cleaner on the market. Once you understand your needs and what you want, our guide will help you narrow down the search.
No matter what your needs and what your budget, any of the portable carpet cleaners we recommend will keep your carpets clean, free of bacteria, and looking like new. No matter how much traffic goes through your house.
Related Review Articles: