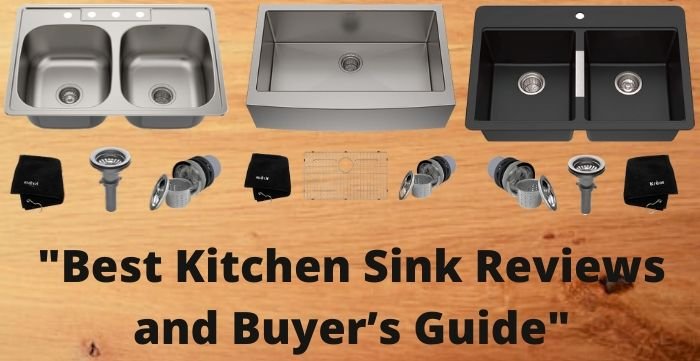 Introduction
It goes without saying that your kitchen is a core part of your home. This is the place where you spend time washing dishes and preparing meals for your family. If you are upgrading your kitchen or your current sink is blocked because of a clogged drain, then it is time you should choose the right kitchen sink. However, choosing a proper kitchen sink is not a walk in the park because you have to consider different factors such as mounting method, space availability, material and design. In this article, we have compiled a list of top 10 best kitchen sink including a detailed buyer's guide.
Top 10 Best Kitchen Sink Reviews and Buying Guide
1. Kraus KHU100-30 Kitchen Sink
Kraus KHU100-30 Kitchen Sink is the first to feature on this list of the best kitchen sink. It is an under-mount, 16 gauge stainless sink which is manufactured by Kraus, a reputable sink manufacturer with more than 12 years of experience in the industry. Kraus KHU100-30 kitchen sink is made from dent-resistant T304 stainless steel which offers superior durability and strength. It is one of the quietest sink available on the market thanks to the NoiseDefend soundproofing technology which includes extra-thick pads as well as non-toxic SoundGuard undercoating. Accessories that come with this kitchen sink include mounting hardware, premium Kraus kitchen towel, cutout template, and 3 piece basket strainer set.
Pros:
It has a large bowl which keeps all sorts of utensils such as skillets, sheets, and pans
It comes with a limited lifetime warranty
Has a high-quality finish
Durable and has a beautiful design
This kitchen sink has a beautiful design
Cons:
The sink may scratch if it has carelessly handled
Heavier than other kitchen sinks
2. Kraus KHF200-33 Stainless Steel Sink
Kraus KHF200-33 Stainless Steel Sink is a great combination of aesthetics and durability. The KHF200-33 is a single basin kitchen sink that is large, deep and broad. With this sink, you can do a flush-mount, top-mount or under-mount. This stainless steel sink is made with heavy-duty dent-resistant T-304 stainless steel for lifelong durability. Additionally, Kraus KHF200-33 is designed to be the quietest sink on the market thanks to the NoiseDefend soundproofing technology which features extra-thick pads as well as non-toxic undercoating for increased insulation.
Pros:
The basin is big enough for lots of plates
Large noise insulation pads
Comes with excellent noise dampener
Durable and has a unique look
It is beautifully made
Cons:
The sink slopes are a bit too much
It can get scratches if not well handled
This sink is heavy
3. Kraus KGD-433B Kitchen Sink
There is no doubt that Kraus KGD-433B is one of the best looking kitchen sinks available on the market today. This is a high-end granite composite sink that is designed for thermal shock and resistance. It has a heat resistance of up to 650 degrees F and a non-fading color with UV protection. Kraus KGD-433B Kitchen Sink is a 50/ 50 double bowl granite sink that is dedicated to style and quality. Additionally, the low maintenance surface wipes clean and is very resistant to grime and dirt. Kraus KGD-433B has a dual mount design that offers installation flexibility.
Pros:
The sink surface is scratch-resistant, heat resistant, and chemical resistant
Can be used with both top mount and under-mount
Made from material that is easy to clean
Comes with gently rounded corners that make it easy to maintain
The sink has a beautiful design
Cons:
It is difficult to keep the sink clean
Can be difficult to install
4. Kraus KTM33 Stainless Steel Kitchen Sink
Kraus KTM33 Stainless Steel Kitchen Sink is made with 18 gauge stainless steel which makes it resistant to dents and dings. Also, this non-porous sink is not only scratch and stain resistant but also durable and easy to incline. One thing that makes this kitchen sink stand out from its rivals has to be its extensive sound-dampening features. The Kraus KTM33 has an undercoating and pads which helps prevent the loud noises found in cheaper kitchen sinks.
Pros:
It is a double bowl design
Has a popup drain as well as the strainer basket
The premium satin finish is both stain and dust resistant
Features 2 bowls of different widths but the same depth
Comes with multiple accessories
Cons:
Has a single hole for adding a faucet
Only comes with one hole that you can add faucet
5. ZUHNE 33-Inch Single Bowl Stainless Steel Kitchen Sink
The fifth product on this list of best kitchen sink is ZUHNE 33-Inch Single Bowl Stainless Steel Kitchen Sink. This sink is not only large but deep giving a perfect impression when a visitor walks into your kitchen. It features a sloped base for faster water as well as residue drain. Made from 16 gauge ultra-durable T304, this stainless steel kitchen sink is designed to be rust and corrosion proof, scratch and dent resistance. ZUHNE 33-Inch Single Bowl Stainless Steel Kitchen Sink is the quietest sink globally as it mutes noise during daily use.
Pros:
Great value for a large farmhouse stainless steel sink
The sink patina resists scratches
Made from 16G high-quality stainless steel that is durable
It has rubber insulation as well as pads which provide a great job for noise cancellation
Features an attractive drain with a removable basket and handle
Cons:
It does not come with instructions for instructions
Requires high maintenance to prevent rusting
Can be difficult cleaning the grate
6. Ruvati RVH8050 33 x 22-inch Stainless Steel Kitchen Sink
Ruvati is one of the best brands when it comes to kitchen products. One of their premier products has to be this stainless steel kitchen sink which is liked by customers thanks to its exceptional quality. This product is ideal for those who want the best top mount sink at an affordable price. Ruvati RVH8050 is made from T-304 grade stainless steel which makes it sturdy and strong. It consists of thick rubber padding as well as heavy-duty sound guard undercoating that reduces condensation and minimize noise. The commercial-grade brushed finish makes it easy to clean and long-lasting.
Pros:
Installation takes 20 minutes only
It is resistant to scratches, stains, and corrosion
Come with a lifetime warranty
Has sharp edges which can be fitted easily
Satin finish
Cons:
It is heavy
Problems with installation in smaller kitchens
7. Elkay Quartz Classic ELGRU13322BKO Single Bowl Undermount Sink
If you want a kitchen sink that seamlessly fits into your kitchen design, then look no further than this one. Elkay Quartz Classic Single Bowl Undermount Sink is available in a wide array of natural colors such as gray, white, mocha, greige, brown and black. The natural quartz is resistant to scratching and chipping, and the under-mount sink is heat safe. This under-mount sink can be installed beneath the countertop which creates a seamless appearance between the countertop and the sink. Depending on your kitchen design, you can choose a drain finish that matches your kitchen faucet. With the single bowl, you will have uninterrupted space for stacking and washing dishes, including performing other household tasks. You can choose this under-mount sink if you want to have a bold and sleek statement for your kitchen.
Pros:
It is available in multiple sink colors
The sink is easy to clean with a damp cloth and soapy water
It is stain and smudge resistant
Relatively lightweight compared to other models
The deep basin makes dish cleaning easy
Heat safe up to 535 degrees F
Cons:
Susceptible to leaks and cracks
8. MENSARJOR Single Bowl Kitchen Sink
MENSARJOR Single Bowl Kitchen Sink is constructed from indestructible 16 gauges and T-304 grade stainless steel for enhanced durability and time resistance. This single bowl kitchen sink has a rubber mesh dampening pads which in addition to soundproof technology is used to absorb vibrations and minimize the noise that the sink produces when using it. Additionally, it has a brushed finish that makes it scratch and dent resistant so that it can be used for a long time. MENSARJOR Single Bowl Kitchen Sink has an ultra-quiet design with thicker and softer rubber noise reduction pads. It has round corners that make it faster and easier to clean and is long-lasting.
Pros:
Features sound damping pads
Heavy-duty sink that is immune to breakage
It prevents the mixing of food and plastics residues
The sink is easy to clean and maintain
The commercial-grade finish of this sink makes it beautiful
Cons:
The water does not drain perfectly
Food particles do not end up in the drain because the sink has a rectangular shape
9. Kraus Forteza Granite Kitchen Sink KGD-52GREY
Kraus Forteza Granite Kitchen Sink KGD-52GREY is designed for resistance to thermal shock and collision, including heat resistance of up to 650 degrees Fahrenheit. It has a naturally hygienic material that is enriched with silver ions which repel germs to have a cleaner sink. Additionally, the thick stone-like material is engineered to eliminate vibration as well as noise when you are not using the sink. The KGD-52GREY is a 50/50 split basin that allows you to use the two sink bowls for washing and rinsing separately. This 9'' deep double-bowl sink comes with a low center divider that helps you lodge the largest kitchenware. When you purchase this rectangular KGD-52GREY kitchen set, you will get a sink, drain assembly, silicone mitt with a trivet, and cutout template.
Pros:
Dual mount/ drop-in granite kitchen sink
This kitchen sink is scratch and chip resistant
It is naturally sound-absorbing
The granite composite sink is reasonably priced
It is not only scratch and stain resistant but also can resist more than 530 degrees F
Cons:
It only comes in a matte finish
The price is expensive for some people
10. Latoscana LFS3318W 33'' Reversible Fireclay Farmhouse
Latoscana LFS3318W 33'' Reversible Fireclay Farmhouse is the ideal sink for those looking for gorgeous 100 percent Italian sink. At 33 inches, the Latoscana LFS3318W is the right size sink for any standardized sized kitchen. It features 100 percent exquisitely Italian made design and is beautifully designed on all sides. Other than its pleasing aesthetic design, this fireclay farmhouse is designed for easy drainage. The good thing about the LFS3318W sink is that it offers consumers a wide variety of installation options like under-mount, flush-mount, or raised sink. Additionally, you will not need any extended flange.
Pros:
This kitchen sink is easy to clean
High-quality aesthetic design
The extra-large bowl makes it easy to hold pans and pots
It is durable and long-lasting
Offers a wide variety of installation options
It has fewer corners which makes it easy to clean
Cons:
It stains easily
Difficult to wash and rinse in a single bowl
Buying Guide
All kitchen sinks serve the same purpose such as dishwashing, food preparation, and cleaning household items. But kitchen sinks are built differently. As you have seen from the above list of best kitchen sink reviews, there is a wide variety of kitchen sinks that are sold on the market today. This can make the process of finding the best sink for your kitchen tedious because there is a wide amount of selection to choose from. To make your work easier, we have come up with this buying guide on factors you should consider before making your final purchasing decision. Check out below to know what you should look for before buying a kitchen sink for your home.
Kitchen sink style
A single bowl kitchen sink is the most popular kitchen sink style you can find on the market that can be installed with a drop-in or an under-mount sink. Some people like this type of sink because it has a large solitary bowl that can accommodate large pans and plates easily. Depending on your needs, you can choose a small single basin sink of 12 inches or a larger one of 33 inches. You must choose the right size of the sink so that you do not have problems cleaning sheet pans and baking trays. What differentiates a single basin sink from a double basin sink is the fact that the former does not have a divider and is designed as a single bowl. Compared to double basin sinks of the same size, single basin sinks are cheaper and are easy to install. If you have a small kitchen you may prefer a single basin sink because they are easy to maintain.
If you are looking for a traditional kitchen sink, then you may prefer a double basin sink. Most conventional sinks feature a double basin design which means that they have the same dimensions of a single basin sink but have a divider in the middle. The benefit of a divider is that you can keep each side separate from the other. Some people prefer a double basin sink because they come with improved functionality. What this means is that you can have one basin containing soapy water for washing dishes while the other has clean water for rinsing. Alternatively, you can use one basin for storing dirty dishes while the other basin can be used for cleaning vegetables and fruits.
Another type of sink is the farmhouse sink which is one of the most popular kitchen sinks for a modern kitchen. Not only are they spacious and beautiful but they come with unique designs, finishes, and colors which makes it difficult to choose the right one for your kitchen. Farmhouse sinks can either be under-mount or top-mount and single bowl or double bowl. Therefore, if you are looking for a customized sink, then a farmhouse sink is the one that you are looking for.
Other types of kitchen sinks that you should know include small basin and round basin sinks. A round basin sink is one that is commonly found in a bathroom because they consume less space and looks great. They can also be used in the kitchen but make sure you take a close look at them before purchasing one. On the other hand, a small basin is an ideal sink for small-sized kitchens.
Kitchen sink materials
You probably know that kitchen sinks are made from various materials that range from stainless steel to fireclay. You may prefer one kitchen sink material over the other based on your kitchen design. The following are some of the best materials for sinks available on the market today.
Stainless steel kitchen sinks are the most popular today and have been available on the market for quite some time now. They are normally rust and stain-resistant while some are known to be durable than others. You can find this kind of kitchen sink material in restaurants and commercial kitchens and are normally used to construct kitchen faucets.
Composite granite sinks are known to be one of the best stone kitchen sinks that are pleasing to designers and consumers. This type of kitchen sink material is not only luxurious and elegant but also durable against natural corrosion, scratches, and stains. The only problem with this kind of sink is that they are heavy and vulnerable to cracks.
Copper kitchen sinks are gaining in popularity because they are unique and beautiful, which gives your kitchen a bold statement. Compared to stainless steel sinks, copper sinks are more expensive and are made to last. Also, they are stain-resistant and easy to clean.
Fireclay is simply clay which is produced at very high temperatures. This type of kitchen sink material is very durable and is resistant to scratches and chipping. If you are careful with how you handle a fireclay kitchen sink, you can be sure that it will serve you for a long time.
The other type of kitchen sink material that you need to consider is the cast iron. This material which is known to be wear-resistant is mostly used to make kitchen tools. Cast iron kitchen sinks are known to be the most durable sinks today and are beautiful to install in your kitchen. The good thing about these sinks is that they can be under-mount installed, self-rimming, or drop-in sinks.
Durability
Another important factor to consider while buying the best kitchen sink is durability. It doesn't matter which brand you choose, make sure you look at whether the sink is durable enough to withstand scratches and stains.
Size and configuration
Before you purchase a new kitchen sink faucet, you must compare it to the size of your existing kitchen sink. Also, make sure you measure the counter size before you purchased a new sink. Depending on your kitchen measurements, you can choose a kitchen sink with the right configuration. You must choose the right style and configuration that will improve your kitchen's design.
Number of bowls
The question you need to ask yourself is do you need a kitchen sink with 1, 2 or 3 bowls? The answer to this question depends on you. A kitchen sink with 1 bowl allows you to clean different dishes all at once. While a kitchen sink with 2 or 3 bowls allows you to multitask, which means you can wash dishes on one bowl then groceries on the other.
Kitchen sink brands
Kraus is one of the best fixtures manufacturers in the world. Their products are a combination of functionality and elegant aesthetics and are very durable. They come with a limited lifetime warranty while their customer support is very responsive.
Another well-known fixture manufacturer is Moen. This brand has a strong reputation worldwide because its products are easy to install. Even if you do not have prior knowledge, you can easily install this sink in a matter of minutes by reading their clear instructions.
Kohler is a big brand when it comes to making the best bath and kitchen fixtures. They have a great customer support service and offer a lifetime warranty for their kitchen products.
Blanco is a German company that has created a name for itself for quite some time. Their kitchen sinks might be a little bit pricier but they are worth value for money. Blanco fireclay sinks are popular among consumers and come in a wide array of colors to choose from.
Price
The final factor to consider is the price of the kitchen sink. Kitchen sinks are available at almost any price that ranges from as little as $50 to a few hundreds of dollars. The price of a kitchen sink depends on the material used, design, size, and brand.
Frequently Asked Question FAQs
Question: Which is the best kitchen sink brand?
Answer: There are many kitchen sink brands such as Frigidaire, Kraus, Swanstone, and Ruvati. All of these brands are good but we would recommend the Frigidaire FPDP279D10 as the best kitchen sink for your home.
Question: What is the right kitchen sink depth to choose?
Answer: You can choose either 8" or 10" deep sink depending on the size of your kitchen. In case your kitchen is spacious enough, you may prefer a 10" deep sink. Otherwise, you may prefer an 8" deep sink if you need space to store other utensils.
Question: How can I prevent my sink from getting scratches?
Answer: Although your sink will inevitably get scratches over time, there is a good chance that you can prevent this from happening. The best way to prevent your kitchen sink from getting scratches is by avoiding cleaning using abrasive wire pads, harsh chemicals, and being careful with liquids like coffee, tea, and red wine.
Question: Can I install the kitchen sink myself?
Answer: It is possible to install most of the kitchen sinks reviewed above on your own. If you purchase one of these sinks online, then they will come with an installation guide, mounting clips, as well as cutout templates that you can use to install the kitchen sink yourself.
Conclusion
Kitchen sinks come in a wide variety of sizes, materials, and colors. Before you spend money buying a kitchen sink, you need to assess your needs and know if you need a flush mount, farmhouse, or under-mount kitchen sink. Note that choosing the most expensive kitchen sink does not mean it is of the best quality. If you are looking for a durable but quality sink then you may prefer the Kraus stainless steel sink to its rivals. Hopefully, the above list of the best kitchen sink and buyer's guide can help you find the right kitchen sink to install in your space.
Related Review Article: