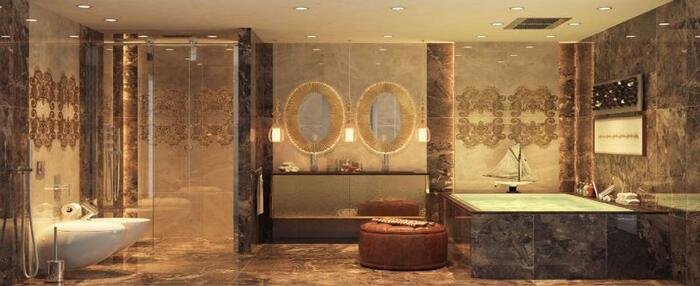 Bathrooms are generally small. However, due to the fact that they can be designed in numerous ways, people do run into problems sometimes. As such, it is vital that before any improvement be made, a plan should be drafted. Many things will need to be considered and if preparation isn't done, several things could be affected.
You can also do this one of two ways. The first is by hiring an expert. Plumbing is a very intricate science and sometimes needs experienced hands, especially if your adding top end items like a fancy shower cabin, freestanding or even a whirlpool bath. However, it can be costly at times especially since you pay by the hour. That's why you can always go with the second option which is to do it yourself. By turning it into a DIY project, you save on money but will need to invest time and effort instead. You should be fine as long as you have basic technical skills and a keen eye for design. Skills like that alone should be enough to turn your bathroom into a paradise. Here are some of the things you should consider when doing it yourself.
Budget
It is highly advised that you draft a detailed budget plan prior to starting the endeavour. The financial implications of such project will need to be prepared for. In some cases, you will also need to secure the budget or ask permission from your spouse. These days, it's pretty easy to assume the costs thanks to online shopping. You can just lookup the things you need and total them all up. In the event that you can only estimate, be sure to round it up so that you have some allowance.
Style
You should be able to picture out the bathroom that you desire. If you have no clue where to start, try to do a sketch using your favourite program or on paper. You can even simply grab ideas online. It's important to know the direction you are headed so that you can assess if you did everything right. Researching online can help you a lot in the planning stage due to the availability of interior design sites and forums.
This 2015, people are all about renovation. However, tighter budgets would usually warrant small upgrades only.
Colour Schemes
Colour is extremely important in the design of any room and the same holds true for the bathroom. Patterns and colours should be used in combination to produce an excellent and appealing blend. These days, due to the fast paced nature of life, gentle shades and hues are being promoted.
This brings about a relaxing environment that helps the mind de-stress. Aside from the peace and relaxation these colours bring, they are also practical as they are easy to clean. This 2015, warm tones are being sought after. Examples of this are grey or cream yellow. Next in popularity are shades of blue. While those are the up and coming colours of 2015, you should still go with what works for your bathroom. Experiment with combinations and shades and be sure to complement your fixtures. The colour should extend to not only the walls and tiles but also the cabinets, accessories, towels, etc. This is so that the overall statement of your bathroom is reinforced by all.
Bathroom Decor
People regularly overlook bathrooms as a typical room. They are considered necessities that don't need to be adorned to be appreciated. However, unknown to most, one can appreciate the bathroom a whole lot more if it were also fitted with décor. These can be accomplished by the little things we overlook. Yes, shower hooks are indeed necessary to hold up the curtain. However, you could at least buy coloured ones instead of the plain ones. That little addition can already spice up the bathroom and you haven't even begun yet. Modifying the lighting, adding a mirror, painting the cabinets, these are all things that keep the fixtures functional but also add a design dimension to them.
Bathroom Art
This is something that isn't common but nevertheless has its own appeal if you are into it. Whether they are art collections or individual pieces, be sure they are safe to place in humid environments. Water resistant housings can usually solve the problem. This 2015, there is also a surge in the market for geometric print tiles. These are great as they are both functional as well as ornamental.
Coloured Tiles
We always picture bathrooms as white. People almost always go with white tiles, fixtures and even towels. Whether it's the media's influence or our innate ability to link the colour white with cleanliness, we'll never know. The fact remains that people haven't been going out of the box for quite some time. This 2015 seems to have changed just that. Bathroom tiles are now being replaced with blue, beige and shades of grey as they add a little appeal to the room while still maintaining the "white is cleanliness" notion.
Technology
Bathrooms have pretty much been bare bones up until now when it comes to technology. Aside from the occasional hair dryer and blower, there doesn't seem to be much that is needed. This notion, however, has also changed this 2015. People are now craving rejuvenating experiences in their bathrooms and have turned to technology to provide it. Examples include intelligent heating systems, surround sound audio, televisions and whirlpool baths.