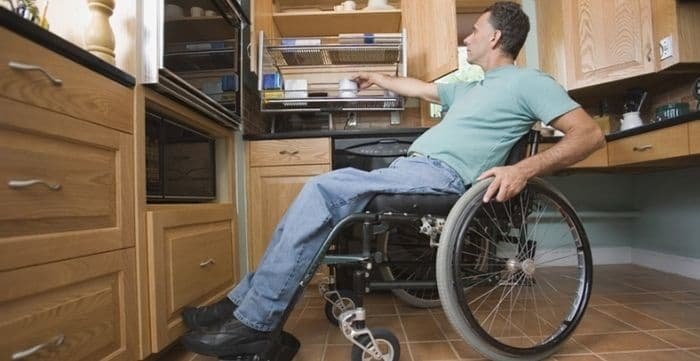 Physical disability can take a huge toll on you, as it changes the way you move from one place to another in your daily life – in and outside your home. The truth is that moving around the house becomes quite challenging and seems there are way too many obstacles to pass if you have been impacted by disability.
Bathrooms, stairs, furniture, doorknobs, and other surfaces may appear mountains to you. It becomes challenging to adapt and try to overcome the situation. But, don't fear! Fortunately, there are ways to make your life with disabilities easier. It all starts with updating your home and ensuring comfort and safety for autonomous living.
Tips to Make Your Home Wheelchair Accessible
Below are some simple yet effective ways to transform your living space into a wheelchair accessible home:
Widen Doorways
Most walkers and wheelchairs are quite wide and difficult to be maneuvered via doorways. Widening doorways is a costly upgrade that may be over $1,000 in certain cases. It's best to use offset hinges in order to make your door swing effortlessly and widen the path in an affordable way.
Rearrange Furniture
You need to check the entire layout of your home. If you notice your furniture is placed in areas that may hinder the movement of a person who uses a wheelchair, you need to rearrange your furniture. You need to arrange it in a way that there are no sharp turns or narrow passageways. Also, make everyday furniture like chairs, bed, dining table, bookshelves, and kitchen plates easily accessible to a wheelchair user. This means that you need to move necessary items on lower shelves so that they are well in reach of the disabled person.
Rethink Flooring
The carpeted flooring and rugs can make it difficult for wheelchair-bound people. Moreover, they can become a tripping hazard for people with disability. Therefore, it's best to replace them with hardwood, ceramic tile or vinyl flooring. You can consider other flooring material as well that's safe for wheelchair movement.
Replace Stairs With Ramps for Easy Access
Since the staircase is hazardous for many people, not only for people in a wheelchair but also for the ones with limited mobility. Even one-story homes are likely to have at least one of two steps at the main doorway or entryway. Using a portable wheelchair ramp is a convenient and quick way to tackle this problem if you are not ready to convert your front door entry into a no-step entry. These portable wheelchair ramps are collapsible for easy storage. With portable ramps, you can instantly turn any step or stairs into a wheelchair-accessible entry.
Place Grab Rails in Key Areas
Grab rails are really helpful to provide better stability in bathroom, especially around the shower and toilet area. If there's someone in your home with disability or balance issues or is prone to falls, place handrails in different areas of your houses such as near beds, chairs, stairs, or bathroom areas. The grab rails are very helpful in reducing the risk of falls and lifting themselves from their seated positions with less effort. This also increase their independence and gives them peace of mind.
Update Your Toilet
The toilet area is also treacherous for people with disabilities. If you have handrails installed in this area, it can be really helpful for them to conveniently sit and stand from their toilet seat. You can also install a safety frame around the toilet to improve comfort and movement.
A toiler riser is another great addition for those who have trouble bending over, standing up, and sitting down.
Conclusion
There are so many ways to turn your house into a handicap-accessible home. If you're still confused, you can take professional help, who will advise you the best solution for you and your family members. Once you're ready to make recommended changes in your home, the experts will help you install the right solutions while educating you about safety measures and maintenance of equipment helpful for disabled.
Smallest of disability can change the way you move in spaces as familiar as your own home. These simple hacks can help you're your house more accessible to people with restricted mobility.