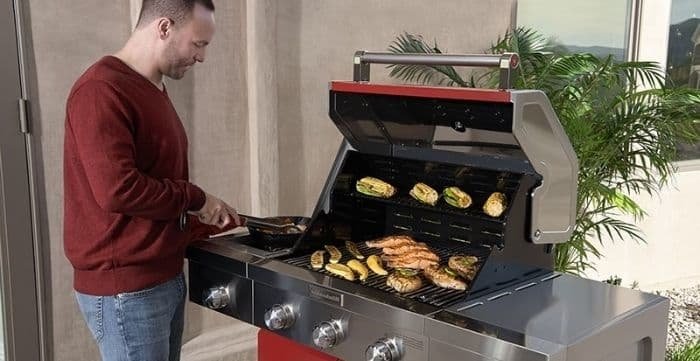 Who doesn't love the flavor of grilled food? Nowadays in every house, you will see people using a gas grill to cook different types of foods. The confusion starts when you see a different number of burners especially between 2 or 3 burners gas grill. In this article, you will get information about 3 burner gas grills and the advantages of using them. So let's start grilling.
What is the Advantage of a 3 Burner Gas Grill?
Grilling isn't an easy task. You have to know the process of grilling as it requires skill. Moreover, if you have a gas grill in your home, enjoying different grill foods gets frequent with friends and family.
If you like frequent grill food at home then pick a 3 burner gas grill as it comes with lots of advantages. What are the advantages? Follow me:
You can use the grill outside in your yard because it is made from stainless steel which promises high quality with long-lasting features. Maintaining this grill is easy because of the sleek design.
With this grill, cooking time gets saved. You will be amazed how the chicken or beef gets grilled so quickly in this grill. Moreover, this multi-tasking grill helps you to cook for several people in no time.
Doesn't worry about this grill will take huge space in your home? The design of this gas grill is space-efficient. You can keep this grill in any corner of your house.
When you cook on this grill, you will not have raw meat with burnt skin. The cooking will get perfect because you can control the temperature per your requirement.
The 3 burner gas grill comes with folding shelves. So you will get huge working space at the time of cooking. You can use the shelves as suitable storage after finishing your cooking.
Obviously, the more burner you have the more food can be cooked on this grill at a time. The best thing about this grill is you can cook steak, roast vegetables, grill chicken, or beef at the same time easily.
The heat amount of the 3 burner gas grill is 30,000 BTU. As this grill allows to use of propane or natural gas, the generated heat is more than enough to cook different foods fast.
When you will cook on a gas grill, you will fall in love with this kind of burner for its suitable features. The grill instantly fires up to get ready for cooking. Then you can adjust the temperature and pick how many burners will work at a time. You can also control the gas supply in this burner.
There is no grill safer than the gas grill ones. You can extinguish this grill straightaway. So no worries of facing fire accident while cooking. After finishing cooking, you will not find any leftover coals around the burner. Another thing is the heat can be controlled easily with burner grips.
There is a misunderstanding about grilled food that they are harmful to health. The fact is the foods that are made on a gas grill have no fat and comes with low calories. If you are on a diet then keep grilled vegetables and meat on your menu.
Don't worry about the cost as you will get an affordable 3 burner gas grill in the market. This is the big advantage of a gas grill.
You don't need to spend huge time in cooking while using this grill. It takes less time than usual cooking. So when want to spend some time with friends, just cook some quick recipes on the gas grill and relax with them as long as you can. You can start to make steak whenever you want on the gas grill while partying. You can socialize, relax and enjoy all at a time if you have a gas grill in your house.
As it uses natural gas so you don't need to worry about spending lots of money on coal or gas. Cook as much as you can at a low cost. And don't worry about the taste of the food, it will come out more delicious than your imagination.
Conclusion
A gas grill is now a must-have kitchen appliance for every kitchen. You can use it for outdoor cooking also. You will get different types of gas grills with different burners. If you like to party often with your close ones and also love to cook different grilled and healthy recipes then go for a 3 burner gas grill. In this article, you already have read the advantage of a 3 burner gas grill. So what are you waiting for? Grab one gas grill and start cooking that juicy meat with grilled vegetables.