Like car nuts, musicians, woodworkers and many other hobbyists, cooking lovers often go a little bit crazy for their toys. Show them a new gadget for grilling, frying, smoking, roasting or baking, and they're all over it. And with recent advances in cooking technology, some of the latest cool stuff is indeed worth salivating over! What are these tasty cooking technologies? Check out seven pieces of advanced cooking gear that today's chefs see in their most delectable dreams.
1. Pellet Grill
Grilling and smoking enthusiasts love the flavor of wood-fired cooking — and if you can get that delectable flavor without laborious fire-tending, why wouldn't you? That's why BBQ-loving chefs have been going ape over pellet grills, which use compressed wood pellets in an automated hopper to smoke and grill at a consistent temperature. These grills are especially good for low-and-slow BBQ smoking, although they produce delicious results on cookout classics like burgers and hot dogs too. Some of the most advanced WiFi pellet grill models you'll see today even offer connected apps that let you check your smoker's temps from wherever you are!
2. Stand Mixer
For bakers who aspire to go beyond the basics and master their craft, a stand mixer is an indispensable tool. The mixer's powerful motor eliminates the need for repetitive kitchen tasks via its numerous attachments, which can perform functions like kneading dough and whipping eggs.
Stand mixers are practically a must-have for anyone who wants to experiment with artisan baking styles. Still, they're also so versatile that practically any experienced cook can probably figure out a way to use one! You'll find lots of attachments available that cater to other cooking styles, including vegetable spiralizers, sausage stuffers and even juicers.
3. Pasta Maker
Lovers of Italian cooking know that using fresh handmade pasta is the secret to next-level flavor and texture. With a pasta maker, it's surprisingly simple! Just create your dough, then use the pasta maker's attachments to press it into the shape of your choice — whether that's lasagna, fettuccine, angel hair or something else.
Traditional pasta dough is typically made from a combination of eggs, flour and a little bit of water. When you're making your own, however, your options are almost limitless! Mix in some vegetable puree for a nutritional upgrade; boost the flavor with any combination of cheese, herbs and spices; or use nut and semolina flours to give your pasta an intriguing taste and texture.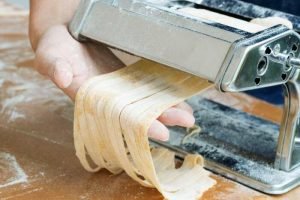 4. Sous Vide Immersion Cooker
"Seal it in a bag and put it in water" doesn't necessarily sound like an amazing cooking method, but sous vide cooking is full of surprises! This ingenious technique involves sealing meat or vegetables in an airless plastic bag (using either a vacuum sealer or the water displacement method), then slow-cooking it at a specific and consistent temperature in a water bath, with incredibly juicy and tender results.
The key tool that makes sous vide work is called an immersion circulator: a small device attached to your cooking vessel that keeps the water at the precise temperature you need. Investing in a circulator will give you perfectly cooked meats and veggies with minimal effort — just set up the water bath and check back a few hours later for your ideal medium-rare steak!
5. Vacuum Sealer
Vacuum sealers make bulk food preservation a snap by removing the air from food storage bags. Food can last significantly longer when vacuum sealed, which makes a sealer an excellent buy for anybody who likes to cook and store big batches of food. (Hunters and meal preppers, this is your jam!)
What's more, a vacuum sealer can open up cool culinary possibilities. For one thing, it's a key tool for getting the most out of sous vide cooking (as mentioned above). Beyond that, however, vacuum sealing is also useful for marinating food and infusing liquids like oils and stocks, making it a versatile creative tool for chefs seeking inspiration.
6. Outdoor Kitchen Island
Outdoor cooking enthusiasts who love grilling and smoking will be in heaven when they see the astonishing outdoor kitchen islands available now. These ready-to-install prefab kitchen kits are made to fit just about anybody's patio and include prep surfaces, spaces to mount a grill of your choice, and even appliances like sinks and mini fridges (depending on the model).
Even better, most of these kitchen kits require little or no DIY know-how to install! Most are shipped fully assembled or include easy instructions, and many also feature modular designs that make them simple to connect and recombine in any order you choose. Want to add more counter space, or change the position of your grill? Just move your pieces around and create the layout you want.
7. Meat Grinder
Most people associate meat grinders with making sausage, and they're certainly good for that! Whether you want to make bratwurst, chorizo or your own special sausage variety, a meat grinder is definitely a must-have for homemade sausage. However, there's a lot more that meat grinders can do and, in fact, they're one of the most versatile tools in many people's kitchens.
Want to grind your own short rib and mix it into your burger patties? Go for it! What about grinding up some of that leftover turkey for chili meat? Sounds delicious! You can even make your own high-quality raw pet food — perfect for pets with food sensitivities who need to avoid certain ingredients or who simply deserve the very best.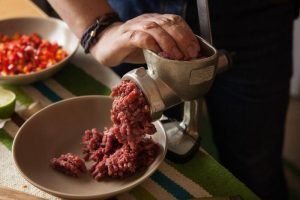 For cooking enthusiasts, any one of these tools can open up a whole vista of possibilities. Of course, many won't be satisfied with just one — but learn to use each one to its fullest before moving on to the next new toy, and you'll find that you get more joy (and more deliciousness) out of your purchases!