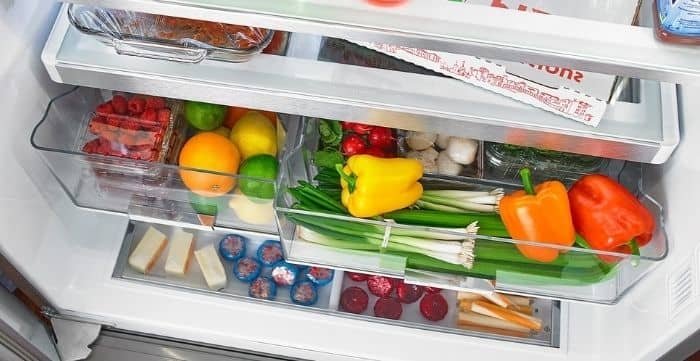 Craving has no time, it comes like the most unexpected visitors at the door. At this moment, all you look up to is your refrigerator. When you want to add health to your lifestyle, you don't want to nibble on unhealthy foods. Your fridge can be your backup partner, stored with fruits and veggies from where you can grab health. Your fridge can be a place filled with healthy stuff so that every time hunger hits you hard, you do not have any other option other than a healthy one. Taking a nutrient supplement like Balance of Nature may alternatively help you get all the nutrients your body needs however, let us know more about fruits and vegetables that should become one of the most crucial things in your refrigerator.
List Of Must Have Fruits And Vegetables In Your Fridge
You can have as many things as you like, but try to fill one-third of your refrigerator filled with fiber-rich fruits and vegetables. Here is a list of fruits and vegetables that are must-haves in your fridge.
Green Leafy Vegetables
The vegetables are marked in https://www.healthcanal.com/nutrition/healthiest-vegetables as one of the healthiest vegetables on Earth. They are the storehouse of vitamins like A, K, E, and C. High calcium, sodium, zinc, phosphorus, and Iron content make them the best food to eliminate problems associated with deficiency. The fiber content in these vegetables makes them the best food to rely on for good gut health. Green veggies are the most component of diets, as they almost have zero fat content. If you have green veggies at your corner, you don't have a chance of facing any of the severe mineral and vitamin deficiencies.
Tomatoes
You can count on tomatoes as a fruit or a vegetable because it serves both purposes. The rich content of tomatoes known as lycopene has many health benefits like treating cardiac problems and cancers. The presence of naringenin is an anti-inflammatory agent that promotes inflammation in the body. This red round fruit is rich in folate, potassium, and vitamin C. It will prove beneficial to your health, fulfilling the need for protein, calories, fibers, and carbohydrates. Tomatoes being insoluble fibers helps form stool bulk making the passage of waste into the intestine easy.
Beets
Beets have a reservoir of nutrients with fewer calories. They furnish great health benefits, keeping a check on your heart health. The presence of copper in beets is beneficial in the formation of neurotransmitters. The high nitrate content makes it a purposeful vegetable that helps fight high blood pressure. Count on this vegetable for good heart, brain, and digestive health. Beets can be cooked or eaten raw or can be taken as juice.
Apples
Apples are dense in nutrients serving greater calories and carbohydrates. The red fruit is rich in Vitamin K, C, potassium, fiber, polyphenols, and copper. It has more fiber and water content along with essential nutrients that help lower cholesterol levels. This fruit alleviates the immune response due to its anti-inflammatory and antioxidative properties, shielding your body against asthma. Quercetin in apples is good for assisting the treatment of degenerative diseases. Apples have polyphenols that are helpful for diabetic patients, blood pressure, and patients having a risk of stroke.
Spaghetti Squash
Spaghetti squash is a soft and tender veggie, has B-complex vitamins and dietary fibers. It protects the body from cell-damaging activities inside the body. It is a rich source of beta-carotene that protects the cells from DNA damage. This vegetable is popular, especially in winters. Keep this health-rich vegetable in your fridge to fight hemorrhoids, ulcers, diverticulitis, and GERD.
Dried Fruits
Dried fruits are great to keep in your fridge as they offer several health benefits. Dry fruits include dates, raisins, figs, cranberries, apricots, and currants. They can stay fresh longer than any other fruits and are thus a great choice. It can serve great health benefits because they have:
Anti-inflammatory properties.
Helps lower down blood sugar control.
Lowers down blood cholesterol levels.
Shields the body from oxidative stress.
Reduces blood pressure.
Avocados
They are a rich source of monounsaturated fats, vitamin E, and other nutrients. Researches have proved the benefits of avocados in blood pressure management and heart diseases. Potassium, folate, oleic acid, and linoleic acid are excellent in managing cholesterol levels. Avocados are calorie-rich fruits but are a great appetizer, and help maintain good gut health.
Conclusion
Your fridge shouldn't be a storehouse of junkies instead, it should be a repository of nutrients filled with fruits and veggies that furnishes satisfaction to your hunger. Your cravings should not be fed with foods that don't satisfy your hunger and health needs. Keep your fridge packed with foods good for you and your family. Erik Pham – senior editor at a digital health newspaper also warns about the allergic reactions to vegetables that may include wheezing, coughing, nasal congestion, or intense itching. In case you cannot avoid taking vegetables reduce the number of veggies that are causing reactions and avoid eating them raw.