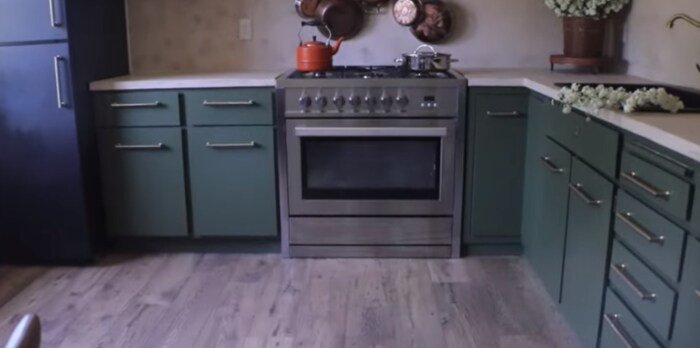 Are you looking to give your small kitchen a makeover without breaking the bank? Many people think that they need to spend a fortune in order to turn their kitchen from drab to fab, but with some clever and creative ideas, it is possible to achieve stunning results even on a tight budget.
When looking towards a kitchen makeover its important to consider multiple factors before you begin the process.
Cost – It's important to have a clear understanding of how much you can afford to spend before starting the makeover process. This will help you decide which ideas are worth investing in and which ones might be better left for later.
Functionality – Remodeling your kitchen should also involve considering how the space is going to be used. Think about who will be using the kitchen and what kinds of activities take place in this area, so that you can plan accordingly.
Style – Take some time to think about your preferred style and how it might fit into the overall design of your new kitchen. The right choice of colors, materials and accessories can make all the difference when it comes to creating a beautiful yet functional space.
Time – It's also important to factor in the amount of time it will take for you to complete the makeover. Consider whether you have the skills and resources needed, or if you need to enlist the help of a professional.
DIY or Professional – If you feel comfortable enough with DIY projects, then it can be a great way to save money. However, some of the more complex remodeling tasks may require the expertise of a professional if you want them done right.
Now that you have considered the above it's time to start the makeover, here are 6 clever ideas for a small kitchen makeover on a budget.
1. Add a splash of paint
Adding a new coat of paint to cabinets and walls is one of the quickest and most cost-effective ways to transform your kitchen. Be sure to use high-quality paints for long-lasting results, and if you're feeling adventurous, consider investing in a few tester pots and creating feature walls or decorative patterns with different colors. Look at your color pallets and see where you can add a pop of color or accent features to make certain areas of the kitchen pop.
2. Change that outdated hardware
Updating the existing hardware is an easy and inexpensive way to give your kitchen a fresh new look. Changing knobs, pulls and handles can make a dramatic difference with minimal effort and cost. Consider investing in more high-end pieces such as customized taps or drawer systems if you want to create an even bigger impact. Refreshing any hardware to more updated and trendy hardware can make a huge difference to the overall finish of your kitchen, don't forget the small things!
3. Get creative with storage options
Create more storage in your kitchen by adding shelves, hooks and other organizational solutions. This can help maximize the available space and make the most of all potential storage areas, even if they're awkward shapes or sizes. You can easily create storage solutions working with the current space, such as adding a freestanding rack for pots and pans, or utilizing wall space by installing hooks or hanging racks. Consider using baskets and containers to store items in an attractive yet organized way.
4. Change up the light fixtures
A quick update to your lighting fixtures is a great way to brighten up the room and make it feel more welcoming. Consider installing stylish overhead lighting or even a trendy chandelier to add a touch of class to your kitchen. Additionally, you can add small task lights to specific areas such as worktops or counters. Lighting can affect the overall style and mood of a room, ensuring the lighting matches vibe you are going for can make all the difference.
5. Add your personal style
Just because you're on a budget doesn't mean that you can't have fun with styling! Adding some small decorative elements such as colorful dinnerware, artwork and plants can help to give the room a personal touch and really bring it to life. Think about what would make you feel comfortable and relaxed in your kitchen, then find ways to incorporate those elements into the design.
6. Refresh the cabinets
If you'd like a more comprehensive makeover without spending too much money, refacing your existing cabinets is an option worth considering. This involves changing or updating the doors and drawer fronts, but leaving the structure of the cabinetry intact – the result is a completely fresh, customized look.
Final Thoughts
A small kitchen makeover on a budget can be challenging, but it certainly isn't impossible! With some clever ideas and careful planning, you can easily create a stunning space that both looks and functions better than ever. Don't forget to consider your budget, time frame and style preferences before embarking on the project, and always remember that even the smallest details can make a big difference!
Following these tips and using your creativity, you'll be able to create a small kitchen makeover that will surpass your expectations – without breaking the bank. So if you're looking for an inexpensive yet effective way to give your kitchen a fresh new look, try some of these ideas today!