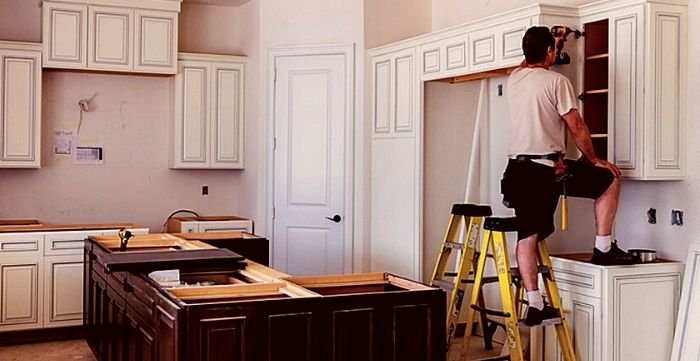 If you moved into a new house or want some recent changes in your current home, remodeling your kitchen is the best way to freshen up space. But the factor remains that the pandemic has made us all a little short on money. And there is no shame in that. You have to make choices that will go easy on your budget. Here, we have come up with five budget-friendly kitchen remodeling tips that can help you freshen up your kitchen and be easy on your pockets.
1. Renovate The Cabinets
If you think you only have to deal with the cost of buying a new cabinet set, then you are wrong. Tearing out the old ones and installing the new cabinets will also cost money. Kitchen cabinets will not go easy on your pocket, especially if you need to customize them to fit the kitchen space. But there are ways to do this task without going heavy on your pockets.
Some ways are:
Paint the cabinets: Instead of replacing the cabinets, you can paint them instead. Painting the cabinets will make them look new. You can refresh the kitchen's whole look by painting the cabinets a base color such as white, beige, or light grey for a metallic look. Get creative and paint the underside a bright color such as canary yellow or an electric blue to make the kitchen area stand out.
Remove the doors: You can take the time and give your kitchen a modern look by removing the cabinet doors. Removing the doors will give it a contemporary look. And you can display your everyday use utensils along with decorative pieces.
Buy cabinets online: Undoubtedly, painting the old ones or removing the doors won't provide a significant change. If you want a new look, get new cabinets for the kitchen, and worry not, as there are many affordable options. You can buy cheap white kitchen cabinets online at reasonable prices and good quality.
2. Add New Lights
Lights can change the whole outlook of the place. You can find many creative lights to create an aesthetic vibe for the kitchen. If you add pieces like a pendant light and white led strip light above the kitchen counter, it can add exquisiteness to the place. Be sure that the areas you highlight with lighting serve your kitchen needs as well. For example, you can light up the working counters with lights installed under the cabinets. They will not only illuminate the working space but also give an aesthetic look to the kitchen.
3. Paint The Room
Getting a fresh coat of paint can give your kitchen a lively look. You can mute the room's look with a base color such as white, beige, or grey. Or you can express your eccentric personality with a color to match. Either way, paint the backsplash, walls, and the divisions to give your kitchen a fresh look. Apart from the walls, paint your cabinets a new color to match the background. If you chose bright paint, mute the room with minimal decorations. If you painted the room a base color, it is the time to make all decorations shine.
4. Upcycle The Furniture
Mismatching furniture in the kitchen can make the area look messy and muddling. But it doesn't have to remain that way. Trust us when we say that if you paint everything the same color, it will match. You can fix the mismatching breakfast table and chairs by painting them the same color and changing the cushion cloth. As a result, the pieces which looked scattered and mismatched will look like a cute breakfast table set.
5. Upgrade Your Hardware
Upgrading your hardware will not only make your kitchen look modern, but it will also provide you with working ease. You can upgrade your kitchen by merely upgrading the sink faucets or by changing the stove and oven. A sleek design will perform better and look excellent in your kitchen. It is a choice you will appreciate because it will add to your working convenience improving the kitchen's functionality. Nowadays, there are many sleek designs in stoves, ovens, dishwashers, and other hardware available in the market. They can give your kitchen a minimalistic or contemporary look.
Conclusion
The pandemic is forcing us to stay at our homes for ours and everyone else's safety. With all the restaurants closing, you have to spend time in the kitchen. Simply upgrading your kitchen and remodeling it while staying on a budget can give you a fresh start. When you are bound to spend so much time in one place, it is best to make it look beautiful. These budget-friendly kitchen renovating ideas are not heavy on your pocket. But, such affordable options will help achieve a new kitchen look.