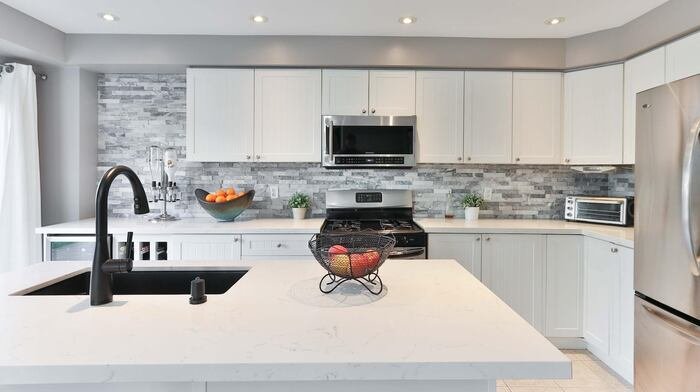 Making improvements in your home can make it more attractive and comfortable. It will also help increase the value of your property should you choose to sell it in the future. However, renovations can be quite an investment and not all homeowners may have the funds to finance a complete overhaul of their space. As such, it's a good idea to pick renovation projects that are simple and affordable but can bring impactful changes. In the kitchen, for example, you can make budget-friendly renovations and still create a beautiful space that you or the next owner will enjoy using for a long time.
Speaking of the next owner of your house, when you decide to sell your property, you can contact a real estate brokerage company to help make the process smoother. Consider a brokerage company that uses Get Brokerkit for recruitment, so you're supported by a reliable team of real estate agents to sell your home quickly and at a fair price.
While you're considering selling your home, here are five budget-friendly kitchen renovating ideas you can do to improve the space and raise your property's value:
1. Update the Lighting
When people think about kitchen renovations, they often leave lighting for last. What they don't realize is the way kitchen lighting can significantly contribute to the function and aesthetics of the space. Proper illumination can help you see better what you're cooking; it also dictates the vibe of the space.
For example, you can opt for recessed kitchen ceiling lights that provide essential functions and mix them with decorative ones that offer ambient lighting. You can also install oversized clear glass pendant lights with brass fittings over the kitchen island. These can provide additional illumination and act as focal points of your kitchen. They can also bring together the overall design if you want a more modern-looking space. Since this kind of fixture features clear glass you can see through, it won't make the room feel small.
2. Paint the Kitchen Cabinets
A simple yet effective way to give your kitchen a new look while spending minimally is by painting your kitchen cabinets. Applying a fresh coat of paint will make the room look like a totally different space. The best part is you can DIY this renovation project, helping you save more money.
When choosing a paint color, white is a great choice. It gives a nice and clean look in any kitchen and makes smaller spaces appear bigger. It also lets other design elements stand out like a red stove or a warm wood countertop. Alternatively, you can go for contrasting colors. Try painting lower cabinets in a vibrant blue color to give the space depth and warmth. Also, blue is a timeless hue and provides a design statement that many people appreciate.
3. Replace the Hardware
Another method to transform the look of your kitchen is by changing the cabinetry hardware. This is another renovation idea that won't cost you a fortune; you can also do the project by yourself. All you need is some new hardware to match the look of your kitchen and some screws.
When buying new hardware, keep in mind to find the right size for your kitchen cabinets. Many handles have a center-to-center measurement, which is the distance between each screw hole. Make sure to measure this before making a purchase so you can easily attach the hardware using the existing screw holes. If you want to use a different size handle than you have now, get hardware with a metal backplate to make it compatible.
4. Install Open Shelving
Aside from the aesthetic value of your kitchen, there are also budget-friendly improvements you can do that can enhance its function. For example, you can convert your existing upper cabinets into open shelving by removing the doors and hinges. Then, fill the holes where screws or hinges were once located with quick-drying putty and sand them to smoothen. Paint the trimmings and the interior of the cabinet for a seamless look. As long as done properly, open shelves can make the space feel larger and more open.
When organizing items on the shelves, keep it simple and avoid overcrowding. A minimalistic approach is the best way to maximize the visual enhancement open shelving brings to the space. This means curating your favorite everyday kitchen items rather than displaying all your glassware and crockery. Choose to place items that can stack and that are in different colors so you can add interest, depth, and color to the kitchen.
5. Add a Breakfast Bar
Adding a breakfast bar is a great renovation option for kitchens of any size. It provides additional seating and can serve as an extension of your kitchen island. You can also use it to prepare and present food. Even if you enlist the help of a handyman or carpenter, creating a custom design that will fit next to your island isn't very costly. You just need to take three pieces of wood and attach them to create a bar. The breakfast bar doesn't have to be too wide, either. It just needs to be deep enough for bar stools to fit under the space and have room on the table to accommodate a couple of plates, bowls, and coffee mugs.
Whether you're planning to sell your home soon or in the future, renovating the kitchen will help increase its value. If you don't have a big budget for the job, you can do any of these budget-friendly ideas mentioned above. Remember, when improving any space in your home, consider how you want to use it and what design would best suit your taste. After all, you want a room you'll enjoy using.